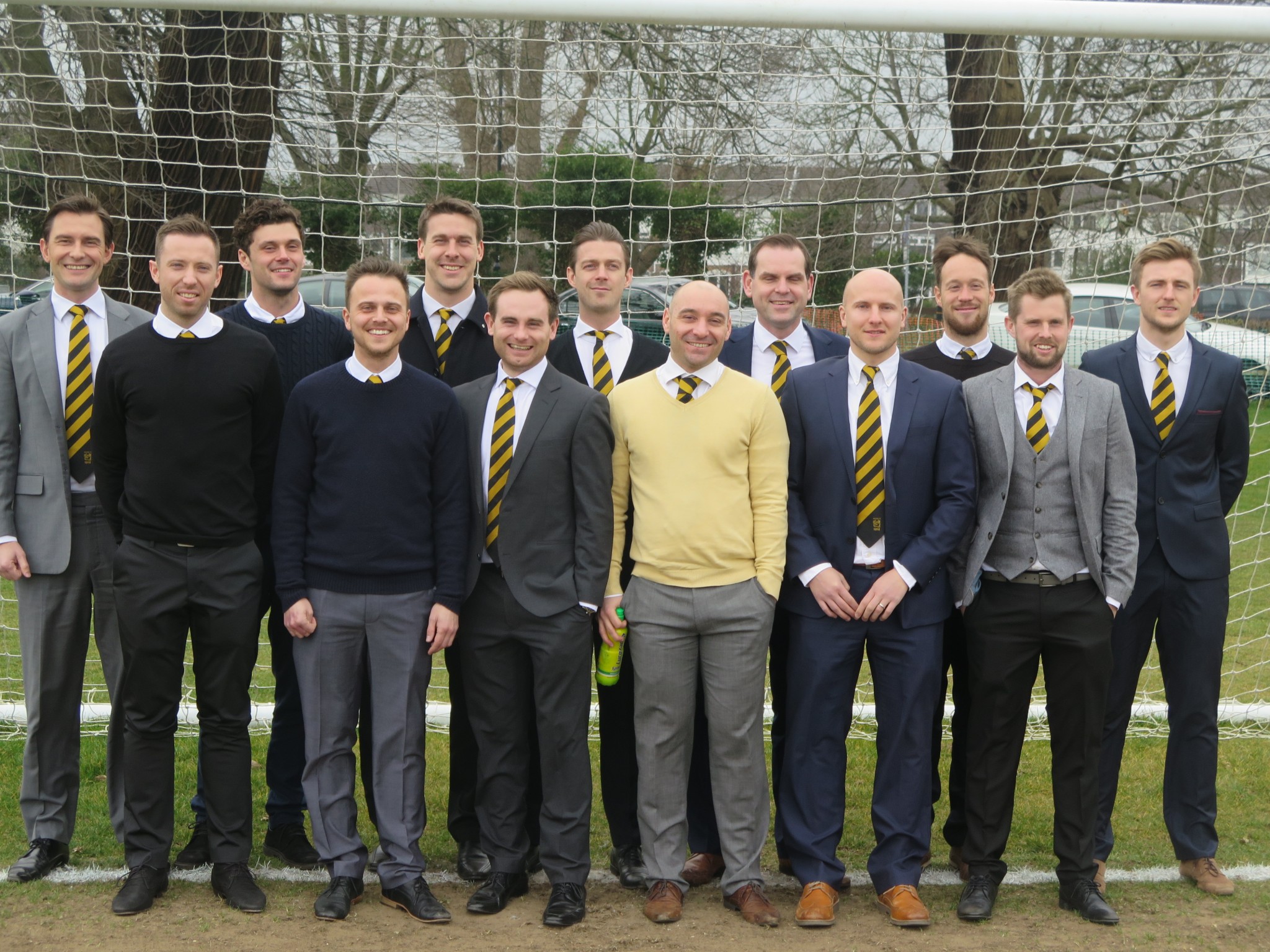 1s Cup Final Report 14.03.15
AFA Surrey Surrey/Kent  Senior Cup Final  at Polytechnic Sports Ground 14th March 2015.
Honorable Artillery Company (HAC) 2  Merton 1 (HT 1-0)
This was a very good event as all Cup Finals are. The team arrived good and early for the match under a 3 line whip from Clappers to wear a club tie and jeans were forbidden. And the team responded to Clappers relief and Terry's approval. The collection of ties in Friday afternoon had been a good displacement activity and dispelled any pre match anxiety. Team photos and introductions. The AFA were well represented by a past President stalwart John Wilson who has always been such a supporter of ours. Pat Ryan and his assistants were there early and Pat gave each of the sides a bottle of Champagne which was a great sporting touch. Poly had the pitch marked out and in great condition.  The only problem was the wind and we kicked into it in the First half.
With the aid of the wind HAC had the better of the first half having their first and possibly one of their best chances in the first minute. We took our time to get into any sort of rhythm as we seemed to rush our passing in their half and gave the ball away a little too easily. We had one good shout for a penalty when Woody was tripped  but a defensive lapse on 25 mins enabled HAC to take acrucial advantage into the second half.
With the wind now helping us we dominated the second half territorially. We equalised after about 15 minutes when Snooks played Ackers in who finished decisively. There seemed plenty of time to get the winner and Ackers again finished with a brilliant header but was offside. With extra time looming and us pressing a second defensive blunder gave HAC the lead and with only a few minutes left we ran out of time. We had one last good shout for a pen but it was ruled outside the area. And so the whistle went and HAC from the Amateur Football Combination had won the Cup. It was a close game and they were a good side. They had a lot of movement and 3 or 4 exceptional players. Two of their midfielders and the centre backs did very well for them. Congratulations to them and thanks to Polytechnic for staging this final so well.  I always enjoy Pat Ryan's reffing and it is obvious that he enjoys reffing matches. The other officials supported him well and were very friendly in the bar after.
I was proud of our team for their performance before, during and after the game and apparently they carried on well into the night Putney's Star and Garter and beyond. They represented our club with great credit.  We came very close to winning this cup and even closer to getting the trophy as Clappers nearly walked off with it at the presentation. The disappointment of our team is clear from the photos but they now will put that behind them and get to grips with our remaining league fixtures.
Thanks also to those who were able to come and support the boys; A good smattering of Merton Vets and youth managers and the 2s whose game finished early.
Team.   Angus (GK)   Rat,  Browner,  Clappers (Capt),  Jonesy, Woody, Snooks, Tills, Will Low,(Dan W) Ackers, Vanny (Bosh) Sub not used Will Taylor
Posted in Match Reports 1s
---