1s vs Alexandra Park – 03.12.16
Home v Alexandra Park 4-1
A slow start to the day, as we sat in the changing room for 15 minutes waiting for a key to arrive. Not ideal, but worthy of DOTD?
With a strong wind and low sun this was an ideal toss to win. Which, of course, I didn't. Not ideal, but worthy of DOTD?
Kicking into the aforementioned wind we defended well and go the ball forward early, as Ally Pally were playing a very high line. One such attack sent Jonny through. Jonny's running style doesn't scream speed but he leapt, pranced and bounded away from his man, who in turn pulled him back. Penalty! A definite pen but not all refs would've given it. This ref did.
Woody stepped up. 1-0.
Despite the elements we had the better of the half and looked comfortable yet still found ourselves 1-1 at half time.
A break down their right saw a bobbled cross sent in. Browner (Brauner for the newer members) lifted his leg to clear and the ball duly went under it and the AP centre forward dispatched it. Browner let out a very long and low "Oh no" and then berated himself under his breath for the rest of the half.
We started the second half with the wind and a lot of purpose and very quickly took control of the game. An under hit corner from James was played back to him and his delightful curling cross was headed home by Jonny. 2-1 and looking good.
Then came a key moment in the game. Bosher chased down a through ball and as their keeper gathered the ball on the edge of his box he stepped just outside his box. A definite hand ball but not all refs would've given. This ref did. It wasn't finished yet though, as the ref then sent the keeper off. Certainly not all refs would've done that. This ref did. Having hit the bar earlier in the half, from a similar position, this time Woody smashed it in. 3-1 and see MFC Facebook for video evidence. Much discussion, both on and off the pitch, as to whether it should've been a red card and if the freekick was direct or not. Which shows none of us know the rules and therefore shouldn't berate refs.
With 10 men and an outfield player in goal AP were never going to get back into the game and we duly scored a fourth with a break down our left, a ball across, and a rebound of Charlie. 4-1 and game over.
Other notable points from the day.
– Everyone's concern for Tilley's well being as he jogged around nowhere near his man for most of the game. Sore back? Or Xmas do on Friday night?
– Two moments of praise, yes you heard it, praise for me from Siri.
– James Laughton finding out Santa doesn't exist. Sorry James (sad emoji)
– Chaz turning up for the Xmas party. Necking a number of quick drinks and then going missing in action.
– Ivan coming to the party for a couple of hours. A good effort from Merton's self proclaimed "Massive Lad" when it was clear he wasn't really allowed to be out.
– Will Low sleeping under a towel.
Team: Siri, Rat, Browner/Brauner, Clappers, Will Low, James L, Woody, Tilley, Bosher, Jonny, Charlie. Sub: Milo
MOTM: Woody (Clappers a close second)
DOTD: Clappers (harsh)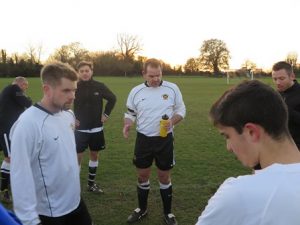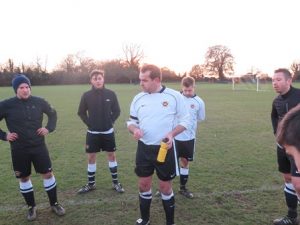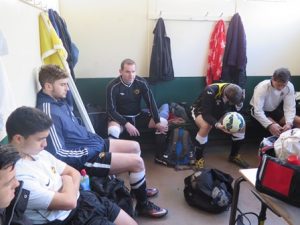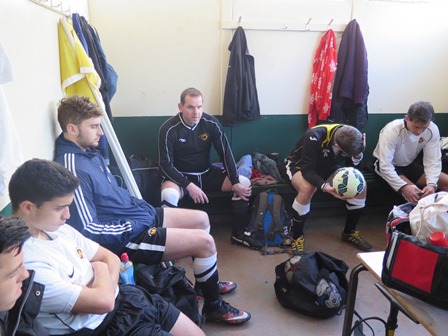 Posted in Match Reports 1s
---