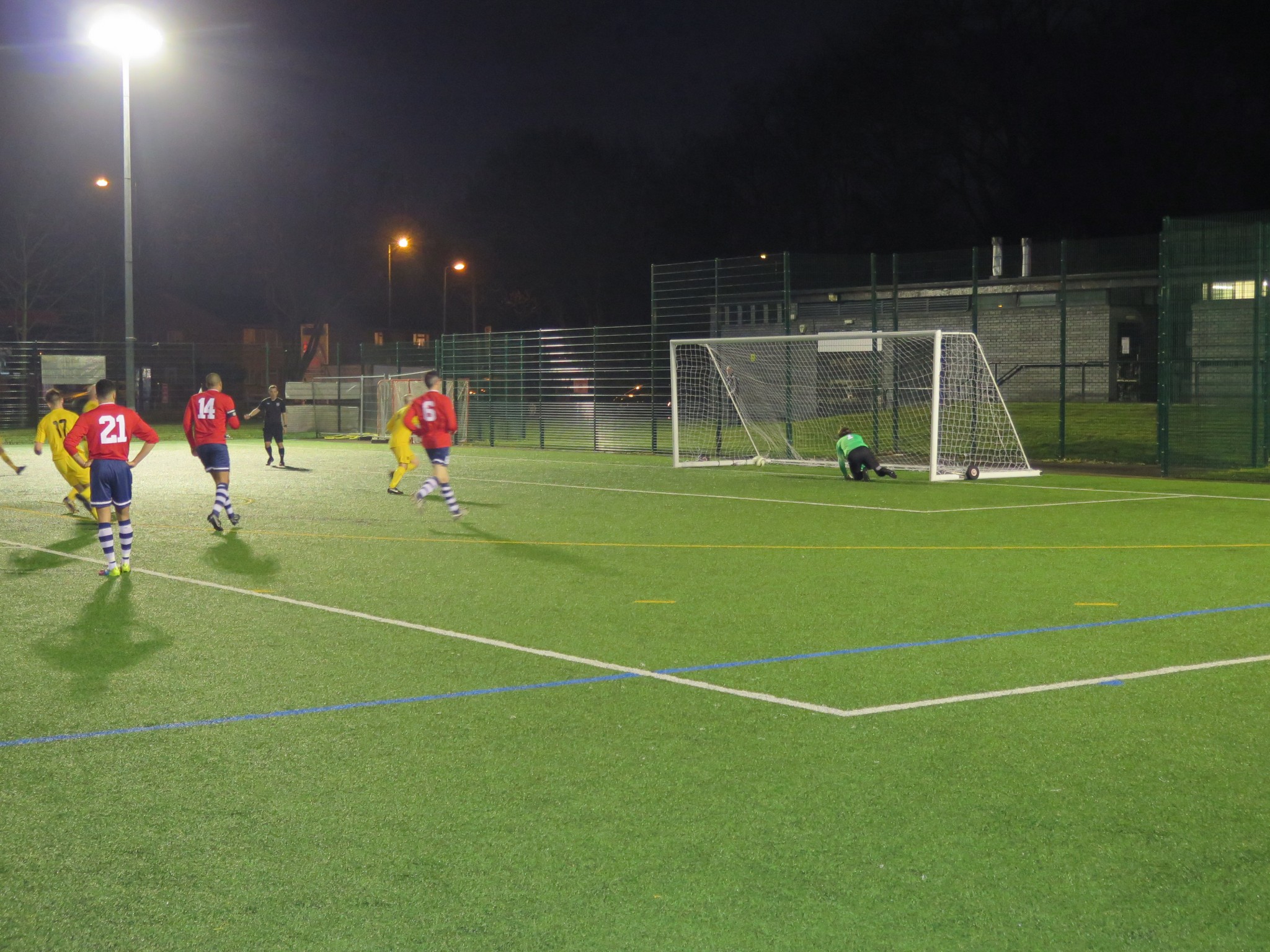 1s vs Alleyn Old Boys 14.02.15
Merton 3  (0)  Alleyns O.B.  3 (1)  AET Merton win on pens 4-2.
AFA Senior Surrey/Kent semi final  at the Hub Tooting and Mitcham Ground 14th February 2015
Scorers :  Bosh 2. Ackers (pen)
This was a brilliant win for Merton securing a place in the AFA surrey/Kent senior final (14t March at Poly). It was done the Merton Way with plenty of drama. With the Hood unplayable the game was switched to a 4.15 KO on the 3G floodlit pitch at the Hub in Mitcham. We started quite well and it was a surprisingly physical encounter; 3G tends to be amore dainty affair but not this time. We more than held our own with greater possession but created openings with shots wide from outside the penalty area, whilst they missed a couple of chances but they went ahead after half an hour when some sloppy defending gave them  an opening which they finished well. Half time and no panic but we became guilty of giving the ball away too often and too easily. This lead to Alleyns seizing on mistakes and scoring twice to make it 3-0 with 25 mins to go. This did not look too promising particularly as we were unsettled and had lost our way a bit. Bosh replacing Vanny who had worked so hard and Dan Whiteman while Tills took a breather , came on and their fresh legs and industry made a change. But we also settled down and went back to patient passing and build up. Ackers and Rat were combining well down the right and Dan and Ali G down the left. This brought our rewards with Bosh finishing  twice in quick succession.  3-2 and very interesting. We pressed hard  for the equaliser and they had a hard job clearing corners and scrambling it away. We had a good shout for a penalty denied. We were dominating in midfield with Will, Snooks, Woody and Tills running their socks off. With time running out another handball and a penalty which Ackers coolly slotted  3-3 and extra time.  The 2 x 15mins flashed by and we could not finish it. Bosh came closest flashing a couple of chances wide. And so to pens. We started the shoot out and Ackers and Woody fired home brilliantly for 2-2. Then Woody stepped up and scored but their man fired high and wide and not for him very handsomely. Al G made it 4-2 and their man had to score or they were out. Real pressure and he started badly by putting the ball on the wrong spot at about 18yds and having to respot and then firing close to Angus who saved. Celebrations were cut short as the Lino was flagging for Angus moving forward. But their lad did no better the second time and it was a memorable well celebrated win.   Clappers did a brilliant job of organising the team and Browner's pace was tested by their very quick, very young forwards. This was a brilliant all round team performance. It was not an easy game to referee but the officials did a good job. Well done to Clappers and the boys . Book the date 14th March at Poly.
Posted in Match Reports 1s
---