1s vs BoE – 08.10.16
I'm not talking about your rubbish holidays, because of the tumbling pound, but a massive win in the Surrey/Kent Cup. It's always a good trip to the Bank. The pitch and facilities are good and it's local so everyone arrives on time, apart from Sam, Jonny and Chaz of course. It always takes longer than you think chaps!! There was the added bonus for me of having my picture taken at the toss, for the second time this season. My reputation as the David Beckham of the SAL is spreading. The first half was an entertaining affair with some good football played. Bank were energetic and played some good football with good movement in midfield. We defended well and got in behind them with some searching balls from Woody. The half raced by and despite the good football on display, very few chances were created by either side, and it looked like being 0-0 at half-time. That was until Ben was tricked by Bank of England's centre forward into giving away a penalty. Their centre midfielder put it away very confidently and it looked like we'd go in one down. That was before an inspired substitution by the ref. He insisted on Tom leaving the field, because of some blood on his knee, to be replaced by Charlie. Within minutes of coming on Charlie had equalised with a strong shot across the keeper. It's what he does.
We regrouped at half time, Van made excuses for his mistakes and I dropped the oranges in the mud, and we went out confident we could get something out of the game. Bank of England started much stronger than us and we were soon on the back foot. They dominated possession and the game started to become spread. Midway through the half, from a good break down their left, the ball was crossed and their centre forward made no mistake, bringing the ball down and calmly slotting past Siri. They had further chances to take the game out of reach but over confidence and some good goalkeeping from Siri kept it at 2-1. A feature of our new look side this season is the presence of some more leaders who don't take it lying down. A few robust Bank of England challenges, coupled with an annoying amount of appealing, got us fired up. Sam, Chaz and Will were biting into challenges, Tilley's long throws, "I didn't know I could do that!" were causing havoc in their back line and with less than 10 minutes to go we equalised. A great tackle from Chaz, deep in our half, the ball was played forward (can't remember who by), it broke across the box (again not sure how) and Jonny was on the spot to ram home to make it 2-2 and take the game into extra-time.
Helpfully their coach told them, very loudly, that they were "the better team", "the fitter team" and "they wanted it more." This just made us more determined not to lose now we'd got ourselves back into it twice. They again had the better of the game, but more excellent defending from our back four and some very good saves from Siri meant extra-time passed with no further score and it was penalties.
We'd got this far and we weren't going to lose now. Chaz, Sam, Nick and Charlie all put their penalties away with aplomb, but the star of the show was Siri with two excellent saves and we won 4-2. A great performance all round but some special mentions to Chaz who was very strong at the back, Will Low filling in at left back, is there anywhere he can't play? Tilley coming on at right back and Woody and Sam driving us forward from midfield.
TEAM: Siri, Young Ben Victory (Tilley 60), Chaz, Clappers, Will Low, Sam, Woody (Milo 70), Nick, Jonny, Tom
(Charlie 40) and Vanny (Woody 80, Ben 90)
SUBS: Not sure how many subs they had, I count five.
MAN OF THE MATCH: Siri (he's a very good keeper between the shouting!)
DICK OF THE DAY: A rollover to next week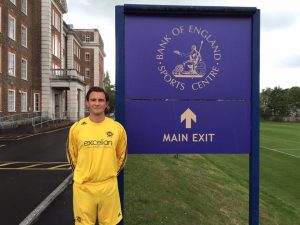 Posted in Match Reports 1s
---