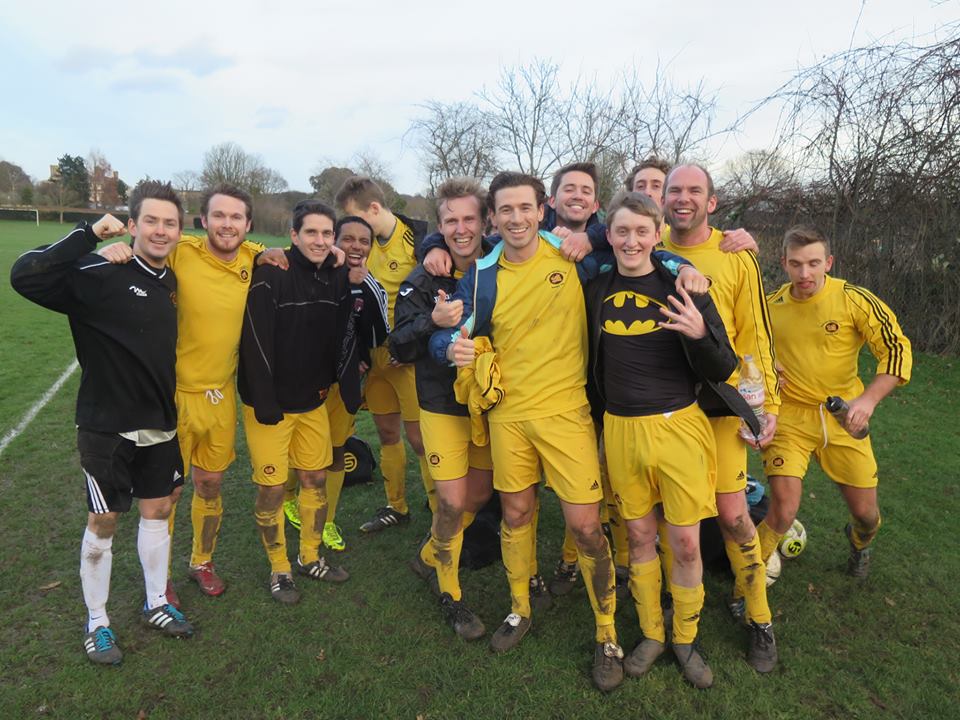 2s vs Old Blues 10.01.15
Old Blues are a new club to the league and are in their second season and share facilities with Kew Association. Rather strangely Kew Association having redeveloped their ground with new facilities have shrunk as an adult SAL club but have a thriving junior section. Old Blues, the old boys side from the school, Christ's Hospital. It was good to go back to Kew as we had not been there for some time and revived memories of tight first team games battles won but more often lost.
This was a very good competitive game and despite a bobbly wet pitch and terrible wind both sides played some pretty good passing football and the score did not really reflect what a close tight game this was for 75 minutes.
We started by far the better and playing uphill and against the wind which was down and across, created some good chances and pressure. Our first goal resulted from that pressure when Craig Usher swung in a good corner and Femi headed home. But then Old Blues started to find their feet and get more into the game. We had a chance to make it 2-0 just before half time but Jase having turned his man fired over from 10 yds.
After half time Old Blues settled into their task and dominated for about 20 mins of really good pressure. Their finishing and last third play let them down and we were always dangerous on the break. It was from such a break on about 70 mins that Jase headed our second goal. The third came when Will T sliced a deep cross and it went unstoppably into the far corner.  Wilgo capped his day with a fine goal from Liam As's cross headed back to him and buried.
The game was played in a really good spirit and was well refereed but a youngish ref who kept up with play explained his decisions and got a lot of them right. It was a good game to watch and good in the bar after. Craig Usher was man of the match. Will Taylor and Jase T worked tirelessly. We looked pretty solid at the back and Sherbs made a couple of good saves and deserved his clean sheet contrary to what the local supporters thought. The boys enjoyed the post match hospitality in the bar and their usual banter. That is five league wins on the spin but away to Norsemen next week will be another rough test. This was not as easy as the scoreline suggests. Well done to Wilgo who seems to have got the boys firing and enjoying it.
Posted in Match Reports 2s
---