4s vs Ibis Eagles 5s – 23.09.17
IBIS Eagles 5s vs. Merton 4s
SAL Junior Division 4 South
Saturday 23rd September 2017
Coming off of our biggest win ever last week away to Polytechnic, we were back in Chiswick again however this this at Chiswick Cricket Club to face an IBIS Eagles side that were playing their first league game. This was our third.
Without Michael Gubby, it was down to John Gridley to step in between the sticks with Ryan Burchell taking up the RWB position. Feeling worse for wear following a heavy night prior, Dom Plumridge slotted back up top to partner top scorer Adam.
Lining up in the same formation as last week, we didn't start as we had hoped. We allowed the hosts too much time on the ball which in turn created a number of chances however a mixture if wayward shots and John Gridley kept the score goalless for 25 minutes.
It was the host that did finally take the lead after worldy from clearly the youngest player in their squad. Nothing that John….nor De Gea for that matter, could have done about it. Shortly after we found ourselves two goal behind. This time from a corner. A combination of not tracking your man and remaining static on the post contributing allowing a simple header to find the back of the net.
We knew that we were better than the performance that we were putting in, last week's performance backed that up. We were encouraging each other to get a goal before the break and courtesy of Adam we were able to do so as he side footed through the keepers legs to half the deficit.
Frankie came on to replace Ryan in the RWB role at the break.
The second half was a better performance than the first. We were able to pass the ball around by finding little pockets of space which put the opposition on the back foot for a while.
Twenty minutes into the second period, we were awarded a thrown in from the left. Dan Gridley taking centre stage to deliver a lengthy ball into the box which Dom managed to get a head on to. Or was it Dom's goal? Dispute at the end of the game suggested that it may have been an own goal but with Dom being adamant that he got the final touch, it was awarded to him.
Having dug deep to come from two down to level, all that was nearly thrown away when the host were awarded a penalty when Dan Gridley took out their striker.
Up they stepped…….what a save!
John Gridley not falling for the eyes managed to get a strong hand to it to keep the score level and ensure that we went home with a point.
We could have taken all three had Dom not missed a sitter in the last minute which resulted in him picking up the Dick of the Day award.
Next week were visit Old Dorkinians in the AFA Cup in the hope that we continue our impressive start to the season.
FINAL SCORE: IBIS Eagles 5s 2 – 2 Merton 4s
SCORER(S): Adam Collings, Dom Plumridge
MOTM: John Gridley – Solid performance between the sticks including a penalty save.
DOTD: Dom Plumridge – How could he miss that sitter?!
STARTING LINE-UP: John Gridley (GK), Joe Plumridge (Pete Quainton), Dan Gridley, Michael Elgar, Ryan Burchell (Frankie Kalogirou), Edward Plaistow (Capt.) (Joe Squire), Sonny Kennedy, Aaron Loftus, Michael Vogt, Adam Collings, Dom Plumridge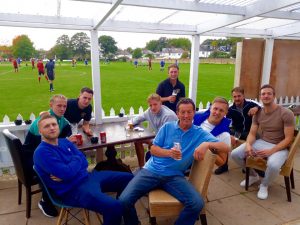 Posted in Match Reports 4s
---