5s vs City of London – 21.10.17
2 weeks on from our last outing – a sobering defeat to the very determined and organised 6's – we were focused on setting the record straight. This season has started poorly with 3 feats from 4 games, so this is a must win game to get our footing back in the league.
Shockingly most of the team were on time and looking sharp, although with white socks and flip flops Dwayne clearly still gets dressed in the dark. Soon enough Darren's filthy baselines blared out in the clubhouse as we were getting pumped for redemption on home turf.
Another week and another new defensive line, we looked set for another leaky sieve defence, however strong possession play and far more composure on the ball lead to dangerous moves on the other end of the field, Josh and Dwayne combining well only to find the square heads of Gibbo and Dulanie only coming close with their efforts.
Dogged displays in midfield and dominant defending lead to a complete shut out for City of London, who looked short of ideas to break us down and couldn't match us for strength or skill. Somehow through missed opportunities City made it to half time without dirtying their sheet, but Merton were knocking on the door enough to be confident a goal was imminent.
As the second half began it looked like City were going to try and take the game to Merton a little more, as they looked to transfer from defence to attack quicker, but any loose pass was easily mopped up and helped to open up the game for us, and our front three looked more and more likely to score, Aaron eventually popping up at the back post to nod home the inevitable opener, and from his celebration you could see what it meant to us.
The commotion of scoring distracted Sam in goal from his sudoku as he probably hadn't had to make a save for about half an hour, and since the goal through a series of sloppy play we somehow managed to keep Sam far busier, almost wasting the lead at the death.
The final whistle blew and we had done enough, more room for improvement but a clean sheet for the 5's is not something I expected today from yet another changed backline.On the day we made life hard enough for what was in truth a fairly poor opposition, and against stronger side we need to be far more clinical with our chances on goal if we are to challenge for promotion later in the season.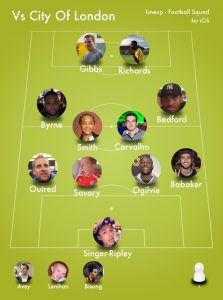 Posted in Match Reports 5s
---