5s vs HSBC 6s – 17.02.18
5s 2-1 HSBC
Following some poor results of late we started this game in the bottom 2. Hsbc were third in the league, so we faced a tough game to try and pull out of trouble. And the pitch signified the way our season had been going really – damp, bumpy and with poo on it (immunity from dick of the day goes to Josh for removing it). At least it wasn't raining this time.
We tactically sent the oppo to the wrong pitches so we would have more time to warm up – we don't seem to have long enough before a game as it stands! Unfortunately we forgot about the warm up part, however we started uncharacteristically well. We were stringing quite a few passes together despite the conditions and looking much more solid than recent weeks. They had the first chance against the run of play with speculative a looping header that was cleared off the line. It spurred them on to their next, with their player breaking through 1v1 against Kieran. His well struck shot was kept out by Kieran's legs using his eagle-eyed concentration from the prematch beer. They were starting to get some rhythm which was worrying, however itdidnt last long.
Typically we were playing some good stuff in the middle of the park but failed to find the final ball. Some good play gave Nikko the space to finally pick the lock and play a killer through ball to Aaron b. In his current form he doesn't need a second invitation. His first shot was saved but he reacted quickly to follow it into an empty net from just a yard out to make it 1-0.
The goal effectively killed the half and really, we should have created more after getting in some promising positions. We sensed at half time that this game was there for the taking, but it would be one hell of a battle.
Through necessity, they really came at us in search of an equaliser. We battled harder than we have for a while, putting in challenges at every opportunity, getting in their face and doing those cute tactical fouls that we hardly ever do. Despite our efforts to keep them at bay, we gifted them a way back into the game. Their striker latched onto a through ball and chipped the ball towards the goal. Chris did superbly to get back onto the line, however he did not quite so much with the clearance. It appeared something between a punch and a bitchslap – either way, a clear handball. The pen was a good one, and they drew level at 1-1.
Cue an onslaught. They threw everything they had at us, however we held out rather well. They managed only shots from distance and one clear cut opportunity where a blatant foul wasn't given, their player ran through 1 on 1 with Kieran and shot low and hard. Kieran stuck put that trusty right boot yet again and kept us in with a good chance of winning the game.
A fundamental shift occurred when their player lost his head at the challenges we were putting in, with Josh's the final straw. There may have been a little provocation centred around his cute little ponytails to throw into the mix, but nothing beyond the ordinary on a football pitch. His reaction resulted in some hardcore pushing with intent, and their team focused on calming him down and stop him trying to get to Josh – presumably with a kiss on the cheek. Whatever it was, it was clear that they were a little embarrassed by it. The call from their captain was for the team not to lose their heads, and very soon after they went 2-1 down. Funny how things work.
They had easy possession in their own half with Aaron B the only man high enough to press, however it was enough to force an error. A casual pass across the back line was well read and intercepted by Aaron, and he raced through to a 1 on 1 situation with the keeper. He kept his nerve (yet again) to slot under the keeper to put us ahead.
We had a great chance to extend the lead, with Aaron b played through yet again. He rounded the last defender however before he got to take the shot, Mike took over. His shot sailed over and I think it's fair to say that Aaron B wasn't too happy at the time, however secretly we are all sure that it was deliberate to avoid buying (or owing) the team yet another jug. And he did confess to this match reporter before the game that he thought he was only going to score a brace… all evidence points to a conspiracy.
In games gone by we have chucked leads away at will, and we gave this one a good go too. An overload on the right saw their winger break into the box. Running at pace and at Dan, he just about managed to get his toe to the ball to get it away from Dan and went over his legs to get the pen. It wasn't as if the leg was outstretched so can be deemed to be a bit harsh, but it was given. Their new taker stepped up,, however Kieran read it perfectly. At full stretch, he caressed the ball to safety (out for a corner so not necessarily for us) and we held on to the lead from there. Terrific stop and a suitably dramatic way to end the game, however next time if we could be less mindful of Kieran's golden glove points and more mindful on winning the game, that would be appreciated.
The team performed outstandingly as a collective, so picking a man of the match wasn't the easiest this week. Darren and Dan at the back get a mention for being remarkably solid at the back, despite Dans insistence that he is a striker. They put several strong, at times last ditch challenges resulting in a welcome move away from our habit of conceding 3+ goals. Nikko was every bit as persuasive as the last game when he won MoM, complimented very well by Tiggsy who kept their dangerman quiet all game. Aaron B got a couple of votes for another couple of goals up top, and joshs and Dwaynes work in pressing and moving the ball through midfield shouldn't be understated. The award, however, went to Kieran who had another superb game capped by an excellent penalty save.
Dick of the day was less contentious. Trials for the GB beach volleyball team for the 2020 olympics start soon, and Chris put himself firmly in the loop for a place. The only way it could have been more obvious would be if he picked it up and ran with it!
Well done lads, and if we can play consistently like this for the rest of our games then we will have a chance of finishing in a respectable position.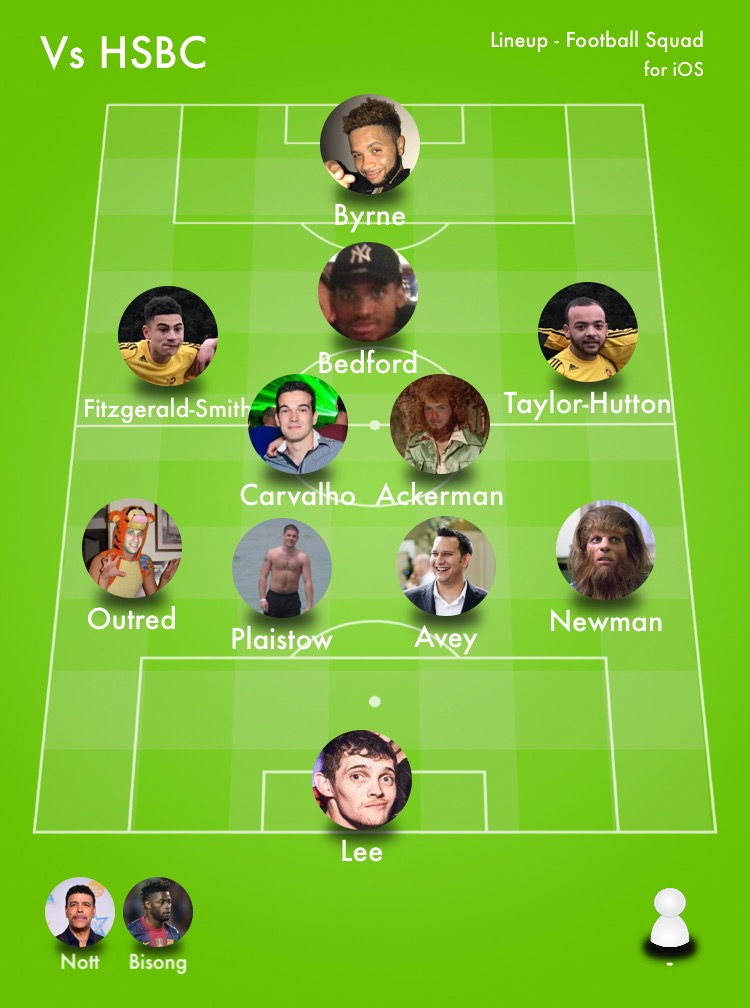 Posted in Match Reports 5s
---