5s vs Old Sedcopians – 25.11.17
Mighty 5s 2 – 2 Old Sedcopians [3 – 3 AET, 2 – 4 Pens]
This game was, unusually, a game of four halves, each extremely different to the last. With the expectation being that we will only have 8 more must-win league games to salvage our season, a good cup run would be important to help us build some momentum. It would be fair to say that we were very motivated going into the game.
This week we had to shift a couple of players outside of their natural positions, with Dulanjie as a right winger [and making a bold statement that he scores every time from the wing] and Stormzy at right back, who started off trying to join the centre mids but very quickly found his feet and kept their pacey winger quiet. We started the game on the front foot, camping in their half and limiting them to very speculative efforts in the first half. We took the lead fairly quickly, capitalising on a mistake by their keeper. A long range shot was easily saved by the keeper; however he must have been distracted by Dulanjie closing in as he fumbled the effort. Dulanjie pounced and despite the keeper getting a hand to it, the ball tricked over the line for a deserved 1 – 0 lead. That bold statement from earlier seemed just a statement of fact now!
We did manufacture a few more half chances and probably should have extended our lead before we eventually broke through. Dwayne picked up the ball on the half way line and looked up to see the run of Aaron in behind. A perfect through ball released Aaron who latched onto it and placed the ball calmly around the keeper and in for 2-0. It was a goal of real quality and showed just how easily we could get through them.
We were defensively solid throughout the half despite the forced changes at the back due to injury. Darren had to go off briefly for a head injury, but back on again when Stormzy on our right injured his hamstring with this match reporter playing 3 positions in the first 30 minutes to cover! The second half, however, would be very different.
We started the half as if we had already won the game, with everyone from all positions trying to get up to help the attack despite our 2 goal advantage. They would make us pay for this on the break, with a long ball over the top exposing a gap in our defence. Their striker latched onto it and Keiran, constrained by the end of the 18 yard line, made a good effort to get a hand on it however the ball fortuitously went between his hand and his leg to bobble into the net for 2-1.
We aimed to be a little more disciplined, keeping our defence and defensive midfields in shape, however this didn't last long. Their central midfielder picked the ball up around 25 yards and had years of space – he literally could have lit a cigarette, made a phone call and gone to the clubhouse for a quick beer by the time anyone got near him – and picked out the run of their winger. He headed it inside to their unmarked striker who placed it into the net for 2-2. Keiran again got close to it and was unfortunate not to get a hand to it, however it would have been quite a remarkable save.
There were a couple more warning shots, with the most noticeable being a good chance from 15 yards shot wide after this match reporter failed to get out due to an injury, however the score remained at 2-2 and we were heading for extra time. I think our shape wasn't helped by the constant changes due to injury, with myself being the biggest culprit of that, but we still should have defended better and seen out this game in the first 90 minutes.
The next 10 [as the ref reduced the halves due to it getting dark] was played out much like the first 45. We reassumed dominance and it paid off with another goal for Dulanjie. Aaron was released following a great run down the right, and Dulanjie came in the centre to take up the space Aaron's run had vacated. A terrific ball across the box was easily slotted home from 4 yards by Dulanjie, whose energetic performance deserved the 2 goals. We should have killed it off with a fourth, most notably from a free kick that was met at the back post by Ackers. His header went narrowly wide, just put off by the jump of the defender in front of him, and the whistle went for 3-2.
The second half of extra time was akin to the second half of normal time, however we were sitting in and holding on well. This was until the last minute, when their striker, going away from goal, went down in the box. I didn't see it properly [starting to sound a bit like Arsene Wenger here] but the penalty was given. They hit it down the middle to equalise in the last minute of extra time and take it to penalties.
We don't need to go into the penalty shootout – anything can happen and it was a lottery that we unfortunately lost on this occasion.
Aaron Byrne, for a terrific goal and 1 [maybe 2] assists was man of the match for an excellent performance – he really is showing himself to be a top striker for the 5s. Worthy of a mention is Dwayne's creativity and Dulanjie's 2 goals – he's not going to like it but he did a really good job on the wing and might find himself there again in the season! Our front 3 did a really good job and could have scored more, however we cannot need to score 4 goals to win a game. We need to see it out better, and hopefully this will be a lesson for the games to come, in particular our crucial league games where we must win 8 games out of 8 to give us a glimmer of a hope at promotion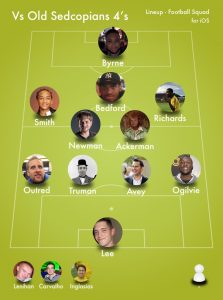 Posted in Match Reports 5s
---