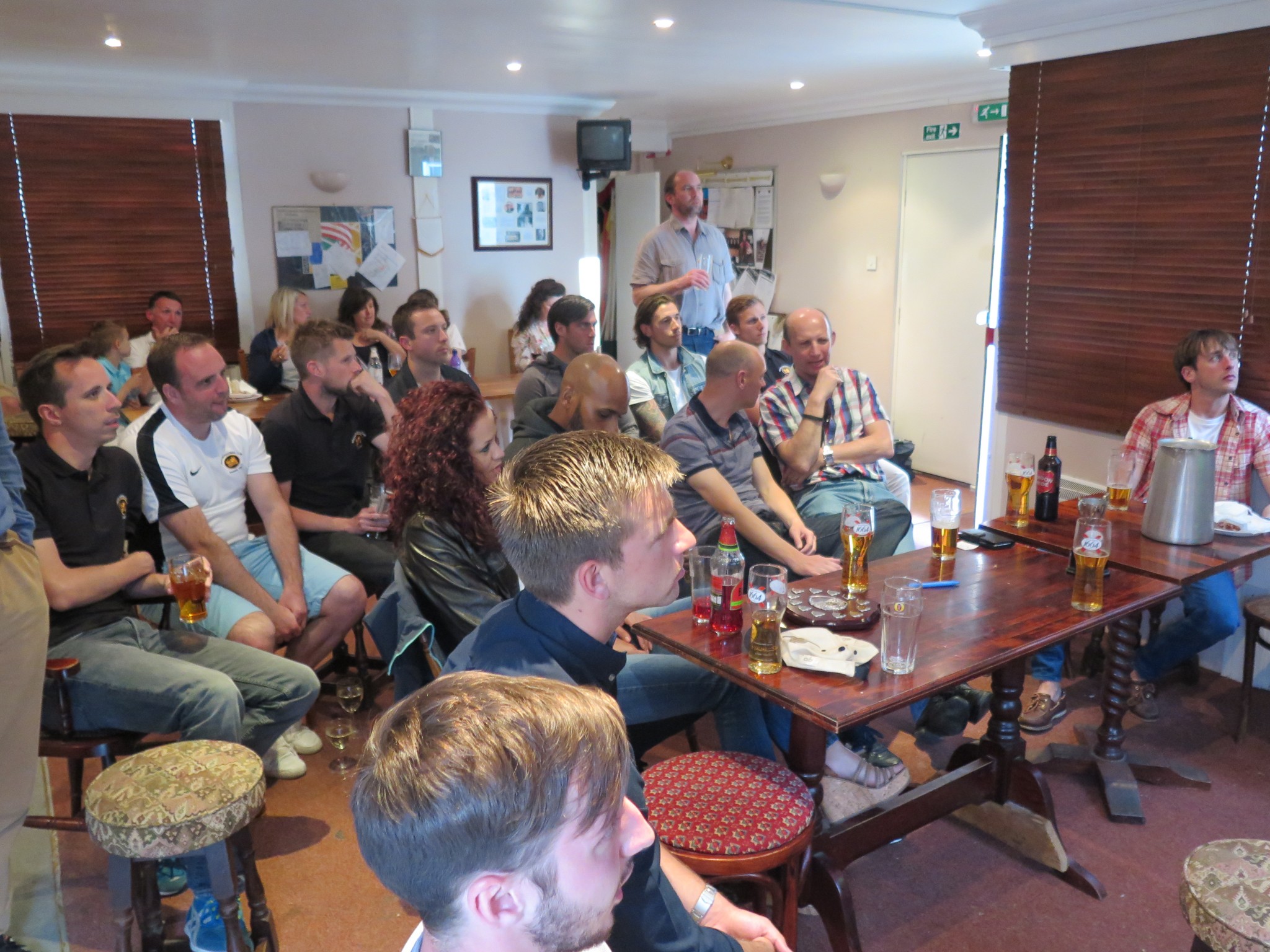 Awards Day/Night 2015
Another cracking day at the club started with the obligatory football match. But it was a nice sunny day so what better way to get proceedings under way with a one o'clock kick off. We were pleased to welcome Ashridge Athletic to the Hood. In a very entertaining game played in good spirit and reffed by our good friend Gerry Porter, the oppo shaded it with a 5-4 win packed with great goals and enough poor defending to keep everyone interested. Two great goals from Al G were particularly memorable but their volleyed winner was good enough to win any game, certainly this one. Thanks to Sherbs for our match day management and general help with bbq. Then drinks in the sun and a BBQ which carried on all evening. Not just the usual burgers and sausages but we have now added piri piri chicken to the menu. The Derby sweep was won by one of our oppo to cap a good day for them.
Then more drinking and on to our awards. Thanks to all for coming along to this well attended and well organised season finale and to Clappers and Mark Chappell for taking us through the evenings formalities and also for the sterling work they have done all season with team selection and fixtures. The Main awards were:
Ivan Gladkow (Vanny) –  Player of the Year 100%  Match day availability, always at training, Pplayed for a number of our teams when needed, coached youth teams helped training.
 Steve and Mckenzie Dewsbury. The double act that has worked tirelessly 24/7 to get our youth section up and running and help out with adults aswell.
Will Taylor Club's Top Goal scorer playing for 1s and 2s but sadly off to Australia.
Arturs Ivanov  – Golden Gloves our Keeper with the best record who has turned out for every one of our teams.
1s player of the year Andrew Graves (Rat) and Top Goal scorer Lewis Ackerman (Ackers)
2s Will Taylor won both POY and TGS
3s No player of the year but Dan Kelly was TGS, Special mention was made for the efforts of Ryan Gresty, Tony Posthelwaite and Darcy for their herculean efforts to keep it all going.
4s Dan Kelly was TGS again and Neal Davison was player of the Year
In the 5s Delanje Richards was TGS and Chris Outred was Player of the year but special thanks to Ed Plaistow for stepping up to run the team.
The 6s top Goal scorer was Nuno Jesus but Ryan Burchell struck a blow for our emerging youth and was Player of the year.
But off the pitch there was special 'Thank yous'.
The catering and bar has been outstanding again this year and that is of course down to the Kemp Family (Peter/Natasha/Jasper) and Steve Sales.
All the Captains and Managers have done a really great job in keeping our teams playing and our reputation in tact as we completed our fixtures within the SAL rules.
Thanks to Len Freeman who completed 9yrs as our Treasurer and is still going strong and to Mike Reed (Mustard) who has retired as our club secretary.
Recognising the ever increasing importance of Communications thanks to Ram (Merton Way) and Matt (Website) with a general reminder to everyone to help by submitting articles /photos to put on it.
Also thanks to our VPs for donating the replica awards to our winners.
And of course to all those members who came along to support the event and everyone who helped organise this event.
After these formalities and giving John Gridley his raffle prize of free membership for next year we got down to watching the Champions League Final and serious drinking…. well not so serious Golf Balling.
Posted in Uncategorized
---