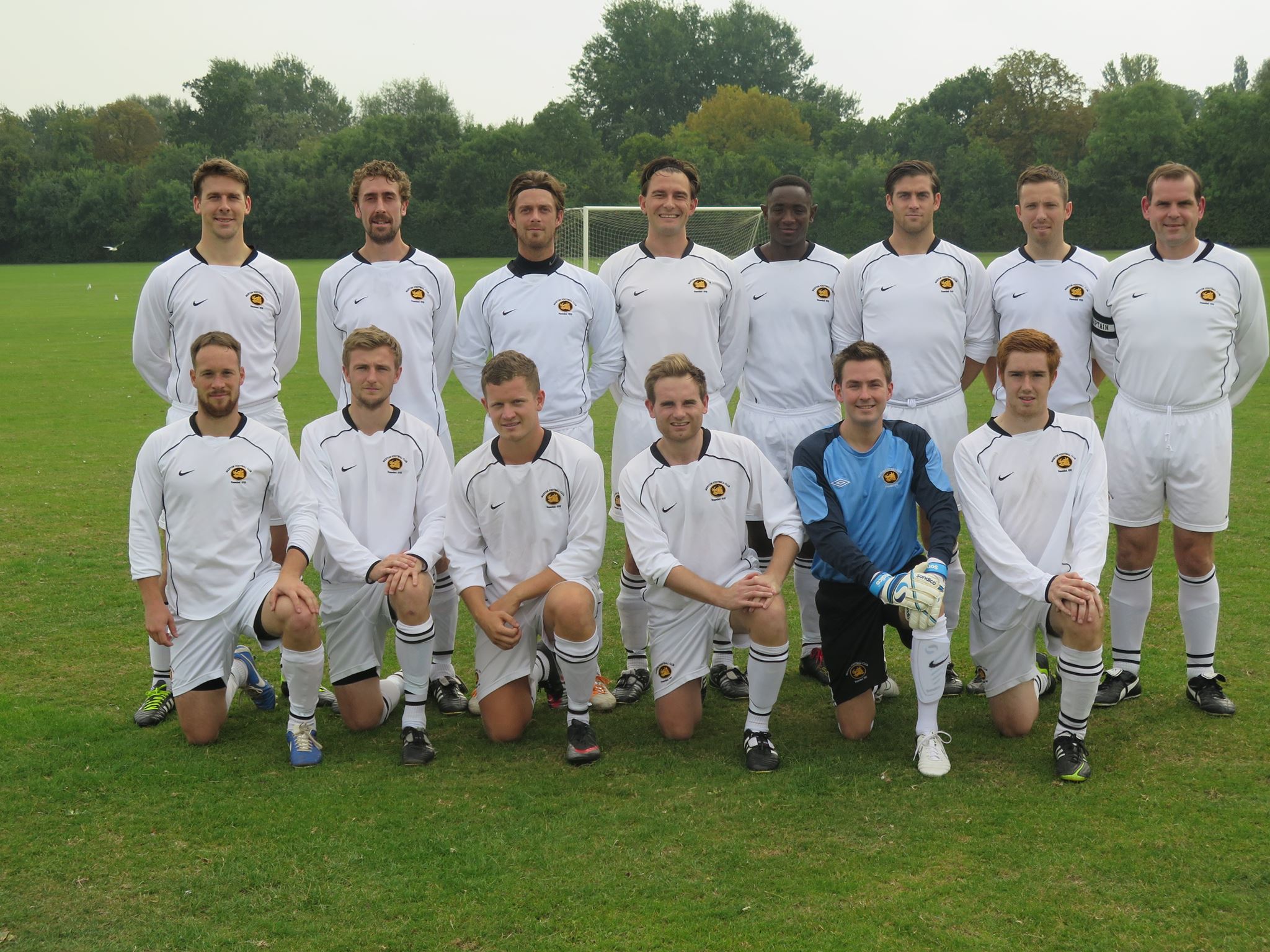 Merton vs Old Wilsonians – Saturday 6th September 2014
It was a very special day down at the Hood on Saturday as we celebrated our return to the SAL first division after 60 years in the lower divisions. We could not have hoped for more illustrious opponents as we welcomed Old Wilsonians who won the AFA senior Cup and Old Boys Cup last year and came within a whisker of winning the treble but were beaten on the last day of the season in the League. And it's no good thinking that we could have hoped for easier opposition because this season there aren't any.
A clash of colours meant that we stepped out in an all white change strip and looked a well organised competitive side lead by Clappers. We were also much more vocal than i ever remember us being.  OWs settled well and had the better of the early exchanges but we got in the game and created some chances mainly from set pieces. Sherbs was forced to make one good save but both sides moved the ball well but both defences did well.
But just before half time when I and I suspect some of our lads were thinking that a goalless first half would be good we lost concentration, conceded a sloppy corner, did not defend it well enough and were one down slightly unluckily at half time.
The second half was much more open and we scored very quickly. A flowing move down the right saw the ball swept across the left where Vanny 'rifled'  it in at the near post. But just as quickly as we scored we conceded. Giving away a free kick and not defending it well enough saw OWs back in front and then the game was pretty even with both sides having chances but with about 15 mins to go OWs wrapped up the points. We failed to clear the ball and their striker finished with a well taken overhead kick 3-1 and game over.
I was very proud of the boys last season and no less proud today  where we gave an excellent account of ourselves against a top side. It is good to be back in Division 1, staying there is the challenge that we can rise to. Clappers organised the team really well and we executed the plan well. Snooksy was outstanding again but everyone put in a good shift. Tills in midfield competed and won a lot of headers. We probably conceded too many free kicks and their delivery was top notch. OWs were the better side and deserved the points. Ref and Linos had a good game. It is Civil Service next week and Old Owens (SAL Div 1 Champs) the week after. Well done lads we battled all the way and can take a lot of positives from the performance. Thanks to all our members who came back to the Hood and supported the boys. And then enjoyed a lively bar after. Great Club atmosphere.
Team.    Sherbs (GK) Dave Hithcock, Clappers (Capt) Browner, Al G, Tills , Will Lowe , Snooks, Vanny  Bosh, Tee ,  Dan W, Connor M, Tom Rowe.
Posted in Match Reports 1s
---