Adult Results – 23.09.17
A breathless day of football; goals aplenty, and some remarkable results to boot (just one defeat across the club in 90 mins, in fact). Here goes:
1s beat West Wickham in the AFA SURREY CUP. 2-2 at full time, but snaffled the penalty shootout 4-2 (Clappers nudging in the final penalty)
2s drew 1-1 with Cambridge Heath 2s; Gabby Draghici scoring a worldie/benefiting from a keeper howler
Grab a beer before this one… the 3s game finished 4-4 during normal time against Old Finc…hleians 4s. At the end of extra time, it was 6-6!! Alas, the penalty shootout went awry (0-3), but cracking effort from the 3s.
4s drew 2-2 at IBIS Eagles 5s after being 2-0 down, with stand-in keeper veteran John Gridley saving a penalty
5s picked up their first win of the season, coming back to win 2-1 against HSBC 5s
6s drew 3-3 against City of London 3s after some confusion about KO times. Another cliffhanger!
7s went down 7-1 to a very strong Old Salesians 3s
Really great effort all round lads!
Pictured: 5s goal scorers Dulanie and Josh; a celebrating 5s team; and then a celebrating chairman across the pond!
4s having a few Beers with the Boys After playing Football Today, we Drew 2-2 and I was the hero as I Saved A Penalty after My son Danny Gridley hacked someone down ( he owes me One! )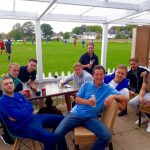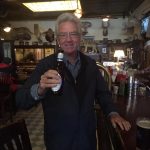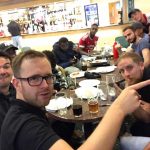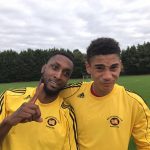 ---