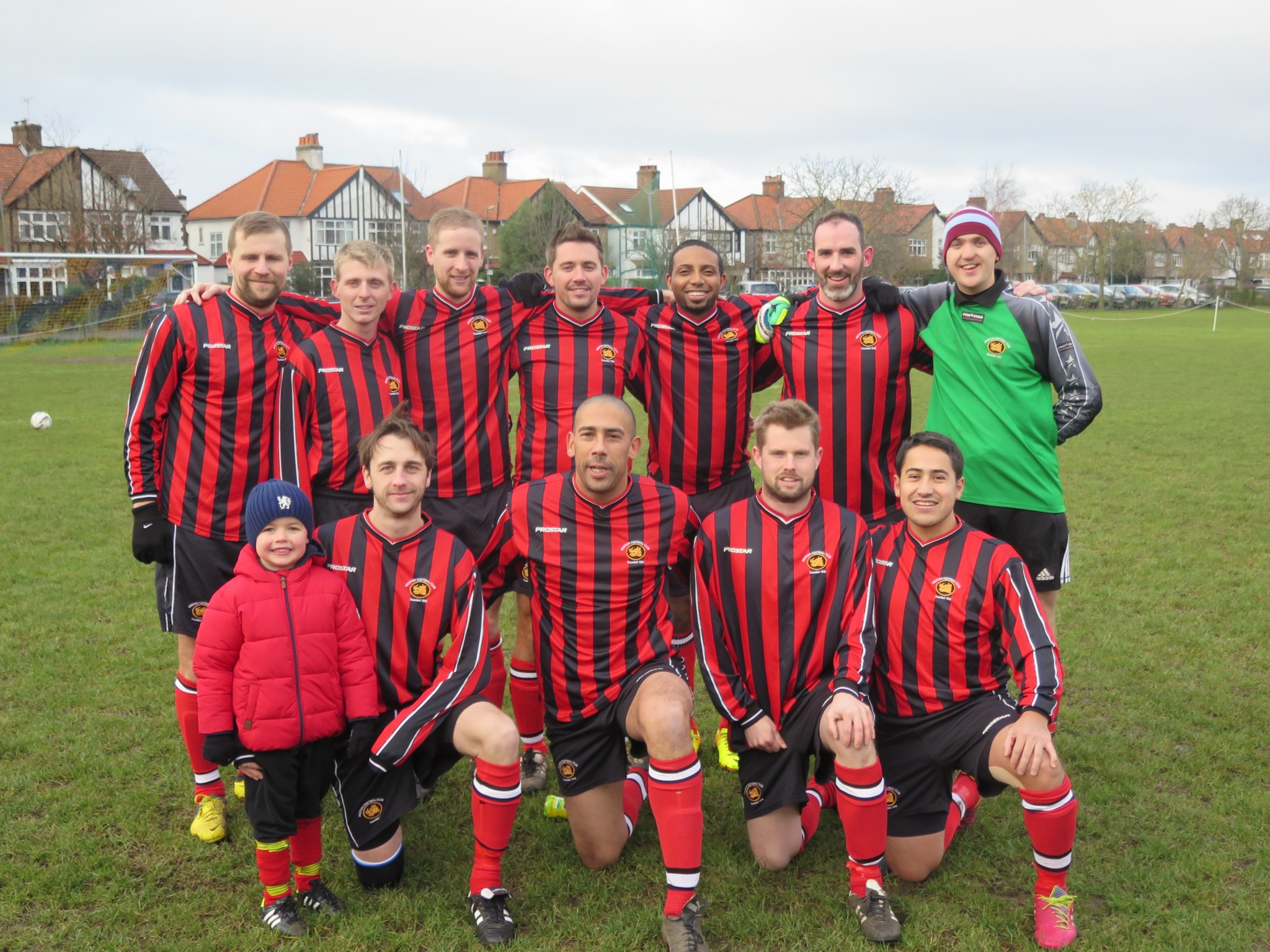 President Cup – 27.12.14
Presidents Cup
Old Ruts  (1) 3 Merton   (1) 2
This is an excellent Christmas event for our club and it is a pity when Old Ruts put on such a good show that we are not able to support it better. It was a little difficult to raise a team and i was grateful to the last minute call ups who stepped into the breach so we fielded a good eleven of enthusiastic players. And we played some good football.
The game started pretty evenly but we were reliant on a well organised defence with Rat at the heart of it. We had some good passing moves but our attacks seemed to break down in the last third. But after 25 mins Ricardo broke down the right and was brought down heavily for a penalty and Femi slotted it to give us the lead,. Unfortunately Ricardo was unable to continue although he hobbled along till half time. They were soon level when we conceded a free kick which we did not defend that well but it was well flighted and headed in. One sporting moment in the first half should not go unmentioned when the ref awarded Old Ruts a penalty and the player owned up to there being no contact. Good stuff.
At half time we pressed one of our supporters Darren to change into the kit and make up the eleven which he did with great purpose and commitment.  The game opened up and there was some good attacking play. We had a good chance when Seb broke free but fired narrowly wide.fNo sooner had Femi cut in from the left and hit a fierce shot against the bar than Old Ruts broke downfield and a cross and header gave them the lead. And that was the end of the scoring. Although we did have chances to equalise but they had better ones to wrap it up completely. The game was played an a good surface and was wel reffed. Thanks  to Old Ruts for their excellent hospitality and laying on this fixture which is such a good post Xmas event for us. Thanks to the supporters who braved the elements; it was a touch parky  but the curry warmed you up after. Thanks to Steve Dewsbury for helping out and running the line and all the lads who stepped up and played.
Team;  Arturs, Chris Outred, Rat, Paul Welch. Neal, CJ Rayner, Seb, Femi, Matt, Denys Ricardo (Daren).
Posted in Uncategorized
---