Under 10s vs Carshalton Athletic Greens – 16.12.2018
CAFC U10 Greens vs Merton U10 – 16.12.18
16th December – Under 10s report
Merton made the short trip the home of Carshalton Athletic on Colston Avenue for today's away match. The match was played on Carshalton's FIFA 2* 3 G Pitch which meant that last week's mud-fest at Joseph Hood would not be repeated. The pitch was quite narrow and Merton were playing left to right in the first half.
Carshalton made the brighter start and had the first two chances of the game; the first following good work on the left. Their shot at the end of the move flashed wide of Max's right hand post. Close! They put their second chance wide of Max's left-hand post.
These two chances provided a wake-up call for Merton and they responded in the right way. After six minutes, Dave had a shot saved and this was followed by a shot from Rio that was just wide of Carshalton's left- hand post.
Two minutes later, Rio found Dave on the left and Dave shot to the bottom right of the goal. It went in!
0-1 to Merton.
Merton had clearly adapted to the playing surface now and were controlling a midfield as congested as the M25 on a Friday afternoon. With ten minutes played, Rio provided another assist, this time for Maxwell who's first time shot was too much for the Carshalton goalkeeper. It went into to the bottom right corner of the goal.
0-2 to Merton.
After 11 minutes, Rio had another shot that went just wide of the left-hand post. Then Dave had a shot saved. Carshalton had a shot that they put wide of Max's post.
After 16 minutes, Maxwell made an interception and headed off towards Carshalton's goal. He shot to the bottom left of the goal. Goal!
0-3 to Merton.
Merton were playing well defensively as well as offensively; there was good work by Harry, Joe and Ollie that ensured that Carshalton did not find a way back into the game.
After 19 minutes, Dave hits a good shot to the bottom left of the goal. It went in!
0-4 to Merton
Twenty one minutes played. Up to this point, Faris had made positive contributions to the team with good tackles and runs but had not added his name to the scoresheet. He was about to change that.
He won a tackle and ran towards goal before unleashing a shot to the bottom left.
0-5 to Merton
Two minutes later, he was back at it again. Tackle, dribble, shot and goal. Bottom left placement again.
0-6 to Merton
In the 24th minute Maxwell crossed for Dave to calmly slot home to complete his hat-trick from close range.
0-7 to Merton
Shortly after the referee blew for half-time.
If the Carshalton boys did not come out for the second half it would have been understandable. No-one wants to be on the wrong end of such a hammering. Credit to them for keeping their heads high and coming out ready to go again.
When the second half commenced, it was clear that Merton had eased their foot off the accelerator. In fact, I would go as far to say that they had parked up and were having a picnic beside the road.
Dave was now in goal and launching himself into all manner of dives to the left and right.
All of Merton's players were enjoying themselves. Max was now an outfield player.
After 5 minutes, Rio had a shot that was parried. Louis was first to react and smashed his shot into the net.
0-8 to Merton
Eight minutes of the second half played, Carshalton were now creating a few chances and they managed to score. Dave 'the cat' parried the initial shot but their striker was on hand to slot home.
1-8 to Merton
Ten minutes gone, Carshalton won a corner. The initial shot is blocked but again they react first and their striker smashed home the loose ball.
2-8 to Merton
They could not come back from 2 -8, could they? This was their best spell of the match.
Faris was on a hat-trick and clearly keen to score again. With 14 minutes played, he went on a run and shot to the top left corner of the Carshalton goal. It went in!
2-9 to Merton
Incredibly there was still another goal in the game; after good work in midfield, Louis scored his second with a great shot to the bottom left of the goal.
2-10 to Merton
A couple of minutes later, the referee blew the final whistle.
Well done again, boys!
Special shout out to Percy who wasn't able to play today.
Have a great Christmas and a Happy New Year everyone!
Author: Mike Pitt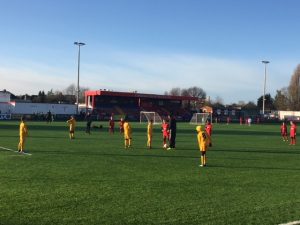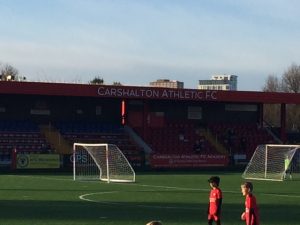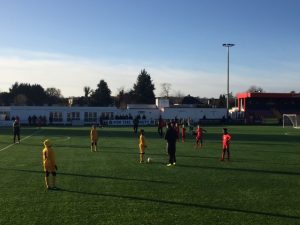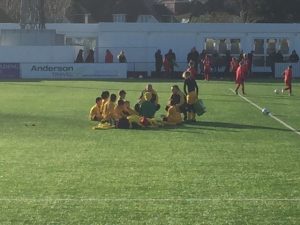 Posted in Under 10s Reports
---