Under 10s vs FC Athena – 27.01.2019
Merton Under 10s vs FC Athena
27th January 2019 – Under 10s report
It was a bright, crisp and sunny Sunday morning at Joseph Hood Rec. A day when you can drive your car and justifiably wear your sunglasses because of the sun's brightness. Once you step outside, it's a slightly different story as the biting wind reminds you that this is still a British winter's day and if you are not careful you could be punished for your overly optimistic assessment of the weather.
Today's opponents, were FC Athena and presumably named after the Greek Goddess for wisdom and warfare. Hopefully warfare would not be necessary, Merton are a family focused club and I am sure that the Surrey Youth League would take a dim view of 'warfare' during matches. It is not conducive to player development.
The first half commenced with Merton playing right to left.
During the first few minutes both sides were finding their feet on the muddy pitch.
Both Merton and FC Athena started moves that broke down in the midfield. This was entirely understandable because the middle of the pitch was very muddy and heavy going.
After 4 minutes, FC Athena had the first corner of the match.
After 5 minutes, Max was called upon to made a double save as Athena were starting to have more possession and work the ball more effectively.
Six, minutes gone, another corner for FC Athena, they were now knocking at the door.
7 minutes gone, Merton were coming more into the game. A good challenge by Harry and forward run was followed by a Percy run down the left. This was more promising for Merton.
8 minutes in, an Athena attack breaks down as Ollie won possession and is then fouled. Merton free kick.
11 mins into the game, Faris has Merton's first shot of the game. It's on target but straight at the keeper. Their keeper gratefully collects and rolls out to his defender.
One minute later, a similar scenario with a different outcome. Faris shoots, the keeper manages to get to it but is unable to prevent it trickling over the line.
1 nil to Merton
14 mins, another Faris shot – cleared by Athena.
15 mins, a Maxwell shot hits the post.
17 mins gone, Athena on the offensive; good approach work by them followed by a sharp shot. Max makes a good save.
With 18 minutes gone, their efforts are rewarded. After a breakdown in play in the midfield, Athena advance on the Merton goal and their striker shoots into the top right corner of the Merton goal. Max was unable to get to it. Goal to FC Athena.
1 all.
Attempted through balls from both Merton and Athena were not reaching their intended target because they were getting stuck in the mud. It was difficult to dribble, because of the mud. Merton's trademark 'pass and move' football was difficult to execute…because of the mud.
With 19 minutes played, after an attempted Merton clearance failed, Athena were able to capitalise. When it came, their shot was to the bottom right of Max's goal. It went in.
1-2 to FC Athena
Encouraged by coach Neal and watching parents, Merton kept their heads up and attempted to get back on level terms.
With 24 minutes played, the ball reached Maxwell on the left midway in his own half. He set off on a run and drifted past three Athena players before arriving in the Athena penalty area and unleashing a thunderbolt shot that went just wide of the right-hand post. Close!
Moments later the referee blew for half time. Still 1-2 to FC Athena.
The second half started with Merton kicking left to right and uphill.
After 2 minutes, Percy was able to get a shot away after some good Merton pressure.
His shot was saved.
After 4 mins, the match ball was so covered in mud that it had to be replaced. It's not often that the match ball gets subbed off, but it happened today.
5 minutes in, after a turnover of possession, a fast break for Athena results in a low shot that hits Merton's right-hand post. Athena are first to the loose ball and shoot again. Max makes another good save.
Bobby, Percy and Louis were working hard in midfield. It was not easy for them because of the mud. Both teams had to contend with the same conditions of course.
If there was a difference between approaches it was that Merton stuck to their footballing principles and always played out from the back always whereas Athena were more pragmatic. They were more willing to kick the ball long from their goalkeeper and try to build attacks from further up field. To be fair, they did also play out from the back.
Ollie and Harry had the difficult task of receiving the ball under pressure and then trying to find a good outlet pass each time. They did well in the conditions. Rio was also making his presence felt and a solid contribution to the team.
10 minutes played, Bobby had a shot that was saved.
14 minutes gone, Merton win a free kick. Bobby takes it and his shot is blocked.
The ball came to Maxwell who shot and hit the post.
After 15 minutes, after advancing on goal Percy shoots to the right- hand side of Athena goal. The bounce of the shot fools the goalkeeper and it is in!
2 all
Merton had worked hard to get back on level terms and their efforts had been rewarded. A draw would have been a fair result, but it wasn't to be today.
After a few more chances for either side, Athena came away with the winner and all the points when their 24th minute shot trickled over the line to the bottom left of Max's goal.
2-3 to Athena
Football can be cruel sometimes. Shortly after the re-start the referee blew the final whistle.
Unlucky boys!
MOM – Bobby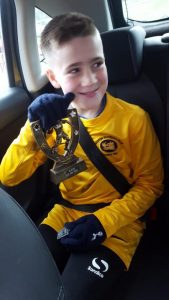 Special shout-out to Joe and David who were both unable to play today.
Author: Mike Pitt
Video credit: Scott Dowsett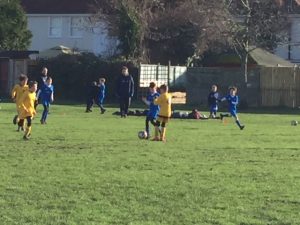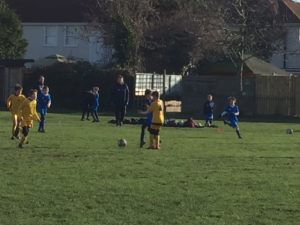 Posted in Under 10s Reports
---