Under 10s vs NPL – 30.09.18
Merton FC Under 10s Vs NPL FC under 10s, 30th September 2018
Another glorious September morn greeted the boys and parents for this latest Sunday fixture as Merton Under 10s sought to continue their 100% start to the season.
After multiple dads claimed to be carrying match balls thereby needing to park inside the ground everyone gathered around the Subbuteo sized pitch. Well, nearly everyone. Percy had a prior engagement, Dave needed an extra bacon sarnie so Neal (his chauffeur for the day) had to hang on while Dave ate some After-Eights and supped his Earl Grey to finish off and Maxwell was relying on Mike's satnav which had them confidently parking up somewhere just east of the Etihad Stadium on account of the postcode from the Twilight Zone.
Spot on 10 o'clock the ref got us under way and both teams were straight at it.
Merton drew first blood with a nice finish after 5mins as Dave rounded off some good inter-play. Soon enough the busy NPL outfit had their striker belt the ball into the roof of Max's net to make it 1-1.
Merton went on to miss some nice chances including good openings for Dave and Farris. Dave hit the woodwork with a belting shot and that was as close Merton got for a while. The cultured Merton passing was not quite in evidence so far.
Half-way through the first period, Louis played a nice through ball for Rio who took a good position but then narrowly dragged his effort just wide of left hand post. Oohs and aahs emanated from the Respect Line. Merton were taking ownership of this game more and more but needed to find the goals to seal the deal.
End-to-end football continued with chances for both teams. Max remained the quieter of the keepers with pick-ups rather than saves to deal with whilst the NPL keeper had to be on his toes more than once to make decent stops.
As the half wore to a close Rio won a free kick and took it himself with some aplomb to put Merton deservedly 2-1 up with power and accuracy. After the restart a typically power and pace filled run by Maxwell (yes the homing beacon had brought him in by now) led to a sweet pass to Farris who turned his defender and shot. The NPL keeper parried and his own defender reached ball just ahead of Louis to put it out for corner which Merton failed to convert. Another chance gone begging.
Merton needed to just pas a bit more and use their training pitch skills to make more chances. Half time seemed to come fast at 2-1 which seemed about fair at that stage.
The second half so passages of even pressure in the opening minutes. Rio and Joe had shots but no avail. Ollie was working well across the backline and Harry was breaking up play and bringing the ball out with maturity as we have come to expect. But the team was still missing some of their usual magic. NPL used pace well in wide areas (if you can call them wide areas on such a narrow piste). But neither side was converting well in the final third.
Subs continued to be rotated and the pattern remained the same with Merton v slightly on top of this finely balanced contest. In the final quarter of the game NPL eventually forced Max into a trademark save with a header and then moments later scored as the ball squirmed narrowly below Max from powerful shot. 2-2 and all to play for as the game wore to its end.
After the re-start Ollie played Louis in and he passed first time to Maxwell with a through ball and Maxwell then controlled and shot with power just wide of post. Cue more oohs from the side-lines. Did either side have it in them to win this?
The game continued end-to-end as both sides tried to answer this question. NPL had a good shout for a penalty turned down by the ref. This was a surprise as the ref had such an eagle eye for foul throws (about 10 were given against NPL in the match) that you would have thought him a stickler for a spot kick too. Regardless, nothing was given and play continued.
An episode of pin-ball in our box led to a good clearance but an injury to NPLs midfielder held up play.
In the final passage of play from a corner Rio made contact with a good header and Louis shot from the resulting position but it was cleared on the line to leave the contest feeling unresolved at 2-2 as the ref blew the final whistle. The 100% record was at an end on aday when the boys did not quite find their usual rhythm against a decent opposition.
Neal decided no one stood out on this occasion so Man of the Match was not awarded due to "ok performances all over the pitch."
Having said that, the author would like to point out that Harry deservedly won Man of the Match 3 weeks' ago but this accolade was not recorded in the annuls of Merton FC due to no bugger telling him at the time. In pointing this out it is his sincere hope that Dan will stop banging on about this innocent oversight through the long winter which lies ahead! 😊
Here's to a return to their passing excellence and another win next week.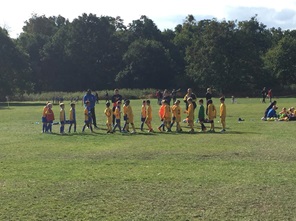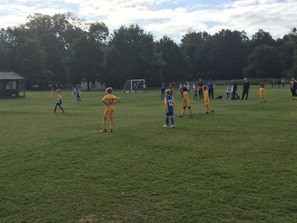 Posted in Under 10s Reports
---