Under 10s vs Old Coulsdon Colts – 25.11.2018
Merton Under 10s vs Old Coulsdon Colts (Friendly)
25th – November 2018 – Under 10s report
There were clouds above and the sky was overcast. Today's match was a friendly against Old Coulsdon Colts who managed to confuse everyone before kick off by arriving in the same yellow and black jackets that Merton wear. Top marks for originality, no other team have done that before.
The first half started with Merton playing from right to left. The early exchanges were fairly even; both sides were giving away the ball fairly cheaply and putting themselves under pressure. Was this Colts' game plan? Press Merton and force them into mistakes. After 4 minutes, the ball was given away by Merton a few yards outside of their own penalty area. This was a golden invitation for Colts to attack Merton's goal and they did. Their striker fired a shot into the top left corner of Merton's goal. Max was unable to save it.
1 nil to Colts
Play continued to be quite disjointed and the pitch was definitely a factor. If this was a horse race, the going would be described as Good to Soft. At times, Merton did try to stick to their free-flowing pass and move style of football. They were able to create some chances.
Percy had a shot that went wide after 9 minutes.
Play was halted temporarily after a couple of canine pitch invaders literally ran circles around players from both teams before one of them marked his territory in the Colts goal. Enough said. Then their owner sheepishly called them off the pitch allowing the game to re-commence. Possession was still being turned over which made for an entertaining game for the neutral. After some good approach work, Faris had a shot blocked.
With 12 minutes gone, Harry, who was having an outstanding game, made three successive good tackles in the space of 1 minute. There was also good defensive work from Ollie and Joe.
After 13 minutes, some good link up play for Merton. Rio to Faris. Faris to Rio. Rio ends his run with a shot across to the right side of the goal that was wide of the post. Then it was Colts turn to exert some pressure as they had a succession of corners. 15 minutes played, Harry made two decisive tackles and then a great pass through to Maxwell who was now racing away towards the Colts goal. When he arrived at the edge of the penalty area he struck a powerful shot to the bottom right of the goal. It went in!
1 all.
Merton were now in the ascendancy; more chances were being created by them. There was some good work in midfield by Louis and Percy.
23 minutes on the clock; good work on the right by Joe, a nice stepover and then a cross. Percy connected on the half volley and smashed it into the top left corner of the Colts goal.
2-1 to Merton!
Not long afterwards the ref blew for half-time.
The second half started with Merton kicking left to right and uphill. Colts started the second half with increased intensity and started to apply pressure again. During the 4th minute, Colts won a tackle outside of Merton penalty area and launched an attack. Their striker hit his shot into the top right corner of Merton's goal. It went in!
2 all.
8 minutes in, Maxwell controls the ball from a Colts goal kick and heads towards goal. He spots Joe on the overlap and makes the pass. Joe shoots and hits the side netting.
11 mins played, Colts launch an attack resulting in a low shot to the bottom left of Merton's goal. Max could only parry, the follow up shot was put wide by Colts. That was a close one!
13 minutes, Rio wins a tackle in midfield and threads a fine pass through to Maxwell who is now advancing to the Colts goal. He strikes a fierce shot to the bottom right corner of the goal. You don't stop those! It's in.
3-2 to Merton!
14 minutes gone. If ever there was a time to consolidate a lead, this was it. In years to come all of the boys will learn more about 'game management' and 'seeing a game out'. Today there was none of that. Within a minute of Merton's third goal and the Fortnite inspired goal celebrations, Colts were bearing down on Merton's goal and Max could do nothing to stop the shot when it came. Boom. Top right corner and in it went.
3 all
Disappointed at immediately conceding, Merton went in search of another goal. After 16 minutes, a Dave corner resulted in Max hooking the ball just wide.
18 minutes gone, another Dave corner; Rio has the chance this time. His shot was saved.
In the last five minutes, more pressure on the Colts goal from Merton, more chances created but unfortunately no more goals.
The referee blew for the end of the game.
Dave was awarded the Man of the Match.
Well done again, boys!
Let's keep it going for Match Day 12.
Author: Mike Pitt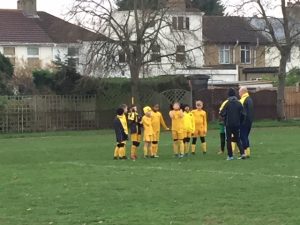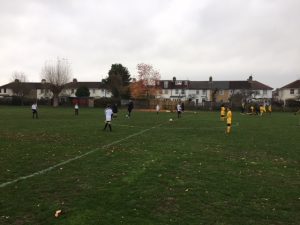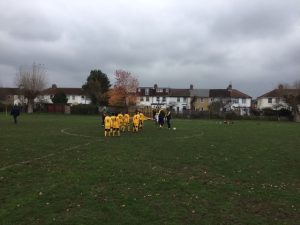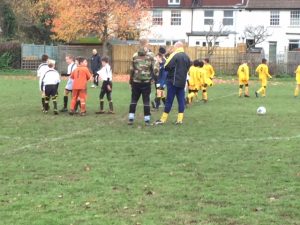 Posted in Under 10s Reports
---