Under 10s vs Woking Cougar Colts – 03.03.2019
Merton Under 10s vs Woking Cougar Colts FC
3rd March 2019 – Under 10s report
As kick off approached, it was wet but not raining at the Joseph Hood Rec on Sunday morning. Merton were to play on their alternative pitch close to the paddling pool at the top of the Recreation Ground. Following an enforced lay off due to Half Term, would Merton be able to maintain their momentum? Merton's opponents were Woking Cougar Colts who arrived with seating, a Gazebo and vocal support.
The first half commenced with Merton playing left to right.
During the first couple of minutes both sides turned the ball over a few times.
Merton started to take control and seize the initiative. Defensively they were solid because of good work from Harry, Ollie, Joe and Max.
After 3 mins, following good approach work, Rio shot just wide of the Cougars' goal.
1 minute later, Faris had a shot that was also close.
After 6 minutes, Merton had the first corner of the match.
Merton's second corner came just one minute later.
8 minutes into the first half, a goalkeeping error was pounced upon by Louis who slotted home from close range.
1 nil to Merton
Merton were now very comfortable and controlling possession. Having said that, Woking did have a goal disallowed in the 10th minute because the referee had blown for a free kick before the 'goal' has been scored.
After 12 minutes, Faris' had a shot that went just wide.
Good link up play between Faris and Rio ended with Rio shooting to the bottom left of the Cougars' goal.
2 nil to Merton
Merton seemed to be able to create goal chances at will; they certainly seemed in control and yet it was Woking who scored next.
Just before half time and against the run of play, Woking scored to keep themselves in the match.
2-1 Merton
The second half was a completely different story. Unfortunately, Merton lost the ball in dangerous areas on many occasions and Woking were able to take advantage.
9 minutes after the restart and the Cougars were level.
2 minutes later, after a run and shot they were 3-2 up.
Merton needed to fight back to stay in the game and they did briefly. After 13 minutes, Maxwell fired a shot that took a slight deflection before reaching the Woking net.
3 all.
It proved to be only a moment's respite because the Cougars capitalised on more turnovers and were soon 4-3 up and then 5-3 up. They looked delighted with their morning's work, as did their supporters.
In truth, it was a game that Merton should have won comfortably but ended up losing. This is development football and there will be ample opportunities for our boys in yellow to dust themselves off and return to winning ways.
Harry and Louis were jointly awarded Man of the Match.
Shout out to Percy, David and Bobby who were all unable to play.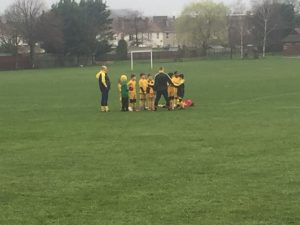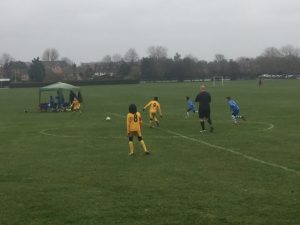 Posted in Under 10s Reports
---