Under 13s vs Hampton Rangers – 12.03.17
Merton Fc VS Hampton Rangers
Our line up (GK) Milo (CB) Jack and Nikoy (LB) McKenzie (RB) Alfie (CDM) Daniel (RM) Kieron (LM) Kadeem (CAM) Evan (ST) Justin and Marcus. First half we had kick off we were playing well as were the opposition. We had a few shots off and we were passing and defending well, the conditions were not the best, it was a bit rainy and muddy but we all had to get used to it.
Evan scored the first goal assisted by McKenzie on the left side. He curled it a little bit and their keeper could not reach it, 1-0 to Merton.
They started paying a route one. A very nice cross coming from goal fell to one of Hampton's players who ran through our defence, Jack was the last man but couldn't foul him or he would be sent off so the opposition got a goal, 1-1. They were passing the ball down the left side and trying to get the crosses in but Alfie was doing well to stop them, Kadeem had a couple of chances for the cross but couldn't make them, whistle blows, first half over.
Both teams had a talk and the game recommenced, second half Hampton's kick off. We weren't passing as well as before and Hampton were pushing a lot. But we were on the break and passing magically, we got a shot off but it got blocked, the ball fell to Evan who yet again scored a great goal just in front of the half way line, 2-1 to Merton. Hampton were really trying at this point and eventually scored a goal via route one, a good goal 2-2.
Both teams needed a goal to win, we tried really hard but Hampton came out on top scoring another goal by running straight through our defence and skimmed our goalie and scored, 2-3. We really needed a goal here so we made some subs: Isaac came on for Justin at (ST) Hugo came on for Kadeem at (RM) Freddie came on for Alfie at (RB) and Theo came on for Evan at (CAM).
Hampton had another run but were unintentionally fouled by Freddie, free kick to them. The free kick didn't go in so Merton still had a chance with 10 minuets left to score. Isaac got the ball and ran but there was a hand ball so the ref blew the whistle but he couldn't hear it and carried on running and everybody told me to stop so he did and had a laugh, Kieron then ran down the right and tried a cross which led to a corner for Merton. Theo took the corner as usual but scuffed it, unlucky, but all was not over!
Merton on the break again, the ball was passed to Hampton's defence and they tried to clear it but failed, in comes Marcus, he runs through what was left in their defence and scored a very nice goal leading to a 3-3 score line.
Hampton try to get the goal but the whistle was blown and the match ended 3-3. Everyone was happy, it was a very nice game and it was very even sided, everybody shook hands at the end and all was merry, well done everyone!
By Isaac Tossio (striker)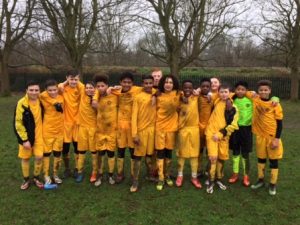 Posted in Under 13s Reports
---