Under 13s vs Sheen Lions – 06.11.16
Surrey Youth Cup
Sheen Lions 0-5 Merton FC
On a cold sunny Sunday morning we arrived at Sheen Lions ground. Before the match we had no referee, but luckily their assistant manager agreed to step up to the challenge so game on.
An excellent performance by all the team. We looked well organised and hungry for the win. We were all in a positive frame of mind, after last weeks win.
The tactics from Steve were to play 1 & 2 touch passing and press them. We pressed them hard and had one or two opportunities on goal before Justin's goal arrived.
We continued to press the other side, showing quick good passing and communicating well with each other. It wasn't long before Marcus used his pace and skill to score our second goal. Sheen Lions were hungry for a goal but our defence stood strong to get challenge.
Our third goal came from our striker Marcus, from a deflection of a Sheen Lions player. But a well deserved goal all the same.
Our calm tactical passing continued leading to our fourth goal my first for Merton FC. Evan passed me the ball, passing on d player I put the ball into the top left hand corner.
With the first half whistle being blown shortly after.
Steve half time talk was to keep passing and work hard as a team.
Second half started. Sheen Lions started with a more aggressive pace looking for their first goal. We continued to pass effectively and kept up the pressure. It was a half that our defenders were made to work hard, but stood up the pressure well. Justin scored his second goal of the match from out of the area striking the top left corner. The score ended up 5-0.
Great match lets move onto the next round.
MOM Freeeeeedie.
Match report from Hugo (right wing)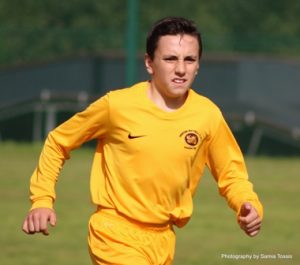 Posted in Under 13s Reports
---