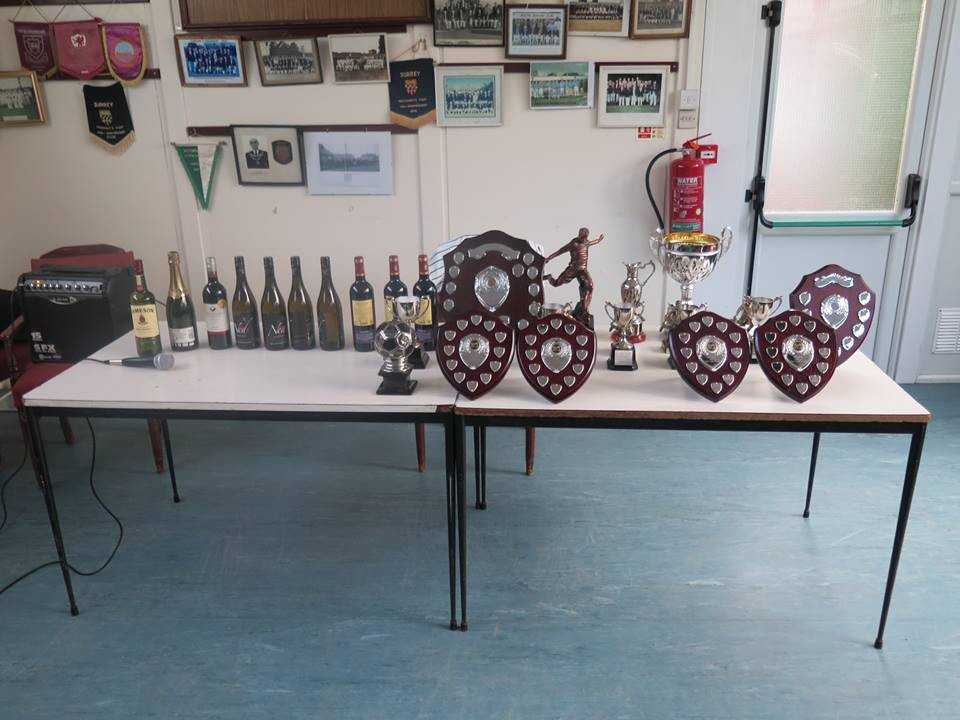 Awards Night – 27.05.17
With the conclusion of yet another fine season at Merton FC, everyone's favourite occasion of the year
rolled into town: awards night. The brains trust made the brave decision to host it on the same night as
the FA Cup final, given the success of doing so the year before. Their reward was two London teams mak
–
ing it to the final, which unfortunately meant the loss of a few good men to Wembley on the night.
But it hardly put a dampener on things, as scores and scores began to filter into the bar in the early
evening. The final was a terrific affair, although the first goalscorer (and minute) were wrapped up disap
–
pointingly quickly – Matt Haswell the beneficiary after some dispute over the timing of the goal.
In typical fashion, Arsenal were flagrant and nearly cost themselves what should have been a straightfor
–
ward win over a lacklustre Chelsea. But, to the delight of a smattering of Gooners in our ranks, they just
about fell over the line.
With that, it was onto the awards, and the hum of expectation as Max took the mic. There were some
lovely acknowledgements made to all those who put so much into the club, not least Pete Kemp and
Mark Chappell, who are leaving their respective roles and have been worthily inducted as Vice Presidents.
We also remembered Nick Papanastasiou, who sadly passed away at the end of last year.
But onto the awards it was then, with Clappers taking centre stage. The full list of winners can be seen
below, but it was great to see such a blend of new and old players among those being recognised. Some
really popular winners among them too, with the likes of Siraj Durrani winning both the Golden Gloves
award and the 1s Player of the Year. Paul Pearce was the emphatic winner of the 2s award, while there
were big cheers reserved for young George Brobbey, who claimed the Golden Boot in his first season at
Merton.
But the most deserving on the night was surely Chris Outred, who won the Club Player of the Year award.
A Merton man through and through, who has always been willing to travel far and wide to play for any
team donning the mighty Yellow. Incidentally, he and brother Dan also became the first brothers to win
the award.
Wonderful scenes. But with the awards all done and dusted, it was back to the bar. Despite a snafu with
the beer tap, the lads weren't to be denied, and their thirsts were never going to go unquenched. The last
few drops were literally drank dry over a sensational game of categories – the highlight of which was Joe
Grew repeating the same answer in the category of his own choice.
Massive, massive thanks to Matt Haswell for putting up with it all, and gamely staying to the bitter end
to serve us all. For a brave few, the evening was then ended in the general Earlsfield area. As closing time
approached, there could not have been a more appropriate conclusion to the season than Vanny getting
(double) golf balled. What a way to end 2016/17. Looking forward to what 2017/18 has in store already.
1s Top scorer:
Charlie Hockless
1s Player of the year:
Siraj Durrani
2s Top scorer:
David Quainton/Dan Kelly
2s Player of the year:
Paul Pearce
3s Top scorer:
Glenn Pitman
3s Player of the year:
Dan Bridgeman
4s Top scorer:
Dom Plumridge
4s Player of the year:
Dom Plumridge
5s Top scorer:
Dulanie Richards
5s Player of the year:
Delman Babaker
6s Top scorer:
George Brobbey
6s Player of the year:
Callum Fisher
7s Top scorer:
Malcolm Kandulu
7s Player of the year:
Tom Roberts
Golden Gloves:
Siraj Durrani
Golden Boot:
George Brobbey
Match Report Writer of the Year:
Dan Kelly
Club Player of the Year:
Chris Outred
Club Person of the Year:
Mike Todt
---