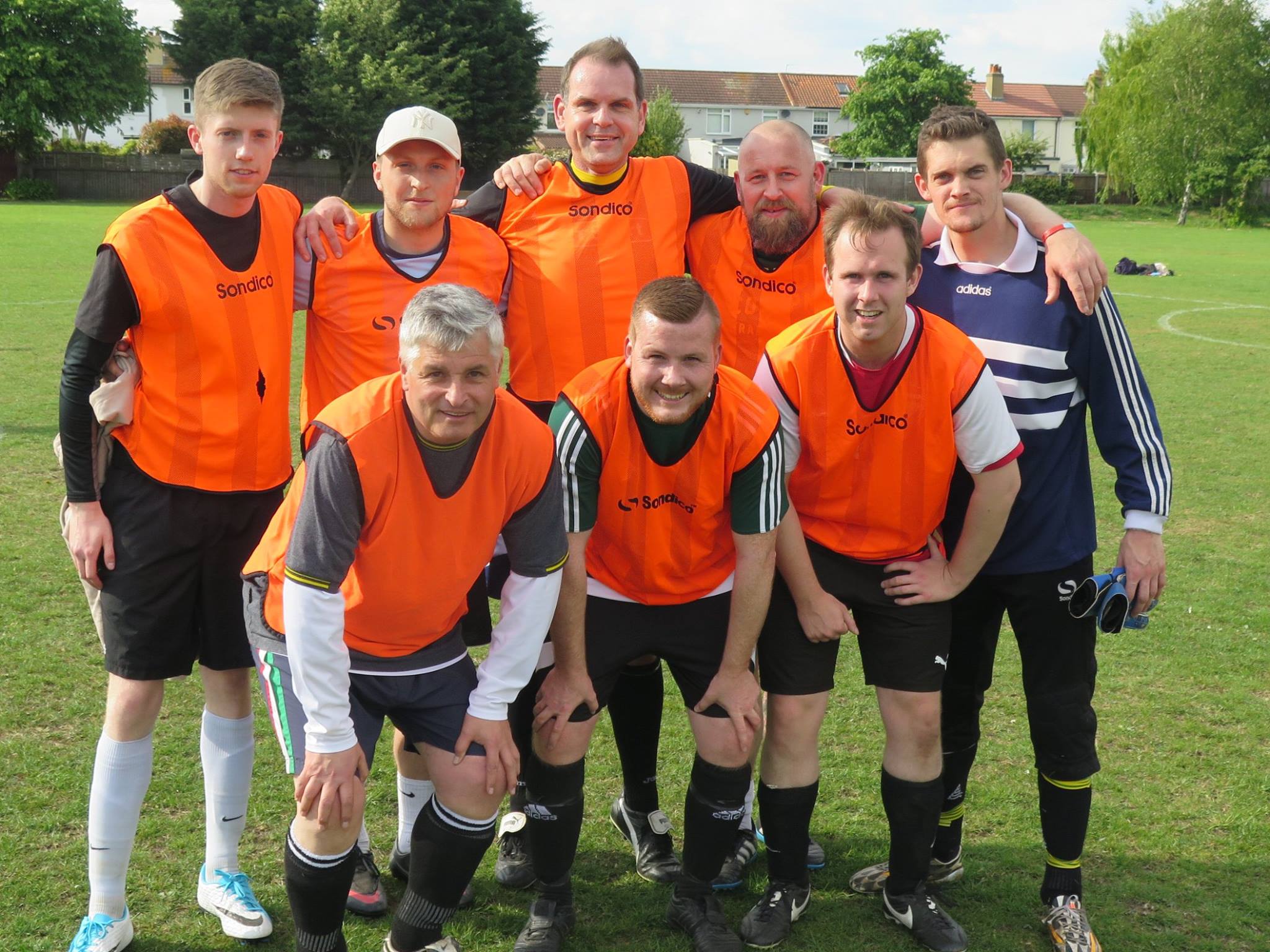 Merton FC World Cup Tournament – 13.05.17
MATCH REPORT – MERTON WORLD CUP
After a build-up which included a live draw, vast over-catering for a barbecue, an almighty palaver setting up goals, and a frantic search around London for an air horn, the inaugural Merton 6-a-side World Cup finally dawned under some rather dull skies.
A mixture of excitement, curiosity and tardiness was in the air, as the players just about assembled on time for the mandatory briefing. There were precious few no shows on the day in fact, although the few that did all seemed to be from the unfortunate Team Italy, which led to a last-minute transfer for Mick Elgar to assist the Azzurri. Martin Quinlan too was a late substitute, filling in for Team Spain, who were rather lacking in (fit) goalkeepers.
Nevertheless, following an inspiring rules briefing from Clappers, and the sound of said elusive air horn (or Klaxon – a word I'd never heard of – as it became known for the rest of the day) sounded, and play began.
Team Brazil were the early movers and shakers in Group 1, with Chaz Martin pummelling four goals past an unfortunate England in a 6-2 win. On the other pitch in Group 2, Spain snuck home 4-3 against Cameroon, despite a Clappers thunderbolt.
The games came thick and fast thereafter, with the 6-strong squad of Team Italy beating France 4-2, and Germany and Argentina playing out a tense 1-1 draw next door. The next round saw the Germans topple the Spaniards 2-0, Cameroon pick up their first win over Argentina (4-1), Italy thrash England (5-1) and France pull off a 2-1 victory against Brazil, thanks to a last-minute, stonewall/controversial penalty.
Cameroon then booked their place in the semis, as they pipped Germany by the odd goal in their final group game. It wasn't without controversy though, with Anam cruelly being denied a would-be equaliser at the death. Dwayne was the unfortunate whistleblower, and copped his share of stick afterwards for the misjudgement.
Back in Group 1, Brazil simultaneously pulled off what seemed like a vital victory in a 5-4 thriller with Italy. Chaz banked another four-fer, including an audacious, breathtaking overhead bicycle kick. Chappell in goal also made an extraordinary save at the death. But their heroics proved to be in vain, as Team France, needing to win by five clear goals, marched into the playoffs with a resounding 8-2 win over England in the final group game.
The drama was far from over in Group 2 though, as Argentina looked well on course for the semi finals as they led 3-0 over Spain. But the (very belated) introduction of U/15 star Jamie Esteban turned the game on its head, as he smashed a hat trick to seal a remarkable 4-3 win for the men in red.
And so to the semi finals then, with Italy taking on Spain, and Cameroon squaring off against France. The latter was a somewhat comfortable affair for the Africans, as they romped home 4-1 – Ed Plaistow scoring a brace at long odds.
The other semi was a tenser affair, but Spain proved too good in the end, eventually trouncing a spirited Italian outfit 5-3.
And then there were two – Spain and Cameroon. The crowd watched on as a tense game of few chances appeared to be heading for a stalemate. Darren Fitz ignited things though, with a well-taken goal to put Spain on the cusp of glory.
But they missed clear chances to put the game beyond doubt, while Kieran made some barnstorming saves. It prompted Rat on the sideline to declare that the stage was set for Clappers to turn things around. Not one minute later, the 52-year old stepped up and thumped the equaliser into the corner from the halfway line. Cue wild celebrations, and concern for Neal Davison, who was now contemplating having to pay Chappell out for his bet on Cameroon.
It felt written in the stars by now though, and 0.5 seconds before the final whistle – er, Klaxon – sounded, Dom Plumridge stroked home the winner to crown Cameroon the world champions in dramatic fashion.
Full credit to their experienced combination for pulling off the win, and hats off to Spain for their brave effort too. Many thanks to all those who helped organise a very enjoyable day, with bigger thanks to Darren Avey and assistant Joe Squire for producing an endless conveyor belt of treats from the BBQ. Look forward to doing it all again next year, and knocking Cameroon off their perch!
Winners: Cameroon
Runner Up: Spain
Golden Boot: Chaz with 9, Jamie second with 7
Top-scoring team: Italy (16)
Golden Gloves: Lenners, who conceded just 2 goals
Player of the Tournament: Kieran
---