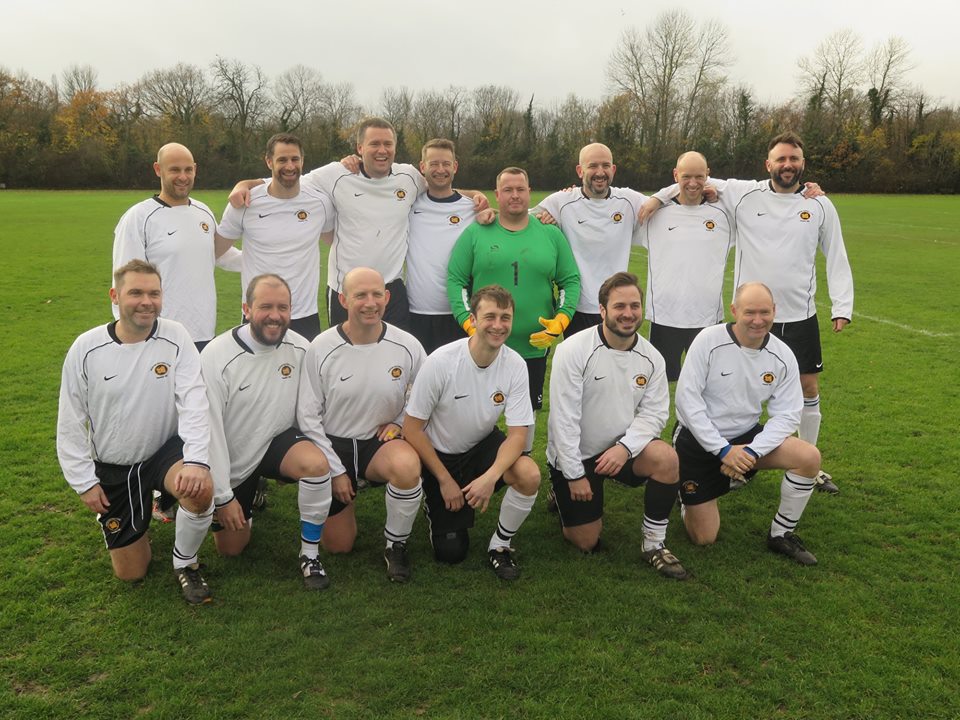 Vets vs OWC Vets Report – 01.12.2018
Saturday saw the annual Vets game against Old Westminster Citz take place at the Hood, although few would have expected the match to go ahead when they woke up in the morning. Relentless overnight rain would surely be too much for pitches not renowned for excellent drainage. But a pleasant surprise awaited the pitch inspectors – the Hood had held its own. Game on!
Old, returning faces greeted each other excitedly, as a more-youthful-than-average Merton squad of 15 faced up to Jim Perrins and his venerable OWC team. All that was left now to get things under way was the referee's whistle. But where on earth was he? Luke Newman – a man with a foot in each camp – gamely offered to stand in, but he was eventually spared as the tardy referee – donning an overcoat and no boots – arrived to get things going.
It's fair to say Merton were under the cosh in the opening quarter, as their defence-heavy squad offered little going forward, but plenty of resilience at the back and in midfield. Carl Philpot marshalled the troops well, while Jamie and Ty did their utmost to coerce the lads to keep the ball on the ground and play football. And there was due reward, as, somewhat against the run of play, a long ball was fired to Matt Haswell upfront. Having done well to (ostensibly) beat the offside trap, his left-footed finish was emphatic, leaving their keeper no chance. 1-0 to the hosts.
The advantage lasted all of about 4 seconds though, as OWC hit back with a scruffy goal that trickled in, following a failure on Merton's part to clear their lines, and a subsequent goalmouth scramble. 1-1. Merton then appeared to have at least maintained parity as the break approached, but a back pass from Kevin Wood sold Swanny short, and the OWC striker converted an easy finish to make it 2-1 at half time.
A few fresh legs were brought on after the interval, and the game was pretty even for the 10 minutes that followed. However, utter farce was to ensue. OWC's front line managed to get behind the defence on the right-hand side, and looked to be zero-ing in on goal. Kev attempted a last-ditch slide tackle, up-ending the OWC striker in the process – just outside the box.
Or so we all thought.
Not only did the referee ignore the divots – nay, trenches – outside the area and point to the spot, he also brandished a RED card. No harm was done, and Toddy had been coming across as the last defender anyway. Utter madness, and 22 of the 23 people on the pitch were left perplexed.
"Stop making this all about you, ref!" raged an incandescent Spence.
"Please god, don't send him off ref. We only get to play them once a year!" an incredulous Perrins – the opposing captain – begged.
Eventually, the ref saw a modicum of sense, reaching for a yellow instead. (Does that count as three yellows in one, then?). The penalty remained though, and Jim stepped up to put it away clinically in the bottom-left corner. 3-1, but at least we still had 11 v 11 in this enjoyable friendly.
And the injustice seemed to spur Merton on. They began to play their best football of the day, and created lots of chances. Steve Burchell had one audacious crack from the halfway line, and there were a couple of other much closer shaves. None, though, came closer than Ty. Having got the better of the defender, he found himself 10 yards out, with the out-of-position keeper leaving an open goal beckoning. Somehow, Ty contrived to hit the post and the danger was cleared. Incredible scenes, and delirium on the disbelieving bench.
Nevertheless, the setback was a brief one, as Merton managed to get a second goal, and shortly after, Kev went from villain to hero as he equalised with a crafty header from a corner. 3-3, and what a game!
The hosts continued to press, but unfortunately, a counter attack was their undoing, as OWC broke clear, and a thunderous left-footed finish from outside the box restored their lead. Four soon became five, as the Merton defence failed to mark their men at a corner, and a thumping header found the back of the net to make it 5-3.
The men in yellow never gave up, and still looked a threat in the final 10 minutes. However, they'd left themselves too much to do, and eventually the ref called time on what had been a thoroughly entertaining game, played in excellent spirit. As always. The bar was abuzz thereafter, with those threatening to only stay for one, staying for a few more than that. The camaraderie was as evident as ever, and a huge thank to Jim and the OWC lads for coming down. We look forward to a rematch, and many more laughs on Long Good Friday.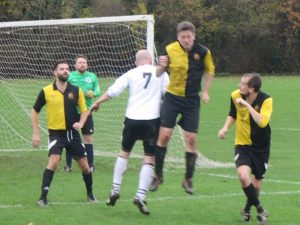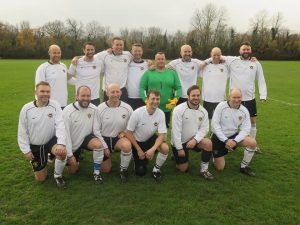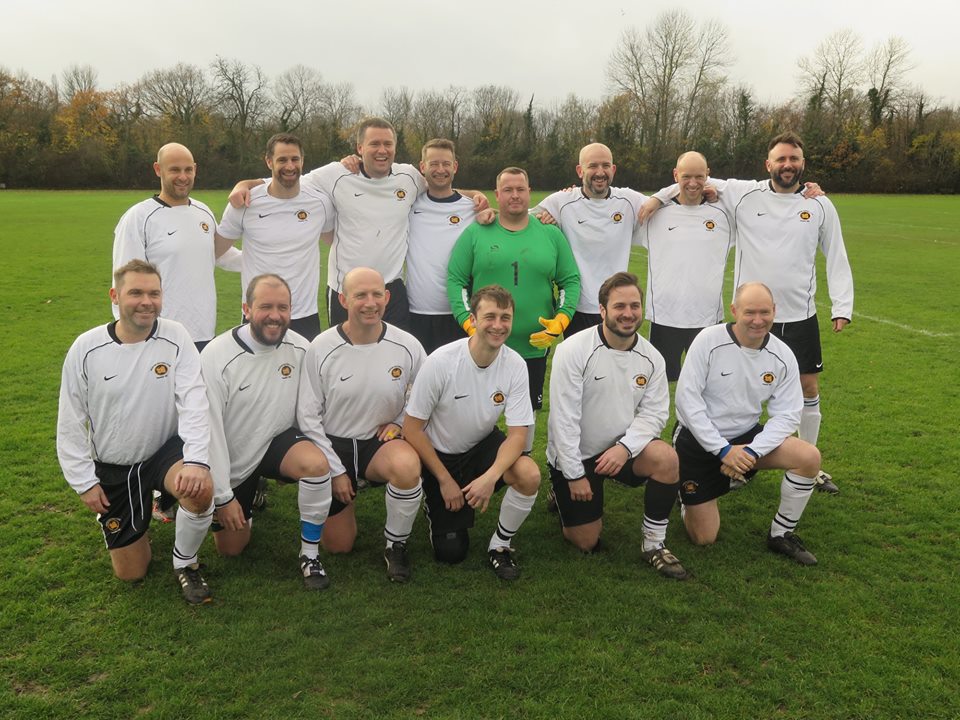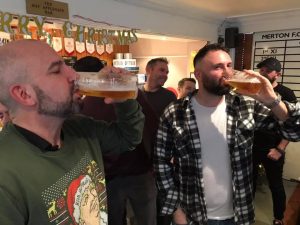 ---