1s vs Ibis Eagles – 01/10/16
IBIS Eagles away 24/9/16
Last season's game saw us dominate with no reward, so to come out winners of this seven goal thriller was even more satisfying.
We started well, defending strongly, winning the ball in midfield and getting in behind the IBIS fullbacks. It was this combination that led to us taking the lead.
Sam brought a defensive clearance down, turned his man, and played a great ball over the top of their left back for Vanny to run on to. He took the ball in his stride, ran into the box, and finished low and hard at the near post. 1-0
Whether it was over confidence or just sloppiness, all of a sudden our defenders became their best attacking threat. We managed to play in their centre forward twice when a simple pass to a man in yellow was on. The first two times he let us off but it was third time unlucky for us. Chaz didn't get enough on a back header to me, I then only managed to head the ball against the on rushing centre forward and he broke forward. There was still a chance to recover but, with Siri narrowing the angle and me back on the cover, Chaz decided the best option was to scythe him down. 1-1 from the resulting penalty.
Only a very good smother from Siri, late in the half, kept it all square at half time.
IBIS began the second half on the front foot but it was us who struck next. Woody sent in a deep free kick, which I headed down to an unmarked Chaz. He controlled and turned in his debut goal to make it 2-1. This should've been the signal for us to take control but again we opted for the complete opposite and pressed the self destruct button as hard as we could.
Firstly we conceded our second penalty. We were slow to pick up the IBIS centre back and then let him run 20 yards with the ball. A ricochet just outside our box saw him break through and now it was my turn to bring their man down. 2-2 and more good work wasted.
Five minutes later and my finger was still hard down on the aforementioned button. An innocuous pass was played to me midway into our half. I controlled the ball, looked up, and……slipped over! Their centre forward picked up the loose ball and gleefully ran through to score. 3-2, a very buoyant IBIS and red faced me.
Thankfully our new look team is full of characters with real strength in depth.
Sam, Woody and Tills took control of midfield whilst Charlie and Jonny, both fresh off the bench, harassed and ran at the IBIS back line. One burst from Charlie saw him brought down in the left channel. Woody delivered a good ball to the back post where an IBIS defender kindly headed in. 3-3 and our tails were now up but time was against us.
With 10 minutes left on the clock the game was won with the best goal of the game, by far.
Chaz had the ball deep in our half and knocked a great ball over their left back. Tilley flicked it on to Charlie on the corner of the 18 yard box. As the ball dropped over his shoulder he unleashed a dipping volley which sailed over the rooted keeper and nestled in the far bottom corner. 4-3 and a great finish to an entertaining game.
We headed off on our night out in high spirits and Vanny dressed as Jon Bon Jovi.
MOTM: Charlie (with mention to Kearnsey and Sam)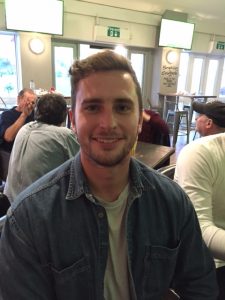 DOTD: Clappers (not the best week for me to bring this in)
Line up: Siri, Will Low, Chaz, Clappers, Kearnsey, Sam, Woody, Tilley, Vanny (Jonny 65), Tom (Charlie 70), Milo (Nick 80)
Posted in Match Reports 1s
---