2s vs Polytechnic 28.03.15
On the back of a fine run of form, the 2s headed to Chiswick to take on promotion rivals Polytechnic. Wilgo had a strong outfield ten at his disposal with some young club players helping out to give us three on the bench. Notable absentees were Craig Usher, midfield stalwart, and the dangerous Femi Arogundade, still recovering from a knock. With Sherbs hunting whales in Mexico, we tried not to blubber too much about the lack of a keeper and when Wilgo threw down the gauntlets, DQ stepped in to pick them up.
As the match kicked off, the Chiswick wind was blowing sharply across the pitch, but Merton started strongly, the Polytechnic backline immediately finding themselves under considerable pressure. Taylor's marauding runs prompted by Thomas's probing passes were backed up by some strong running from midfield, Wilgo leading by example. Two or three decent half-chances came and went before Taylor burst through and struck firmly past the Polytechnic custodian. The goal had been coming and was due reward for a great first half. The good work was, in true Merton style, almost immediately undone, when we failed to deal with a teasing set piece which ended up in a back post huddle and the ball deflecting away to safety off the outside of a post. But that was as tense as it got for DQ before half-time.
Polytechnic are a good team and an improvement in their play duly arrived after the break. That said, in the early stages of the second half, we had a couple of very promising counters which could have resulted in the game being put to bed. The build-up play was excellent, but we just couldn't find the final pass. Polytechnic sensed they were still very much in it and began to apply pressure. A series of free kicks and corners penned us in and eventually the opposition broke through with a low shot, DQ having no chance (the writer of this article confesses that he can't really remember the goal, but considers the above description 'close enough' for publication). It was very tough on the hard-working Merton defence who excelled throughout the contest, lead by captain Marc Wilson, who just seemed to be everywhere.
Buoyed by their goal, Polytechnic were in the ascendency by the end of the game and we found ourselves hanging on a bit. Merton hearts were in mouths when a low shot flashed past the post in the final seconds, but on the balance of the whole game, a draw was a fair result.
We retired to the bar, where Marc Wilson wasn't presented with the MMH trophy even though he won it. The miscreant who had left the trophy at home placated the baying crowd with a Predator, but it was tough on Marc whose performance more than merited holding it aloft with pride.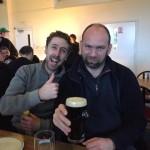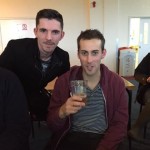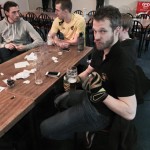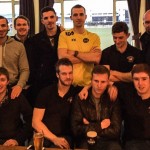 Posted in Match Reports 2s
---