2s vs South Bank Cuaco – 18.02.17
MERTON FC 0
South Bank 1
W e lost 1-0. The goal was an absolute bag o'shite, being as it was scored from a corner ballooned up into the air
and poked in during the resultant in-box melee with all the grace of Jason Thomas trying to reach down and touch
his aging toes during warm-up. Talking of JT, he didn't last the match, winning a 50/50 battle after an hour but
sadly losing the injury war.
Such battles were a feature of a game that took place on a pitch more sticky than Jordan's y-fronts after a night
with one of his 'Scouse princesses'. Incidentally, Holder Ross, who was involved in many a midfield ding-dong, has
a new princess of his own who he revealed was acquired in no small part thanks to liquid lubrication provided by
Messrs Quainton and Willgoss on a surprise meeting in Brixton a few weekends ago. AHR formed a midfield three
with Big Dave Scott and the unlikely but happy-to-run choice of the aforementioned Quainton. In truth, the best
player on the pitch was none of the three but, in fact, the opposition's number 15, who gave them the runaround
most of the day.
Up top JT was flanked by Tom Benham and Dan Kelly, and the attacking trio provided a threat similar to that which
a pint of beer causes Man of the Match Conor Murphy: it looks and should be dangerous but the ease with which
he destroys it renders it somewhat effete. Murphy played with Pearcey, Alex Welch, and Jordan in-front of Sherbs.
None of the back five ever looked in trouble aside from set pieces which a) South Bank were pretty good at and b)
we looked altogether wobbly.
Shots on target? We had maybe two, one a 15-yard shot on the run from DQ saved by the 'keeper's legs, and the
second a Cruyffed flick by Benham that resulted in another smartish save. Towards the end of the match when
subs required the formation move back to a 4-4-2 we perhaps looked a little more threatening, but Storm Doris
probably caused more damage in the south east this week.
Not brilliant, then, but it were a lovely day out, and that's key. The most lovely aspect was watching our usually
calm, considered and upstanding goalie raise his hands towards the goalscorer's face after he 'over-celebrated'
(claiming he'd been fouled in the build-up to his goal). Sherbs raised himself to his full 5 feet 3 inches and gave the
shaggy-haired pillock a little palm to the face. A yellow and DotD ensued. It should've been a red. Sherbs had a
Predator instead, with none of the swiftness of Conor Murphy, but I'm sure just as much enjoyment.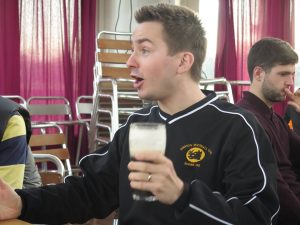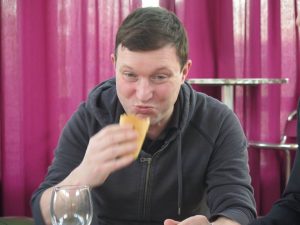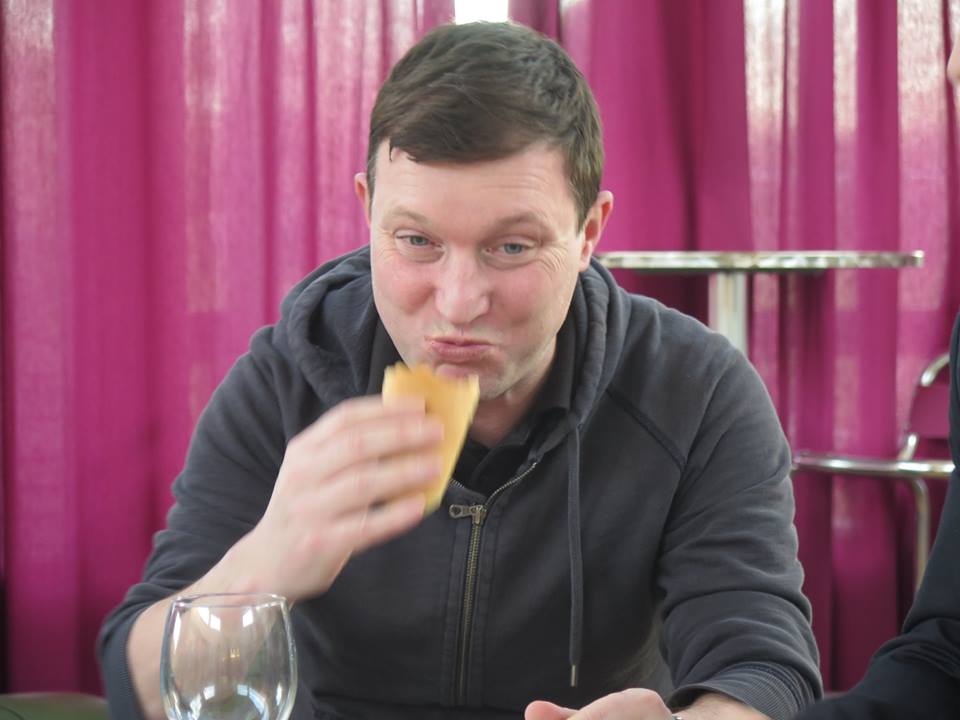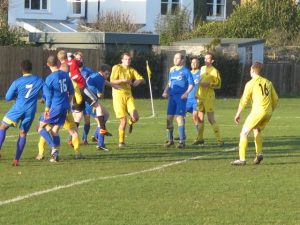 Posted in Match Reports 2s
---