4s vs Winchmore Hill 7s – 15.10.16
The Merton 4s. 4 games. 4 heavy defeats. That's how this grim 2016/17 campaign had started. But, as with any wretched run, there is always the next game to break the cycle. This week it came in the form of the Cup, which presented an excellent opportunity for a much-needed win.
The oppo were Winchmore Hill, a club who, although seemingly hundreds of miles away in the deep, dark North, had an awful lot in common with the 4s. Bottom of the Div 2 Minor league, and without a win themselves, they were effectively Merton's northern equivalent.
Sniffing a chance, the manager made an inspired call to gather the team for breakfast in Morden, with the boys travelling up together in a sound display of team spirit. Other inspired calls were made too. Danny Gridley was pushed back to a sweeper role in a back five, which would work a treat. Additionally, Scholesy also commissioned brother Colin as an extra set of managerial eyes, with plenty of experience to call on and valuable tactical advice to impart.
Anyway, onto business, and the game kicked off with Merton in a buoyant mood, for once taking the game to the oppo from the start. The defence looked solid, and midfield and forwards were pressing Winchmore with purpose. New finds Joe and Cam were looking particularly handy.
Then Winchmore got a corner out of nothing. No fear though, because Merton had spent more than half an hour practicing defending these before the game. So they had it covered, right?
Wrong.
In came the delivery, Mike could only deflect the header rather than clear, it popped off their striker (or off Danny Gridley, the panel is undecided), and into the net. 1-0 Winchmore.
Merton then responded well against visibly inferior opponents. But once again, said inferior opponents won a corner out of nothing. And yep, you guessed it, said inferior opponents scored again – this time off a second ball.
If it wasn't so galling, it would be comical. This is a team who conceded just once from a corner all of last season. That figure is at least 7 already this time around, and now here they were, 2-0 down, against a team who'd barely had a kick.
They needed a goal to get back in it, and fast. It did take a few minutes to arrive, but eventually the magic of Dom Plumridge proved too hot for Winchmore to handle. Some good build-up play put him through, although he still had plenty to do. But a delightful toe poke slid past the keeper's right hand, and thankfully ruffled the onion bag.
2-1. Game on.
After what had actually been a fine performance, parity at half time was the very least Merton deserved. And with just two minutes to go until the break, Dom was the man to deliver it. Once again, the result of some fine Merton interplay, a ball over the top, and then Dom putting in a truly clinical finish when one on one with the keeper.
2-2 at half time then, and, for once, an upbeat chat. This one was there for the taking, and they knew it.
The game resumed, Merton now into the sun, but no matter. Winchmore had a shot from the kick off – a dismal one at that, and it was arguably their last shot of the day. It was all Merton thereafter, and it felt like a mere matter of time before the third arrived. No prizes for guessing who scored it either. Dom once again with plenty to do, but coming in from a tight angle, finished it with pure finesse. 3-2 then, Merton were bouncing, and now Dom had the match ball (and jug of beer) firmly in hand.
But he wasn't done yet. Just minutes later, a goal-mouth scramble ensued, with the Winchmore defence at 6s and 7s, now absolutely rattled by a vibrant Merton. It won't go down as Dom's most majestic goal ever, but he showed the most desire in amongst a sea of bodies to eventually scramble the ball over the line.
4-2. 4 goals for Merton. 4 goals for their superstar. Dom then departed the pitch to a warm ovation from his teammates. Well played lad. Yet despite Dom's brilliance, there was much more to this performance as a collective. Clive had been tremendous at right back, Danny Gridley superb in defence, while Cam and Joe were both real finds.
The game felt all but over, although there was one more scare in waiting. Noor was unfortunate to be called for a high boot in the box, and a dubious penalty resulted. Yet the penalty taker never looked confident – and Kieran did. He held his ground, the dive almost redundant in the end, and he gathered the feeble effort cleanly in his midriff. 4-2 it stayed.
And just to put the icing on the cake, Merton found time for one more, and it was Cam who turned provider for the fifth goal. Luke, helping out from the 5s, had been on the park for just a couple of minutes, and was perhaps higher up the pitch than normal. But he was at the ready for a delightful through ball from Cam. He then gathered it on the run, and, despite being hassled by a defender, calmly rounded the keeper to slot home Merton's fifth (and his first since 2012). Talk about an impact sub. 5-2.
Merton had a few more half chances in the final minutes, but, importantly, gave nothing away at the other end. It rounded off a rampant performance, one that typified all that had been discussed during the crisis meetings over the previous weeks. This is a highly capable bunch of players, and they knew it. All that was needed was a bit of confidence and self belief. That can only be gained from a win. And they delivered it on Saturday in emphatic style. Let's hope it will now be a launchpad to bigger and better things.
Team: Kieran Lee (GK), Ed Plaistow, Mike Todt, Dan Gridley, Will Harrison, Clive Corrigan, Noor Emad, Chris Outred, Joe Underwood, Cameron Brooks, Dom Plumridge
Subs: Luke Newman, Anam Hassan, Chris Dodd
MOTM: Dom Plumridge
DOTD: N/A – great performance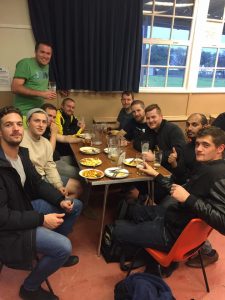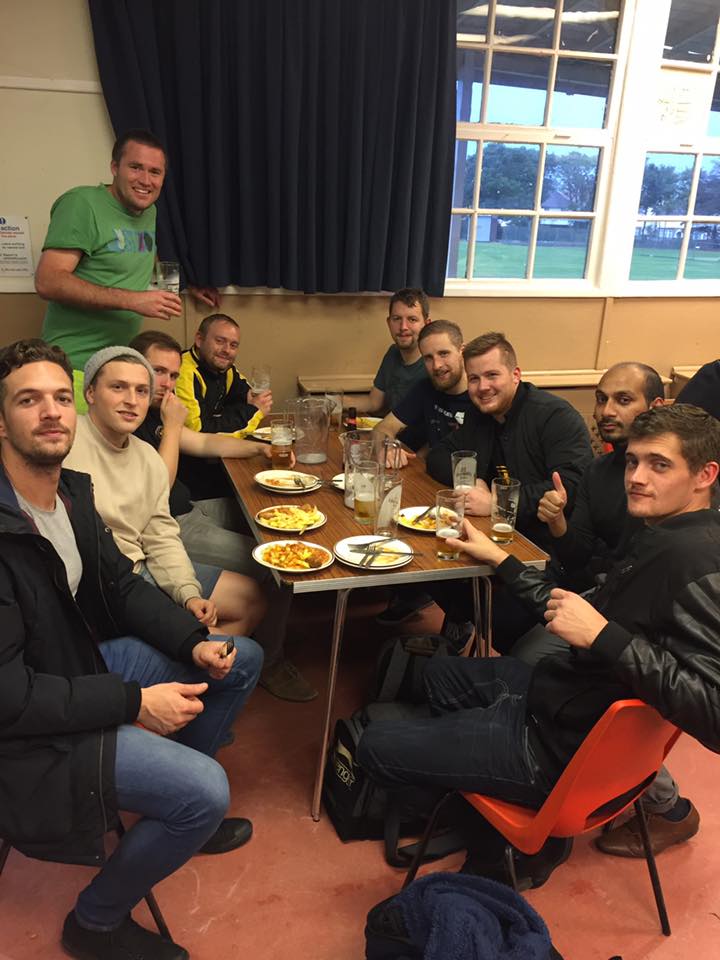 Posted in Match Reports 4s
---