5s vs Old Wilsonians 7s – 11.03.17
It was a warm, Saturday day, and we arrived to Wimbledon Common Extensions two hours early confident of a good performance & a much needed 3 points to keep us in a strong position for promotion. But this confidence soon turned to confusion, as rumour had it we were employing a 3-5-2 formation [or 5-3-1 – still not too sure]! Ensue panic that hasn't been seen before since the Cuban Missile Crisis of 1962 when the world thought we were entering into nuclear war [I remember those days well]. This was only intensified by the lack of Clive, our motivational speaker who doesn't fail to jeer us up. Luckily, we were able to get him on loudspeaker, so at least that crisis was averted, but trying to explain each player's roles was still proving to be difficult. And you thought Brexit negotiations would be difficult Mrs May – just come and try explain to Merton 5s how we're playing the 3-2-3-1-1 for next week!
Luckily, we had a shepherd to heard the headless sheep, with Dwayne taking up the mantra and being our very own Mourinho for the day. One by one, he went through our roles with us until we all knew what we were doing.
The first 45 minutes was a tight affair, with Merton just about creating the better chances. A ball whipped into the box by the charming & handsome left wing back was only very narrowly missed by the desperate lunge of Gibbo and the long outstretched leg of our defensive midfielder Bambi [they can be forgiven for not expecting a good ball in]! We were winning the right hand side of the pitch too, with Delman, Tigs, Ackers and Tom combining well to get us up the pitch and start feeding Gibbo and Dulanjie – one of the promising moves resulting in a shot from outside the box from Tigs! He must have seen a dropbear in the distance that put him off because the shot was scuffed and went wide of the goal. The best chance of the half by far, though, was when Dulanjie was put clean through. He raced onto the through ball, leaving defenders trailing in his wake, and approached the goalkeeper. It was a firm strike that was heading into the corner of the goal, however the keeper instinctively stuck a leg out to deflect the ball away from danger. Terrific save and we went in at 0-0.
Dwayninho's half time team talk was largely positive, and we knew we had to keep the pressure on straightaway. That, we did. We had two great chances not long after the break, and the first fell to Gibbo. Played through, he was 1 on 1 from the keeper from outside the box. He rifled it, however the keeper was well positioned. The rebound fell to him, and he rifled it again – this time a defender had got round to just about deflect the effort over the bar. Unlucky from the big Welshman – it will come I promise!
Not long after, the 5s found ourselves 1-0 up. The lively & energetic Delman burst forward with an aggressive run, and swung a delightful ball into the box. It fooled the keeper who came out to collect but missed it, and hit Dulanjie to bobble into the net. None of us knew what part of his appendage he swung at it – I will leave that for the readers to determine – but whatever part it was he did well to get it up by his head to whack the ball in. A deserved goal for D who had been threatening throughout.
We had a couple of chances to go 2 up; however it just didn't seem to want to go in for us. Samurai Steve made a great early run into the box and a better ball would have seen him clean through. Dulanjie and Gibbo had a half chance each, however we were largely defending – but defending well. It wouldn't be a Merton 5s game without at least a couple of injuries, and injuries to Lenners in the first half and myself in the second meant our back 3 [or 5, or 7 depending on what way you look at it] was much-changed. Mike slotted into Centre Back expertly and was doing a gooda job at being Lenners with the exception of shouting a lot and swearing at the ref, Steve was as solid as ever and absolutely nothing was getting past him, and Darren was winning everything in the air. It looked like Delman was tiring after 70 mins, but he still kept somehow going and he defended superbly well when we needed him to. And Dan, who replaced me at left wing back, matched their tricky winger stride for stride despite the unfamiliarity of the position! Tigs was our little Ngolo Kante in the middle with Tom and Steve battling hard to ease the pressure on the defence. Sam had to come to the rescue once or twice, and pulled a couple of good saves out the bag, but it was quite comfortable and we saw out the game with a 1-0 lead.
It wasn't just the first half – our defence was solid throughout and the clean sheet was very well deserved. Ackers, Dulanjie and Gibbo, as well as Delman on our right, caused real problems for Old Wilsonians with their pace and power, and we could have scored more. Lenners does a brilliant job in there for us and it was a shame to lose him to injury in the first half, and as mentioned the three subs more than proved their worth. MoM was a difficult one due to everyone playing very well, however Tigs was just absolutely everywhere across the midfield, not giving them a sniff. He linked up play well and deserves his MoM award.
Naked Lee Time then ensued, with shirts & appendages swinging all over the place. Is winning really worth that much, I find myself asking? Yes – but just about.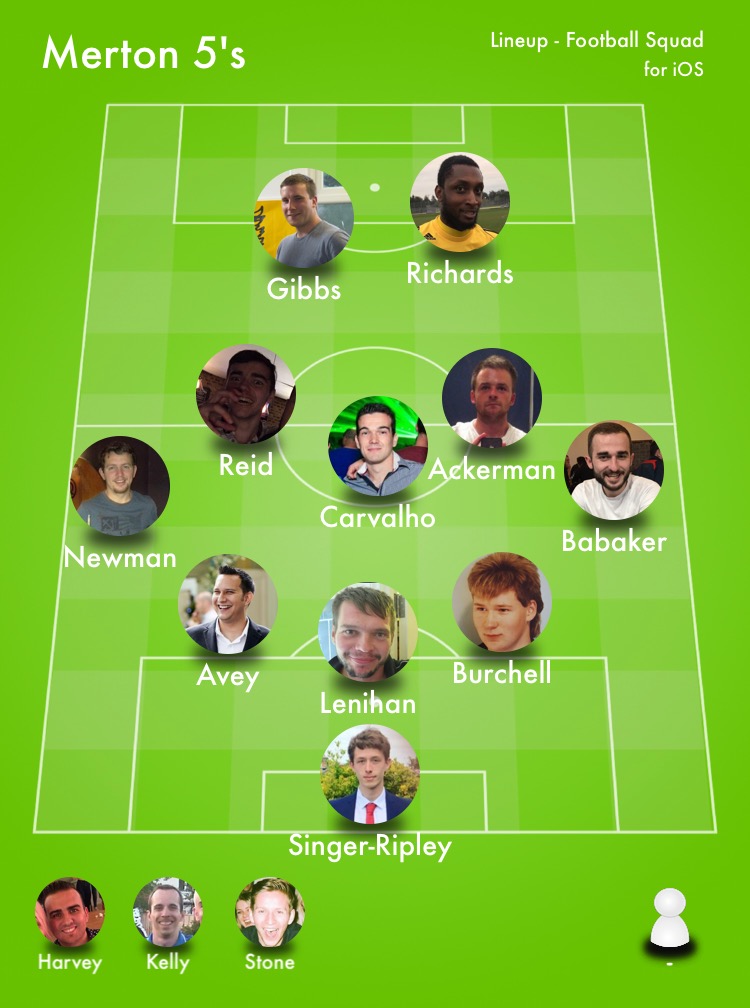 Posted in Match Reports 5s
---