5s vs Polytechnic 7s – 27.01.18
Mighty 5s 2-2 poly 7s(2-4 aet)
In truth, the cup was the only major thing w had to play for, so this game was incredibly important to us. The lady behind the bar might not have quite grasped that when our keeper asked if the bar was open so he could get his pre-match pint, but au contrere – it's all for the greater good. We even warmed up and everything – although the team hasn't quite grasped the concept of running in a line yet.
And our work showed in the first few minutes. We have started games slowly recently, so we were glad to cancel them out for a large period of the first half. They almost took the lead in what only would have been described as just our luck, as a mishit cross curled towards the near corner. Kieran adjusted very quickly and got a fingertip to it to divert it away for a corner. Great save. They did, however, take the lead in rather fortuitous circumstances deep into the first half. A first shot from distance was blocked and went straight to their striker. He snatched at a shot and it was heading harmlessly to the warm embrace of Kieran. Suddenly, from nowhere, delman the ballerina danced his way in front of the ball. Trying to get out the way, he just about clipped the ball with his back leg and sent it in the other direction. It slowly and painfully trickled into the bottom corner to put us 1-0 down and add another own goal to our extensive tally for this season.
Going down kicked us off as an attacking force, and we started to create opportunities. We managed to get Aaron Byrne through on goal twice – once flagged offside but was very marginal and once where he was going away from goal, managed to chip the keeper but it went narrowly wide. Shortly after, a well-taken set piece was well met at the back post by an unmarked Aaron Byrne. Unfortunately it was just a bit too high for him and he didn't quite manage to get over it to divert it on target. Only one in it at the break, and we knew we could get back in this tie.
Conditions worsened through the first half, cutting up the pitch and making it ever the more harder to play our Barcelona-esque tiki taka like football in the second half. We started in the ascendency however, playing the better football and probing without firing too many shots at goal. It took us a while, but we finally made the breakthrough. One of the rare crosses put into the box caused havoc within their defence. The ball broke wide to Aaron, whose turn and shot rifled in towards the top corner. A level of clinical ness in the finish that comes with a striker on form. 1-1 – game on!
It didn't take long though for our second act of self-harm that would cost us dear. A good interception saw Phil emerge with the ball and stride into midfield. Seeing the opportunity, he saw tiggsy free behind him and attempted the back-heel. Dingo didn't pounce and their midfielder read it and got his foot to the ball. A favourable rebound saw him running into the space vacated by Phil the backheeler and slotted in past Kieran to make it 2-1.
We had to chase the game and it left holes at the back. There were a couple of sublime saves from Kieran that kept us in it. First, a decently struck free kick seemed destined to nestle into the corner of the net until Kieran flew from out of nowhere to get a good glove on it. Then there was a shot from just inside the post that flew towards the near corner that Kieran was equal to. Such was his Dutch courage that he even came out and dusted a couple of corners away – something that isn't usually part of his game. Just as Popeye has his spinach, and Lenners has his coke, Kieran has his prematch beer; it keeps him alert and he was really on form today.
They put us under heavy pressure but we kept going and hit back with a really good goal. Skill from the newly introduced Endy saw him wiggle into the box. His shot hit the post and agonisingly rolled across the line. Fortunately, Aaron B was there to tap it home to draw us level and head for extra time.
Extra time was a disappointment. Whether it was the constant changes we had to make due to injury, them just being fitter than us, bad luck for their 3rd goal or a combination of the 3, I don't know.
They scored quite quickly in the first half of extra time. A drifted effort hit Kieran's far post and came straight back out to their onrushing midfielder who had an easy job of tucking it away. Any lower and Kieran would have saved it, any higher and it would have sailed over. In the second half of extra time, we probed and showed great strength and willpower to get ourselves back in the game, however dissent from Josh saw him sin binned, effectively killing off our opposition. They scored a fourth and if it hadn't have been for some amazing saves from Kieran, it would have been more.
There were some very amusing scenes at the end of the game, with a melee over who should get dick of the day. It both as heated and ridiculous as a "my brother slept with my sister who is also my girlfriend" kind of bust-up on Jeremy Kyle. There were plenty of options. It came down to a straight fight between Delman the ballerina, Phil the backheeler or Josh the dissenter. The winner was very narrowly Josh, who took it graciously and humbly in his stride…ish. We hope to see him again soon.
Man of the match was a clear winner, with Kieran hoovering the vote like he did the pre and post match fosters. Everyone did well however; we showed battling spirit throughout the team and although we didn't play as well as we did in the first round, we always kept ourselves in with a chance in this cup tie.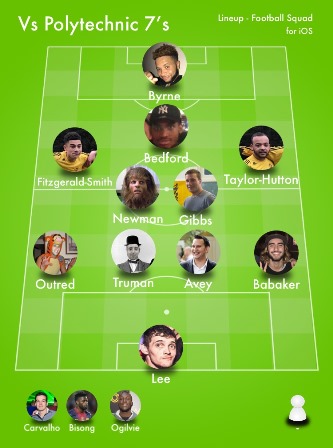 Posted in Match Reports 5s
---