5s vs Polytechnic 8 – 18.03.17
MERTON FC FANTASTIC FIVES Vs POLYTECHNIC POOHPANTS EIGHTS
2 – 2
D, GIBBO LUCKY BAR STEWARD
TOE PUNT PETE
It was big game day down at the Hood many of the players needed Sat-Navs and maps to actually find our home ground mistakenly thinking only water polo was played at the Hood.
Some people adhered to the two hour prior to kick off meet time and by the time the sensible ones arrived the others looked at little jaded form the warm up which may be why one half of the team did a warm up and the other half chatted about important topics like Sam's virginity and Arsenal losing 3-1 to WBA oh happy days! Come on you SPURS!
With the same formation as last week and a starting line-up of Shagger Sam in goal, Lightning Delman and Chris "the slice" Outred as wing backs, Dodgy Dazza, Senior Steve and Lenners as a back three, (h)ansom Aaron, Trembling Tiago and Bambi centre mids and the attacking force of D every fat birds nightmare and Gibbo every sheeps nightmare. The bench was Calamity Clive, Ian or Iain and Anam the Cadbury king we kicked off with second place a real possibility and the arguments about sectional strength and Poly nines still ongoing.
Poly 8's were a similar line up and quite frankly should be the lower tem as Poly nines are much better!
We started brightly and with Lee screaming like a banshee marshalling the defence the early game plan was working well.
D and Gibbo looked aggressive and determined up front and the midfield solid my only wish would be that we talk more on the pitch for a team that can manage 250 Whatsapp messages in an hour about Sams sex life a topic that should take 2 minutes or Lenners plans to abduct and kill a carpark attendant again a two minute job despite the fact I have confiscated his weaponry! We are still too quiet.
It looked like the game, as the previous encounters have been, would be tighter than Clive in front of the bar (I know Sam owes a jug but picked on him too much already) .
The ref was as he told me later retiring from refereeing after this game to be fair I think he retired at the start of the game because he was about as close to play as Scotland are to independence.
Disaster struck when with a speculative long shot a lot of wind assisted luck the ball flew into the net from 25 yards shock horror we were 1-0 down.
Last year (I did not play) the fives would have crumbled like a card pyramid in the face of a strong fart but we have a new found resilience and a battling will to win and we should have been back in when a lovely passing move and a through ball to D who would have been through in goal but no offside WTF never!
Then a controversial moment in the game as the Poly forward ran the ball over the by-line and crossed the forward scored and turned away celebrating appeals from Merton seemed to fall on deaf ears Tiago shouting at the player "tell him the ball was out" did not work but the sight of a frothing seething mad eyed Lenners in his face seemed to make the ref see sense and a goal kick was given a let off and maybe justice for the offside. Aaron was replaced by Ian Iain and Clive came on for Bambi half time came.
After a right good seeing to at half time by Clive (first time he's managed a right good seeing to think he been on the receiving end as I mentioned WBA won).
We started the second half and were back in the game when a great move saw D's shot going in the bottom corner Gibbo made sure and buried it from a yard apparently screaming "you'll never be club top goalscorer"
D could have had another shortly after when from a corner his shot was goal bound and in a moment of madness Dazza forgot he had gone up for a corner and with the best defensive move of the day headed the ball clear! Memories of Clive's headed miss from 2 inches!
We should have had a penalty, we could have given away a penalty, it was tight very very tight that's nice if your with a lady but it ain't no good in a football game!
Then Poly's left back ran the length of the pitch and mesmerised everyone to the extent that when he pulled the ball back everyone admired it except the striker who buried the ball passed Sam 2-1.
We should have replied almost immediately with a goal mouth scramble but for some reason Gibbo, Delman D all seemed to do a mannequin challenge and did not move when all the ball needed was a little nudge.
We drew level when D buried a header from a corner fantastic goal 2-2.
With the game now in the dying minutes we pushed hard unfortunately the next chance fell to steve normally one to strike without thinking (and miss) he weighed up his options took a touch and pulled the trigger oh dear the ball did well to reach the keeper nice gentle back pass.
The game ended 2-2 honours even and probably a fair result. To pour petrol on the fire of the debate I still wonder how Poly 9's can destroy teams including us and their 8's be so much poorer?
Still we need 6 points two cup games left and hopefully runners up will be ours.
On an emotional note it was great to see the team fight back stay focused and not give up!
Man of the match was Tiago (I voted for him) and Ian Iain joint winner he had a great game.
Dick of the day. The parking attendant who stopped Lee getting his car. That guy's going to be in the boot of that car soon.
Oh and Tiago got naked Lee and Steve double teamed and by the little rise in his pants either shit himself or quite enjoyed it!
I apologise if you did not get a mention but I can't insult everyone all the time!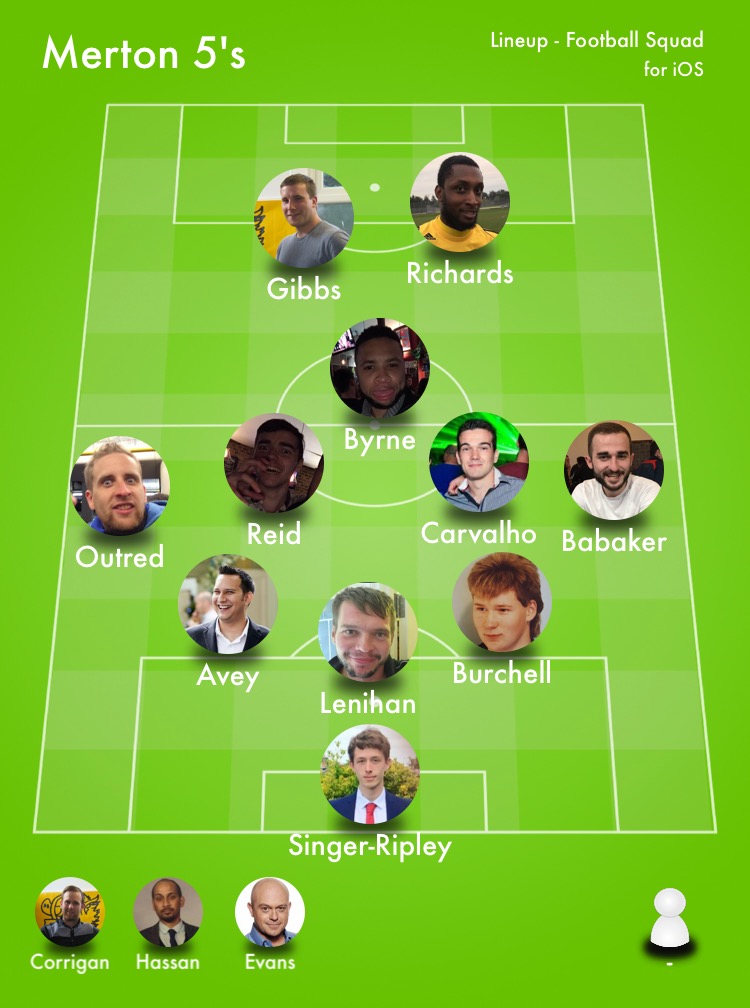 Posted in Match Reports 5s
---