5s vs Polytechnic 9s – 08.04.17
Mighty 5s 1 – 2 Poly 9s
Saturday 8th April, 2017 will long live in the memory of the Mighty 5s players who attended this game[s] – probably not quite as much for the football, but we will get to that bit later.
If I may, I would like to take a few lines to be serious for a change. There are two ways of looking at this season; one is of sheer disappointment that promotion was well within our grasp, and yet we did an Arsenal and threw it away at the last minute, clinging to 4th as I write this report. But the way I think of it is a season where we were greatly improved from last season. We looked strong, played some good football and remained competitive in pretty much all the games we played. There are some good positives to build on to mount a serious drive for the title next year – so well done to the team for the improvement shown and the only way is up from here!
So, without further ado – the match report. With our promotion chances more or less null, and Poly already having won the league, this game was a "dead rubber" – as pointless as giving D a condom for his birthday, and as dead a rubber as Tigs's ankle after the first 30 minutes. But still, as professionals we were still going all out to win.
The game was quite balanced at the start, with them perhaps shading possession and stroking it around with the confidence of a side that had already won the league. We were, however, dealing with their threat quite well. That's until Stevey B momentarily forgot where he was. Clearly thinking that he was in the opposition's box, he stuck out an instinctive knee towards the ball, and the ball flew into the back of the net from 12 yards out. Terrific finish – if that was Lionel Messi people would be talking about it for years. Unfortunately, 10 minutes later he realised that it was indeed his own goal, that he was still 2 away from Ryan's goal tally this season, and that we were one down at half time.
The second goal was equally as calamitous. A ball into the box resulted in a scramble, and with the 5s unable to clear, their midfielder strolled in and rolled the ball into an empty net. We went into the half time break 2-0 down and 2 players down – Tigs with the heart of a lion but a body made of glass going off for an unfortunate turn of the ankle, and our hot stuff on the left burning out on his first game back from injury. The signs were not looking good.
But lo and behold, we got it together after half time for a strong push. We were dominant, with their only chances coming from crosses which were expertly held by Sam – a part of his game that seems to have got even better as the season has gone on. We were stroking the ball around confidently, pressing and creating good, clear chances. Our breakthrough came when a good, searching ball found Steve Harvey on the right. He pulled it back for Ackers, who controlled his powerful strike into the bottom corner. 2-1, and the game was on.
The 5s pressed for an equaliser, and had some good chances to go level. But in the end, it just wasn't to be. We had the chances but came up just short – the story of our season unfortunately. But we must look towards next season now and build upon an impressive turnaround from last season.
Every player for us has had a good season – I do not think we would have come as close to promotion otherwise. Everyone should be proud of themselves, and the awards night will be a great celebration of a great step forward for the 5s.
So that's that for this season – no Naked Lee Time on this occasion. But what we did get was a night of long sausages, big beers in a smashing German establishment, a "better out then in" approach from our very own birthday boy and a calm, peaceful and pleasant night out. We have some great club events coming up including Long Good Friday this Friday, Merton's World Cup and our awards night which I would expect will be well represented by the 5s. Until then keep it real, stay safe and I am sure we will all look forward to winning the league next season.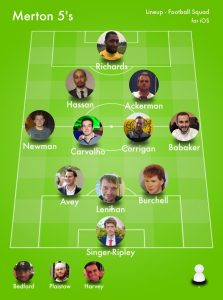 Posted in Match Reports 5s
---