5s vs South Bank Cuaco 21.03.15
Merton 5s vs. South Bank 5s
SAL Minor Division 2 South
Saturday 21st March 2015
South Bank 5s were the visitors to Joseph Hood this time around. With the opposition having lost all ten of their league outings, this was one match we felt we could capture three points and give everybody that much needed confidence boost having only won one in fourteen.
One of our main problems throughout the season has been finding a goalkeeper. We didn't have that problem this week as we were helped out by Ryan Tomlin who is a regular in the youth set up. Big thanks to him for the effort.
We started brightly, passing the ball around well with everyone working to get onto the ball. This was expected as the starting XI, with the exemption of a couple of positions, was the strongest we have had all season. Unfortunately we fell behind ten minutes for the break. Miscommunication between Glen and Ryan following a through ball resulted in gifted goal meaning we went into half time on the back foot.
We were playing some good football so the team talk was one of a few words, carry on with what we were doing and the chance will come. Two changes were made at the break, Aaron came on in place of Sevan and Dulanie, who started but had to be replaced early on in the game by Rob, took the place of Chris Dodd. We reverted to a more common 4-4-2 formation to tighten things up and it seemed to pay off. Dan Plaistow delivered a ball into the box after receiving the ball from a throw in and Rob stepped in to claim it before the keeper could claim it to draw us level.
We were not playing as well as we did in the first half but felt we were doing enough to push on and grab another goal. Another goal came shortly after our equaliser but it was the visitor that claimed it. Their number eleven received the ball on the edge of the box with his back to goal. Unfortunately he was given too much space to turn and fire a shot into the top left hand corner. 2 – 1.
We then found ourselves 3 – 1 down. Glen, under no pressure what so ever, got his ankle stuck and miss-controlled a ball on the half way line. With Glen being the last man back, this allowed their number eleven to easily slot past Ryan on a one-on-one situation. We felt hard done by at this time as we felt we should have been playing against ten men. Dan Plaistow won a fair challenge in our half however the player on the receiving end seemed to differ by running to the ref shouting "Ref! That's a red card offence, that's a red card offence!" As expected the ref confirmed that the challenge was fair and waved play on. Not two minutes had passed when Dan Plaistow had the ball on the touchline when the player that was on the receiving end of his challenge thought it was a good time to get his revenge with lunging with fists and feet at Dan. It took the ref some time to decide what a fair punishment would be and we were all shocked, including some of his own players, when it was only a yellow card that was shown. We found out after that the yellow was given for dissent and not the challenge!!!!!
I want to thank those players that are consistent in making themselves available week in week out.
It was frustrating to be on the back on another defeat but we need to put this season behind us and plan for next season.
FINAL SCORE: 1 – 3 MOTM: Ryan Tomlin
TEAM: Ryan Tomlin (GK), Clive Corrigon, Glen Porter, John Gridley, Edward Plaistow (Capt.), Chris Dodd, Sevan Mutafyan, Danny Gridley, Chris Outred,  Dulanie Richards, Dan Plaistow. Subs. Rob Greenway, Aaron Ackerman, Martin Quinlen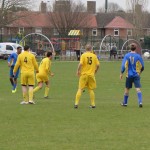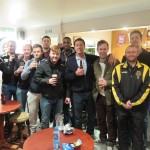 Posted in Match Reports 5s
---