Under 15s vs Whitton Wanderers – 30.10.16
Merton FC 4 – 2 Whitton Wanderers
On a cold, foggy morning Merton tried to continue the good performance from the following week against Kingstonians.
We started extremely strong, moving the ball around at ease and dominating the play. It was only a matter of time; when we scored our first goal. Both strikers battling for the ball, Bradley finally taking control and rolling it underneath the keeper. Lead fully deserved and this saw the team grow in confidence and kick on in the game. We continued to pressurise Whitton when they had possession making it difficult for them to get out of their own half, Bradley capitalising again and scoring his second of the game.
We continued to keep our shape well and moved the ball around confidently, gaining praise from onlooking parents from the game behind us. The boys at this point looked extremely confident on and off the ball and continued to play with a confidence that they had developed the week before.
Whitton had a corner, and from the corner we hit them on the break. Bradley having the confidence to turn and run at the back line and finish past the on rushing keeper. 3-0 and Merton looking very strong.
Big smiles all round and this was looking like it was going to be an excellent day for the side.
Whitton began to get a foothold in the game but didn't really test Esteban, who volunteered to go in goal for the first half.
Half time and it was a clear message of continue what we had produced in the first half.
Second half began and we had to make changes, one being Tommy in goal. Changes to the team effected the flow of our game and we began to look sloppy and panic on the ball. The message wasn't getting across to settle down on the ball and don't panic!
Whitton grabbed a goal back after some sloppy defending from our back line, allowing Whitton player to get himself out of a tight space with 3 players surrounding him.
Frustrations grew and Merton couldn't get their game going again, sloppy passes, tackles and general all round play affected the flow of Merton.
We reverted back to Sam and Bradley up top and it paid dividends – Sam finishing off a neat move to secure the game.
Great 1st half performance, sloppy 2nd half. But a win.
Wanted to mention the impeccably observed minute silence for Nick from the adult side who sadly passed away in the week. The players are proud to wear the badge, as was Nick. Thank you to Whitton for respecting this and joining us in the respectful minute.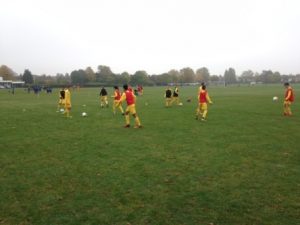 Posted in Under 15s Reports
---