Merton 1s v Alleyn Old Boys – 28th January 2012
It was a bit of a disappointing day down at the Hood on Saturday with all three home teams losing. More so for the 2s and 4s who probably started as favourites to win but we knew we were up against strong opposition. The visitors, Alleyn Old Boys are strong challengers for promotion in division 2. It was in fact a pretty good game to watch with both teams moving the ball around on a much better surface than we often have at the Hood at this time of year. Alleyns settled very quickly and took the game to Merton. They had much the better of the play but their final ball let them down. Merton looked to counter on the break but were increasingly pegged back. We did have a couple of chances and shouts for penalties in melees but nothing serious. Alleyn's went ahead on the half hour when we failed to deal with a cross and the half clearance was picked up and rifled home. We came back a little after that but 1-0 at half time was not too bad. The defence and midfeld had worked well and the forwards had done their share of closing down. The optimism of forcing a result in the second half soon disappeared as it started very badly with us conceding a rather soft penalty which was rifled home. This was a real self inflicted wound but in true Merton style we battled back. Woody and Tills worked their socks off and Browner had an outstanding game against some quick and lively forwards. Sherbs dealt with some difficult moments and got the knocks to prove it. Most of our good attacking started down the left with Jonesy making inroads. The goal that we deserved came from a well delivered free kick from Woody headed powerfully home at the far post. With about 10 mins to go we pressed really hard and gave Alleys something to worry about but they held on for the 3pts that they deserved. The game was really well reffed by Pat Ryan and helped keep the game flowing in the right spirit.
We are in the relegation dog fight with Old West Citz anchored at the bottom and then us Old Actonians who we have to play twice, CEVs and Weiside the other candidates. At the top it is two out of the three Civil Service, BB Eagles and today's opposition. I thinkCivil Service may well win it but it is very close between AOBs and BBE. AOBs looked a very good side in the way they moved the ball about and ran into space and they had a bit of pace so it will be interesting to see what happens. Next week we get a look at BB Eagles again. As ever some weird stuff turned up to be washed with the kit (see pic)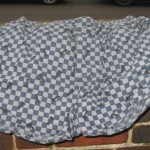 whose are these? The clever money is on Willgo. Vanny usually slips his smalls in to the kit bag to get a spin but he was with the 2s.
Team:(4-3-3); Sherbs (GK), Jonesy, Browner, Clappers, John Lynch, Tills, Woody, Will Low, Willgo, Jase (Tom Rowe), Will Taylor (Hoppy).
MOM:
Written by:Max Herbert
Posted in Match Reports 1s
---