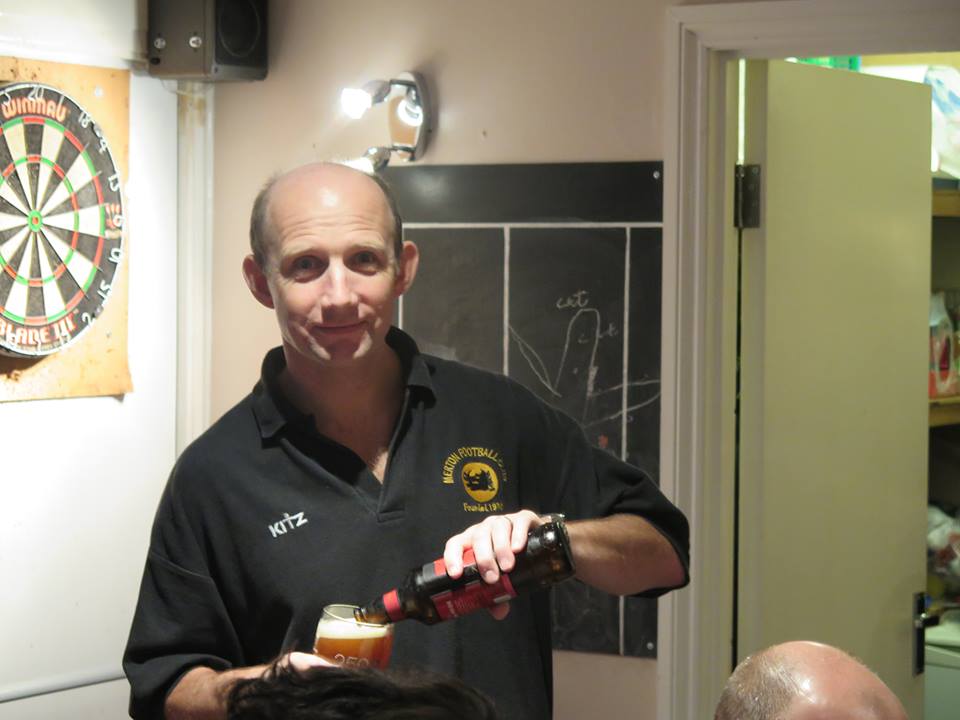 Player Profile – Martin Quinlain
TEAM: Currently 6th however have played for every team from 1st to 8ths and Vets
POSITION: Have boots will travel
BIRTH DATE: 24.08.1961
BIRTH PLACE: Clapham
PREVIOUS CLUBS: Only Merton on a Saturday playing since 1978
---
1. TELL US WHO IS MARTIN OUTSIDE OF THE CLUB. WHAT DO YOU DO,
HOW WOULD YOU DESCRIBE YOURSELF?
Training hard to keep playing for along as possible and to do other sports X-country when games are called
off. In the summer have do Track & Field athletic's, Aussie Rules football and now Triathlons. I do enjoy a drink
at the weekend!!
2. HOW DID YOU END UP AT MERTON FC?
Dad joined in 1959 after leaving Pearl FC. I have been with Merton man & boy
3. WHAT WAS YOUR BEST MOMENT IN YOUR MFC CAREER TILL NOW?
There are 3 that jump out:
1984: 4th team v Old Stationers in the cup Home win 4-3 AET with 30 mins left we were 3-0 down
2001: 4th team v Nottsborough, home league win 2-1 – Man of the Match performance
(John Gridley was in Goal)
200: 7th team v Kew 9ths, home League win 7-6 coming back to score 2 including the winner before rolling
subs, opps agreed because of an injury on an Easter Saturday
There were also the land marks of 600, 700 & 800 games along with all 270 goals.
Worst: Breaking my cheekbone playing for the 4th team at home (2 months after the Nottsborough game)
800 NOT OUT
4. CAN YOU REMEMBER YOUR FIRST GAME?
It was along time ago in 1978. It was a pre-season friendly against Old Workingians for the 7th team followed
by home can game against Crouch End Vampires. The first game I remember is for 3rd team away against Old
Latymerians on the Saturday between Christmas & New Year 1978
5. IF YOU COULD PLAY FOR A PROFESSIONAL TEAM, WHICH WOULD BE IT AND WHY?
Wimbledon FC in their day, playing the way Merton played.
6. DO YOU HAVE ANY PRE-MATCH RITUALS OR SUPERSTITIONS?
Stretching & Strides (Shaving after the match)
7. LASTLY, SHARE US YOUR THOUGHTS FOR THE REST OF THE SEASON.
Early days and after slow start in the Cup games we look like the 6th team could have a good season ahead.
It certainly looks like it's going to be good fun.
---
QUICK FIRE
PLAYER OF THE SEASON SO FAR (PREMIER
LEAGUE OR ANY LEAGUE): Riyad Mahrez
CHILDHOOD TEAM: Manchester United
FAVOURITE TEAM OUTSIDE THE UK: Barcelona
CHILDHOOD HERO: Daley Thompson
FAVOURITE FOOD: Italian
FAVOURITE DRINK: London Pride
FAVOURITE BAND: Status Quo
Posted in Player Profiles
---