Under 10s vs Claygate Royals Griffins – 13.01.2019
Claygate Royals Griffins vs Merton Under 10s
13th January 2019 – Under 10s report
After a short trip down the A3 to Esher, Merton were able to warm up and prepare in near perfect football conditions at the Claygate Recreation Ground. This was not Merton's first time preparing to face Claygate opposition this season. Back in September, Merton had beaten Claygate Royals Hares 3-2 away. Today's opponents were Claygate Royals Griffins. The referee for today's match was the same referee from the September match. Could Merton deliver a similar result?
Merton started the match kicking left to right on the relatively small pitch. The pitch may not have been large but it was green and in good condition. When the match started, the opening exchanges saw both teams turn over the ball cheaply. With just two minutes gone, Faris won the ball and attempted to clear behind Max's goal but his clearance accidentally nestled in the bottom left corner of Max's goal. It was a fluke own goal that stunned both sets of watching parents into silence.
1 nil to Claygate
For the next couple of minutes, both teams continued to give away the ball with possession often lost in the midfield. For Merton, Harry was particularly effective in breaking down Claygate attacks. After 5 minutes, there was a noticeable change, urged on by Coach Neal, Merton began to 'wake up' and started to play some of the fast moving two touch football that they are capable of. Merton were linking up more effectively in the midfield.
Six minutes gone, Maxwell won a tackle, raced toward goal and shot. He hit the left-hand post. Merton were now in the ascendancy; after some great link up play between Faris and Dave, Dave's shot was pushed out for a corner. Claygate were blocking and clearing most of what was being thrown at them and as a consequence, they were holding on to their lead.
Their goalkeeper was having a particularly good period, during the eleventh minute he made 3 saves in quick succession. Would Merton be able to score today?
The answer to that question came in the 16th minute, Faris' through ball found Maxwell who dribbled away from his marker and chipped the keeper who was rushing off his line. It went in!
1 all
Merton's pressure had paid off and they were back in the game. Claygate responded in the best way possible for them. With 18 minutes gone, Merton turned over possession in midfield, Claygate attacked at pace and their resulting shot hit the underside of Max's crossbar and bounced over the line before spinning out. The referee took a second to consider and the goal was awarded. She did not need V.A.R.
2-1 to Claygate
The game became more frenetic, Merton had chances but did not convert them. Claygate also created chances but did not extend their lead.
At half time, the score remained 2-1 to Claygate.
The second half kicked off at precisely 10.25 am with Merton now kicking right to left. Faris had a shot to the right-hand side of the Claygate goal. Near miss. Rio had a shot that also went close; this time just wide of the left-hand side of the Claygate goal.
3 minutes into the second half, after Merton failed to clear their lines, Claygate were advancing on the Merton goal. Their striker shot to the bottom left of Max's goal. It went in.
3-1 to Claygate
The match entered a critical phase, if Claygate were to score again the match might be out of the reach of Merton. The game was very entertaining, a little composure on the ball was lacking at times but everyone was giving their maximum effort. Coach Neal's beast of a fitness training session had clearly paid off. Crucially Merton got the next goal.
Five minutes gone, after a scrappy passage of play, the ball came to Percy who was able to slot home from close range.
3-2 Game On!
After 7 minutes, Merton won a free kick. It was quite a long way out. Claygate didn't really expect a shot. Dave had other ideas and launched it into the top right corner of the goal. Top bins! Claygate's keeper couldn't stop it. It was a goal!
3-all
This was when Merton really began to dominate and to make their control of the game pay. There was some great play in the midfield from Louis, Percy and Dave. In defence, Harry, Joe, Ollie and Max were also playing very well.
With 9 minutes gone, Dave started on a run toward Claygate's goal, He fed Rio who raced towards the Claygate goal. He struck a powerful shot to the bottom left corner of the goal.
It was a great finish!
3-4 to Merton
Merton were now leading for the first time. They continued to press home their advantage in an attempt to put the result beyond doubt.
After 11 minutes, Joe took a throw on the left-hand side. His throw was blocked and the ball came back to him. He struck a great shot into the top corner of the Claygate goal. Their keeper wasn't expecting it and in went straight in.
3.-5 to Merton
Claygate were not finished yet; they were still creating chances of their own.
In the 12th minute, Claygate forced a corner. When the corner came in from the right, it was bundled in at the far post.
4-5 to Merton
More chances created by either side. Play continued at a fast pace, both sides showing good energy and enthusiasm levels. Claygate hit the post in the 21st minute.
In the 22nd minute, Dave won the ball in midfield and drove toward the Claygate goal. He feigned a powerful shot and instead rolled it into the bottom left of the goal. A very calm finish.
4-6 to Merton
2 minutes later, Claygate went close again with a header that went just wide. Soon after the referee blew the full-time whistle to confirm a great away win for Merton. A great effort from all the boys including Bobby our 11th man.
Well done boys!
Dave was presented with the Man of the Match award.
Author: Mike Pitt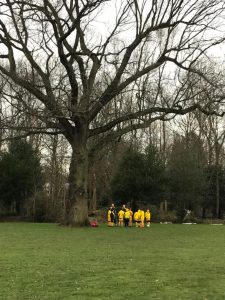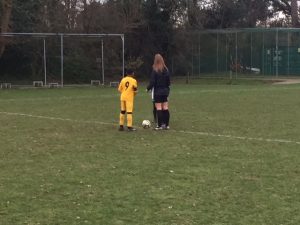 Posted in Under 10s Reports
---