Under 10s vs FC Athena – 10.02.2019
A sharp wind cut across the open playing fields for this away match. Even Dan had deigned to wear a coat and James had to donate his to Max's ever-present sister, Summer. Despite knowing the side was full for this one Bobby committed to come down and prep with the team and Scott suffered the chill with his parental peers.
Last time out Merton U10s suffered a rare league loss to the same side at home on a sticky pitch. This time the pitch was in better nick despite a week of showers. A good start could prove crucial.
The ref was set up for an hour of comedy in flat soled trainers and with no whistle. He called to the boys to kick off and within 15 seconds Athena had the ball in the Merton net. Not the start we had all hoped for.
For the next 10 mins despite some bright spells of play we frequently lost the ball in the middle of the park and Athena pushed on. Inevitably they squeezed another goal after 10mins. This was not looking good at 2 goals down.
Neal shuffled his pack with subs to change the course of the game and it worked. Within a few minutes we pulled a goal back to breathe belief into the side. It was well taken by Farris who was having a solid game thus far.
A second soon followed as Maxwell broke free with his pace and took his chance nicely. Suddenly Merton were level again.
Now the boys had their tails up. Rio was working as hard as anyone on the pitch and covering every blade of grass/mud. He grabbed a quick fire double with strong forward runs and Merton had surged in to a 4-2 lead.
Then half time came. I think (it was cold so we didn't get all the details down, OK)?!
After the customary half time team talk the boys ran out to try and seal what would be a great win.
They continued to pile on the pressure now and Athena did not look nearly as fluid as they had done at the Hood.
We had a few chances before David turned in the next goal after some good interplay. 5-2.
Athena got more of a foothold in the game now, perhaps Merton were easing off. The chances they had were generally well defended or when Max was called upon he showed some good handling. Today he also seemed more confident in choosing options for playing the ball out from our box.
Ollie and Harry continued their fine form at the back and played the ball out intelligently at every opportunity. We offered them more options wide than last time out. Joe's game continued to strengthen in the second half and he was working back to help snuff out attacks. Maxwell's pace continued to cause problems up front but he was not able to add to his goal tally today despite showing some good power.
Percy and Louis were their industrious selves in the middle of the park and Dave was very hard to defend against for Athena as the game wore on.
Despite playing well Merton next conceded a goal from a break they failed to close down despite a couple of chances to do so. 5-3.
This didn't make the boys' heads drop. Farris continued to push for a goal and he got the next one, the ball slipping under the keeper, who had made some excellent saves but also made a couple of errors which seemed out of character compared to his saves and confidence. 6-3.
Next, Louis went on a positive run on the right, outpaced his counterpart and then cut inside 2 defenders and slotted home in the far corner. As the boys trotted back to the half way their smiles said the game was won.
Not to drop their heads the Athena team played on as best they could as the last minutes ticked down and got the last goal of the game near the end to make it 7-4.
The ref called for the end of the game without a whistle and the hard fought win was ours. Well done boys! All had put in a shift to turn the tables on their victors of 2 weeks' back.
With half term approaching the next game will be a 9-a-side friendly to explore the change in pitch and formation. The passing focused Merton U10s should do well as more space opens up on the pitch. As ever, time will tell.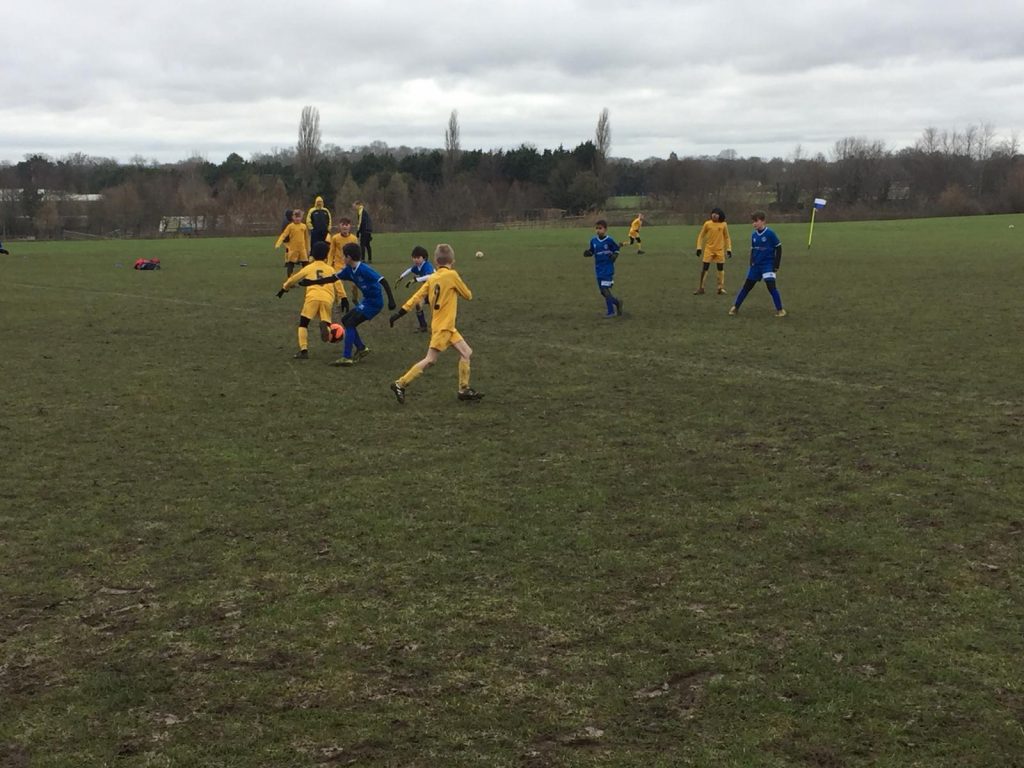 Posted in Under 10s Reports
---