Under 10s vs Motspur Park 20.09.15
Both teams were buzzing to start their game today, boys were all showing their individual talents on both sides, unlucky for Merton the first goal took a deflection , the second however was made by great teamwork and a great pass from Thomas to Jamal to score over the top of the players into the top of the net to make 1-1. Oliver made a fantastic save pushing the ball over the top of the net.
The game was great end to end entertainment for us all supporting( great to see so many parents / carers watching) …. The game continued on, there was a strong shot at goal from Motspur Park which Oliver (GK) caught but struggled to keep it out therefore score went to 1-2 , so unlucky!
Then few minutes later we lost Possession of the ball and Motspur made a quick break and went on to score the third… The boys still kept their spirits high and came back with two shots hitting the post.
Game ended 1-3… Well done to Merton making one win and one loss.
Also we would like to thank the managers, Ref and ground staff for all their hard work!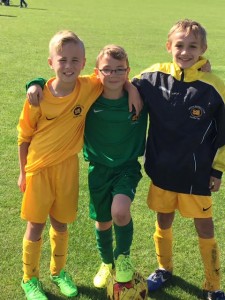 Posted in Under 10s Reports
---