Under 10s vs Rock Lane Utd – 23.09.18
Merton Under 10s vs Rocks Lane United
23rd – September 2018 – Under 10s report
It was the second home match of the season for Merton and what a difference a week makes in terms of the weather. The rain had started hours before kick-off and never let up during the match. Apart from the parents of the players, the only other people at Joseph Hood Rec were a few hardcore joggers. It seemed as if the match referee had to be persuaded to come out of the pavilion. Kick-off was delayed by 15 minutes.
Despite the wet conditions, Merton started very brightly and asserted their dominance very early on. Within 5 minutes, Merton were ahead. An excellent corner from the left by Dave was met by Faris on the volley at the back post.
One nil to Merton.
Merton continued to dominate possession and to create lots more chances for the rest of the first half. However, the score remained at 1 one nil until two minutes before half time. Faris latched onto a loose ball a few metres outside the Rocks Lane penalty area and set off on a run towards their goal. He shot from inside the penalty area to the bottom left corner. It went in!
Two nil to Merton.
Shortly after the re-start the referee blew for half time.
In the second half Merton were kicking slightly up hill. It should have been harder for them but it was anything but. Egged on by Neal, Roy and parents Merton's boys in yellow seemed determined to Make it Rain goals.
For much of the second half, Merton mounted attack after attack on the Rocks Lane goal. After ten minutes, Rio intercepted an attempted clearance, he feigned a run on the right but instead came inside after creating some space and shot across goal to the bottom left corner. His shot went in off the post.
Three nil to Merton.
At times, Merton were playing some lovely controlled football and every member of the team played well and played the entirety of the match. There were no subs available this week because Louis, Percy and Ollie were unavailable.
Back to the action, Faris was on a hat-trick and clearly keen to score again. A lovely through ball saw him bearing down on the Rocks Lane goal from the right-hand side. This time he shot to the top left corner of the goal. It went in.
Four nil to Merton
It was turning into a goal-fest and a lot of credit must go to the Rocks Lane team because they showed a good spirit and their heads never went down. They stuck to their tasks even though they had little hope of getting anything out of this game.
After a good run from midfield, Dave added to Merton's tally with a shot that beat the Rocks Lane keeper and went in the bottom left corner.
Five nil to Merton.
Good approach work from Merton, Rio's shot is parried. Maxwell is on hand to slot home from close range.
Six nil to Merton.
Coach Neal sends Joe up front and within a few minutes the switch pays dividends. Joe takes his chance well and his shot goes into the top left corner of the Rocks Lane goal.
Seven nil to Merton
There were still a few minutes left, Merton attempted to add Harry's name to the scoresheet. It was not to be today but I am sure that he'll be top of the list next time Merton are able to create such a dominant display.
Well done again, boys!
Three games and three wins!
Let's keep it going for Match Day 4.
Author: Mike Pitt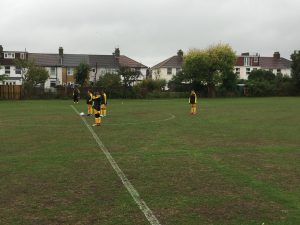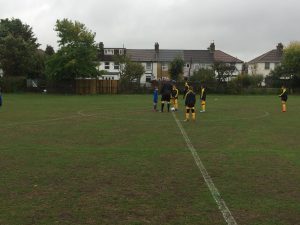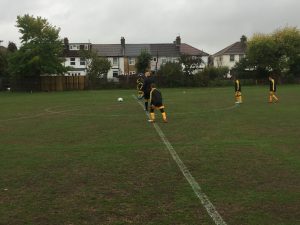 Posted in Under 10s Reports
---