Under 10s vs Spelthorne Sports Colts – 20.01.2019
Spelthorne u10s vs Merton u10s on Sunday 20th January 2019
A crisp, sunny morning greeted our team as they almost all drove straight past the correct turning and then did a tour of the local area to find their way back. Satnavs were roundly blamed. Another innovative warm-up with Neal and Roy prepared the group who were today missing the power-houses of Maxwell and David. Anyone who had parked a car behind the goal was relieved.
Merton made a strong start and won an early corner through the pace of Louis and Farris. They took it short between them and worked the ball across the box but Farris could not quite get his shot off.
They continued steadily for 10 minutes. Neal was demanding more pace and urgency on the side-lines. He knew the boys had more to give.
There followed some nice quality passing play from the cultured opposition who had a couple of players showing great comfort over the ball. Our boys were not quite finding their final pass. Max was also forced into a couple of blocks from good passing moves.
Then the ball was won on the right by the effervescent Ollie, who was once again giving 100% at the back. He found Louis who put Rio through on goal for a solid finish in the bottom left corner of the goal and 1-0.
From the kick off there followed another 2 shots. Louis first and then the ball came out and Bobby played in Percy for a shot wide. Merton were responding to Neal's calls from the side.
Farris now made a lovely jinking run and was tripped at pace on the edge of the box. Bobby squared up to the ball, took a run and struck the ball sweetly. It crashed off the bar and away from the Spelthorne goal.
Now Rio broke on another through ball and suddenly it was 2-0. This felt no more than the boys deserved.
In search of more Louis now won the ball in midfield and passed to Farris who found Rio in a one on one with the Spelthorne keeper but he was tackled by a retreating defender as he was about to shoot.
Harry, who was his composed self throughout was suddenly off the pitch with some unexpected breathing issues. This clearly concerned his dad, Dan, who ran back from seeing him saying "he must be struggling to carry all that hair around. I tried to get him to have it cut." There is no love like a man has for his son.
Half time came and it was 2-0, Merton deserving their lead after bossing numerous phases of play despite a well drilled and silky opposition.
The second half kicked off and Spelthorne were working extremely hard to close their deficit. Their manager was offering plenty of positive encouragement from the side-lines and deserved plenty of credit for the quality of their play. This looked like the smallest side Merton had faced of late but possibly one of the best passing sides at the same time with players who knew how to shield the ball.
They created two chances in quick succession but both through balls were a touch heavy and found the grateful gloves of Max, who had been busy without having to over-stretch himself.
Harry was breaking up play as he does so well and Joe was working his socks off at the back alongside him in this phase of the game.
Next Ollie found Louis who played in Bobby but the ball ran too long and went out. Bobby was clearly comfortable playing in any position on the park. Another good passing move by Merton flowed across the Spelthorne box and Percy had his shot blocked for a corner. Nothing came of it again.
Spelthorne made a nice break and crossed the ball to create a powerful headed chance which sailed over the bar. Merton were now getting a little ragged and causing as many problems for themselves as their opposition.
Neal was asking for more forward play and we needed to avoid self-inflicted wounds.
Then, suddenly it was 2-1. Another moment of disjointed play deep in their own half led to Merton giving away the ball and it was eventually worked to a Spelthorne forward who squeezed it in at the far post.
Merton picked up their pace now and had a spell of pressure and kept going forward. Farris played in Bobby. The Spelthorne keeper managed to stop it and then Farris had a pot shot which inexplicably crept under the keeper and in for 3-1, triggering a wave of relief on the side-lines. The game looked won.
Percy continued to work as hard as anyone in the middle of the park and made a powerful run and won a corner. Nothing came of it again but Merton were strong in this final phase of the game. Joe's game had settled well in the second half and he was playing some nice passes with his team-mates on the left now to get the ball forward.
The final whistle blew and it was a hard fought 3-1 win for Merton. That's 2 wins from 3 at this new league level.
Rio was awarded a deserved man of the match trophy and the gang took in the final words from Neal and Roy ahead of a dash to the cars for their lunch-time jaunt home.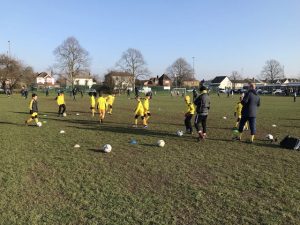 Posted in Under 10s Reports
---