Under 15s vs Doverhouse – 18.09.16
Merton 4-4 Doverhouse
(Merton win 4-3 on penalties)
After what can only be described as a great game of football, that Merton eventually and deservedly won on penalties.
After the most shocking of starts ( 3-0 down in the first 9 minutes) – changes were made to attempt to rectify the situation. Our team must have made such an impact, the usual start strong; don't concede quite obviously worked!
9 minutes in, our goalkeeper comes to collect a cross and gets challenged. Caught with the elbow of the striker – and ball ended up in the net.
First change and unfortunately Louis didn't take any further part in the game.
Changes made 15 minutes in to try and fix the mess we found ourselves in, and boy did the players put a shift in!
We finally pulled one back, with Jake firing in from a well delivered Bradley cross.
After creating a lot of chances it was 3-1 at half time. A slight rollicking at half time to get them going for the second half. Carried on where we ended, lots of the ball and creating chances.
We got a deserved second goal from Jaime Esteban, who done a fine job in goal for the first half. Replaced by Tommy.
3rd goal – penalty by Marcin. Good work in midfield and coolly finished spot kick.
After our hard work we gift them a goal out of nothing, their only attack of the 2nd half. And it was 4-3 to doverhouse.
We kept battling and creating the chances we did in the first half.
Creating an equaliser from another Esteban goal.  It stayed at 4-4 for the remainder of the normal time. We created enough chances to win the game but couldn't take them.
Penalties – nerve rangling penalties that determined the result. Merton scoring all 3 with – Esteban saving 2 giving us the edge. Unfortunately we missed our 4th but cooly dispatched to win the penalty shoot out.
A deserved result from the game – but a tough test from doverhouse.  Into three bridges in the next round!
Well done to all the boys – great courage.
Thanks to Marcus for running the line and Pippa for taking the photos. Claire for happily taking over pitch Marshall role – which is working well.
Carry on the hard work boys!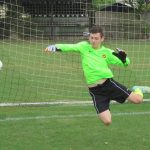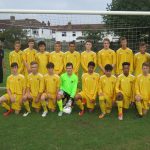 Posted in Under 14s Reports
---