Under 15s vs Doverhouse Lions Pink – 18.12.16
Merton 5-0 Doverhouse Lions Pinks
Challenge laid down at the end of November, finish December unbeaten and watch where were are. Challenge accepted and challenge met. 2 wins and a draw in 3 has breathed confidence into a side that looked low in everything.
Today, following on the back on a draw and win in the past 2 was about keeping up to momentum and getting a result. We started slugglishly and slow, Doverhouse wanted it more than us, and showed more fight than us. We let them win the ball in their backline too often early on. We suddenly woke up with 15 minutes to play in the first half and created chance after chance. Still room for improvement, but a better end to the first half than the beginning.
Second half began and we started where we finished the first. Moving the ball around well. Our first goal came out of nothing, and it was a scramble of a goal that eventually was tucked away from Sam. We then took control of the game and moved the ball around with relative ease. Creating chance after chance. A few quickfire goals meant that we extended our lead to 3-0 shortly after.
We continued to keep Doverhouse in their half, and creating chances. We had 2 big chances to put the game well out of reach but didn't take them.
2 goals were scored towards the end of the game, Felix finishing of the scoring late on. A strong second half performance, especially the patience on the ball.
Well done all. Enjoy the rest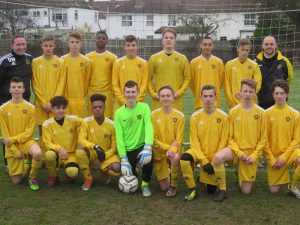 Posted in Under 15s Reports
---