5s vs Norseman 6s – 11.11.17
Mighty 5s 4 – 1 Old Norsemen 6s
It is fair to say that this season hasn't quite gone to plan so far. At this point last season we were winning games, not conceding many and top of the league. We have been quite far off the standards we set ourselves the first half of last year and therefore it was important to put in a performance and get back to winning ways in this cup game – and boy did we.
This Norseman team had won 7 out of 7 games this season so we knew it would be a tough game. We started on the front foot and looked the more likely. For the first 20 minutes or so we were not very incisive in the final third; however we took the first real chance we created. The ball was played to Josh on the left who powered past the opposition right back to get to the by-line. He looked up and picked out Aaron who had made a good run towards the front post. The cross was firm and all Aaron had to do was direct the ball into the far corner to take a deserved lead. They then came at us a bit, and Sam was forced into a decent stop from their striker at the near post from a tight angle. A long ball into our box evaded Sam; however Darren was there on the line to clear away. Their good spell lasted about 10 minutes, however the defence then reasserted its dominance in order to see us through to half time 1 – 0 up.
In a desperate attempt to find some constructive criticism, Darren asked Lenners for his input, to which the response was "I have no complaints". We were all stunned – and we remain stunned to this day.
We knew that one goal might not be enough as they had some tricky players going forward, so we would need another one. We started the second half strongly and kept them largely at bay. We manufactured a couple of half chances; however our second goal was a little fortuitous. Delman picked the ball up from 20 yards out and hit a powerful cross-shot [I believe that's what they call it when you don't have a clue which it was meant to be]. It went quite central, however the goalkeeper somehow managed to push it down, under his legs and bounce up into the roof of the net for a 2 goal cushion. Delman looked as surprised as anyone but it all counts – and congrats on Del for his first goal for Merton!
The opposition then reintroduced themselves to the game as they had been quiet since the second half began. They manufactured a couple of half-chances, especially from distance, however Sam would have covered them with relative ease. They were playing it out wide and getting crosses in early, and one of these did actually pay off. A cross from deep came into the box at foot height, but Darren had already committed to the header. As he swooped down his arm came out, and you can guess the rest. Although not in an unnatural position, he certainly had enough time to see it so it was probably a fair call. There was plenty of power in the penalty which left Sam rooted to the spot, making it 2-1 and now a very interesting game.
It did not take the 5s long after that blow to reassert dominance on the game. Visibly frustrated, their midfielder would not stop protesting at a decision and annoyed the referee enough to "sin-bin" him. At first glance it looked like it was a bit harsh, but in retrospect it is up to the referee's discretion and perhaps a sign that refs will not be taking any abuse this season. The 10 mins elapsed with the mighty 5s having a lot of the ball, but not quite getting the final ball right in search of the third killer goal. Again visibly frustrated with the referee, another player got himself sin-binned for protesting a decision and this time we made them pay.
Chris on the left spotted Aaron B in the centre and played it to his feet. He turned, burst away from the defender and shot. He scuffed it which took the power out of the shot, however the accuracy was superb and the ball nestled in the far corner to put the mighty 5s 3-1 ahead.
This deflated them and from the kick off we won the ball back almost immediately. We broke with real pace and Dwayne, in an unfamiliar central role, slotted the ball through to Aaron B who had made a good run. Aaron's touch took him away from the defenders and one on one with the keeper. He cooly slotted it past the despairing leg of the keeper to make it 4-1 and cap a fine performance up front with a hat trick.
We managed to see the game out for what was a terrific victory. The performance was really good; I'd suggest our best yet this season, but doing it against good opposition felt very rewarding. You can tell they were used to winning their games down to their frustration as we successfully stifled them. It was a cup game but if we can replicate this performance in our league, we will certainly start picking up a lot more points.
Despite a moment where he got confused in the box and thought he was playing volleyball, Darren had a good game and he and Phil kept their striker at bay throughout the game. Chris got a good assist and Delman's started his journey on becoming a goal machine. Me and Tigsy held the space well providing the balance to our midfield which saw Josh, Dwayne and Ackers cause their defense havoc, with Dwayne and Josh both showing class in the final third to get good assists. Endy offered something different when he came on and held the ball extremely well on the right, giving us a respite when they were trying to get back into the game. MOM goes to Aaron Byrne; he keeps telling us he can play up top and given his chance, he certainly took it with three very well taken goals taking his tally up to a very respectable 6. Good performance all round and this is the level we need to perform at for the rest of the season.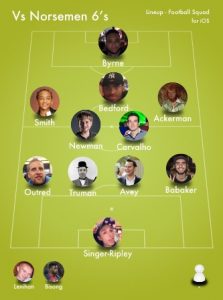 Posted in Match Reports 5s
---