Under 14s vs Barnes Eagles Juniors – 19.11.17
Sunday 19th November Barnes Eagles Juniors v Merton FC U14
Line-Up
GK – Milo
RB – Liam
CB – Nikoy
CB – Entri
LB – McKenzie
CM – Eddy
CM – Daniel
CAM – Theo/Diego
LW – Justin
RW – Hugo
ST – Fareed
MOM: Theo
Merton got their county cup campaign underway with a trip to Barnes in the second round after receiving a bye in the first. On a lush pitch Merton tried to get their passes going early but the accuracy was missing and this led to a scrappy start. Merton had the first early chance with a fierce shot by Justin hitting the top of the bar and bouncing away to safety. Despite this, it was Barnes Eagles who took the lead with a lovely team goal. They put together two quick passes that slid their winger in behind and he played an accurate ball into the centre, which their striker dispatched calmly. Merton, keen to get back on level terms pressed for much of the first half but were unable to test the keeper or get in behind the defence which held their line well. This was until almost the last kick of the half with some good play between Theo and Justin who knocked the ball onto Fareed leaving him one on one with the keeper and he cleverly chipped the ball home making it 1-1 before half time.
In the second half Merton asserted their dominance as they controlled possession and looked for ways to get shots away. Fareed bravely won a free kick on the edge of the area, catching a high boot in the face, which Theo whipped in. Nikoy rose the tallest getting a strong head on it and despite the keeper palming it away Entri knocked in the rebound making it 2-1 to Merton. It was still a precarious position and Merton looked for another goal to kill off the game. With 5 minutes to go Justin got hold of the ball on the right, cut in with delicate skill passing two opposition defenders and hitting a low bouncing shot which the goalkeeper could only palm into the net. This effectively killed off the game and Merton's defence held strong as Barnes Eagles attacked in waves for the remainder of the match.
This was one of Merton's best performances in weeks with every player battling hard. McKenzie put in an excellent performance with marauding runs from wingback, but Theo takes man of the match for his assists, general linkup play and desire.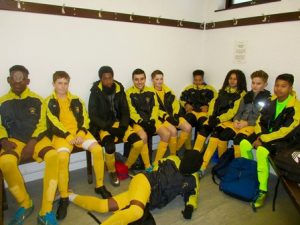 Posted in Under 14s Reports
---