5s vs South Bank Cuaco – 25.02.17
South Bank 3 Merton 5's 1
So another week another report writer and can I just start by apologising to any one I fail to insult in this report. I like to treat everyone fairly so you'll all cop it at some point and bear in mind I am old and have alchzeim….. alsimer……alchazel……….bollocks a poor memory this report will take the fashion of one of my arrest reports and be a complete work of fiction with no evidence what so ever!
The day started well we were nearly all on time changed and ready for a warm up but despite the jovial banter which we are used to there seemed to be a lack of focus, Aaron still racked with guilt over his night time fun and Delman pondering his last visit to Manchester where rumour has it he ate a sausage (cue 300 messages on the whatsapp group with gay GIF'S).
So against a side which beat us last time we kicked off with a strong side and a good bench ready in the wings.
Almost immediately with our first attack a tremendous strike by Aaron and it was 1 nil what followed was the most amusing goal celebration as he got clipped by the defender striking the ball he wheeled away in celebration he ran like a demented gazelle on steroids to the half way line and then collapsed in a heap. He had to be helped off but fortunately was unhurt and returned to the game later. We have strength in depth not only did we replace him with a class player but we did not even have to change names as Aaron A came on.
I can summarise the next 40 minutes of football in a few short lines we had chance after chance after chance but there was more chance of Sam losing his virginity (with a girl) than of our strike force hitting the back of the net. We could not score in a brothel with a fist full of fivers!
D had one great unlucky chance with a volley over his shoulder, Dwayne had a flying header that he did well to get to (the landing was something out of the pilots guide on how not to land) Aaron A lined up for a volley yes I thought I would bet my shirt on him burying that erm no high and wide and skins for me next week. Gibbo and D so often our saviours and reliable no no and no !
Darren and I looked at each other at the back and all those years of experience just commented to each other this was going to be one of those days! I hate being right (that's why I don't do it often ask Ryan)
The defence held solid with Josh, Delman, Darren, me and Lee our stand in goalkeeper for the day performing our duties admirably.
The midfield of Tiago, Clive, Dwayne, Aaron A and Gibbo creating and protecting the back four worked hard and D up front running for everything surely we would prevail. Half time came and despite being 1-0 up the omens were not good.
The second half started well to be honest they started the second half we were all a little slow (except Lee who had dashed off for a quick half time dump memories of Lehman peeing behind the hoardings).
Then disaster on the scale of the Titanic sinking or the great fire of London or not getting a slice of Pizza! With a wonder strike that he will never repeat their midfielder left Lee flapping at thin air and it was 1-1 bad times (Lee had no chance really please Lee do not put me down for NLT as revenge)
A short while later with South Bank doing most of the attacking and our game dropping to their level, we gave away a free kick outside the box. Lee lined up his wall the little Italian kid lined up his shot and curled it in 2-1 again lee no chance.
We battled hard and tried to get back in the game but the writing was on the wall (that's the last time I want to see Josh with a spray can)
Their keeper was doing a better job of sweeping than I was he was quicker of his line than a man with irritable bowel syndrome who has been clenching for hours and just sighted a toilet!
Not really creating any chances this half for our strikers we should have had a penalty when D was fouled and a second when Aaron was pushed by the keeper but as he played honest stayed in his feet to shoot into the side netting the chance was gone. Most of us would have gone down like a stripper being offered a £10 (again another rumour about Delmans last visit to Manchester). Clive came the closest heading narrowly over from a yard away.
A third goal followed for South Bank when their striker robbed Josh on the side line and made an individual run to score.
They brought on the mong for the last few minutes who changed the game completely trying to turn a nice game into a fight taking out Delman with telekinesis well he kept saying he did not touch him despite flooring him so it must be a super power!
Lee managed to shout at me to prevent the inevitable card that would have followed the tackle that was in my mind at the end of the 50 yard sprint towards the mong next time he got the ball (saved me a tenner cheers Lee)
The game finished 3-1 sadly.
Positives we created great chances in the first half and we defended well throughout beaten by three individual moments of brilliance. Results keep us in the top three and we will move on from this as we are a great team with good team spirit (vodka shots all round)
Negatives – bad day at the office for finishing across the team, and a little bit of niggling comments coming out remember no one intentionally mucks up we stand and fall as a team (Straight out of Sam's book of inspirational comments along with go on son get in there she loves it)
Onwards and upwards and once again if I failed to insult you I apologise and here goes Lee (no you scare me) Delman what happens in Manchester stays in Manchester except crabs they come back with you!, Josh you lasted 90 minutes sick note, Darren you'll edit this so no point (Darren: I only corrected the spellings & grammar, plus the bit about Clive missing from a yard), Clive erm no never insult the manager, Gibbo if you flick the ball again I will volunteer you for double NLT, Tiaggo you're an inspiration annoying but an inspiration lol, Aaron A you should do a refs course, Aaron respect for Friday night which mates girl was it hope he reads this! , Dwayne no Dwayne's too nice to rip into but HAPPY BIRTHDAY! , and D no don't fancy getting battered to death by the huge member he has (do you pay extra subs to bring that third leg on the pitch?)
Subs for the day Bambi great to see you back I cried when the hunters shot your mum, and lastly Annam I love your chocolate, erm no, I mean I love Cadburys not your personal chocolate, erm really I'm strictly hetro I don't even like midgets! Erm on that note see you all next week where I shall be wearing my body armour and expecting to be beaten senseless!
If you enjoyed this Steve B wrote it if you did not then Luke did it!
Not sure who man of the match was but my vote would be Lee for standing in as keeper and pulling off some great saves.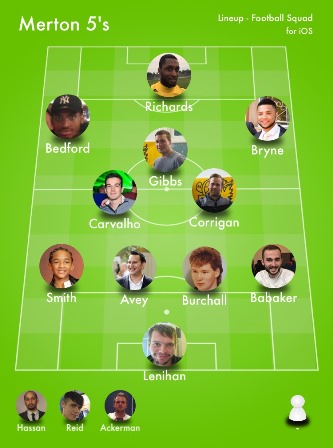 Posted in Match Reports 5s
---