5s vs West Wickham 6s – 08.09.18
Saturday 8th September 2018 KO 14:15
Mighty 5s 2 – 0 West Wickham 6s
By Luke Newman
Goals:
Dulanie Richards (Assisted by Andrew Stears)
Phil Truman (Assisted by Luke Newman apparently)
This Saturday marked the 5s first game in Division 4 having ran an extraordinary promotion campaign last term that saw us finish 7th but still get promoted; a feat only eclipsed by Poly 8s finishing bottom of the league but still getting promoted 2 years ago. Pre-match preparations were nothing short of shambolic. First, the kit was still at the Kimbers with no one home. Luckily we used the Merton time machine to go back to the 60s [a decade which Steve B remembers well] to find one that sort of resembled our traditional colours, so problem solved. Also the Council with their usual efficiency forgot to put the nets up, meaning that we had to do it ourselves. Seeing our shambles, the opposition matched it by having one player turn up 15 minutes late [which we sportingly delayed the kick off for] and 2 not showing at all, meaning that they were playing with 10 men.
They started with more possession despite being a man down, which was a regular feature throughout the match, however it was mostly across the backline/defensive midfielders and once we pressed, they had to go direct which our defence dealt with easily. We hit them on fast, sharp counters and had some moves of great promise. The first was a great ball through to Dulanjie who was running on to it past a static defence. Arms were raised and the referee blew for a dubious offside – much to our annoyance. They did not heed the warning though and minutes later, the same thing happened again. Andrew ran on to the ball in the centre of the pitch and played a lovely waited through ball to Dulanjie. Consensus seems to suggest that we thought he actually was offside this time, but this time the whistle didn't go. 1 on 1 with the keeper, D calmly slotted it home to put us 1-0 ahead. The second followed not long after, with D instrumental once again. He unleashed a powerful shot from 20 yards which the keeper did well to parry wide. The ball came back in the box and some good movement from Phil saw him get in front of the keeper and chip the ball over him. With a defender on the line, Phil fired high into the net above the despairing goalkeeper to make it 2-0.
The lead was entirely deserved. Lenners in goal had nothing to do apart from come out and punch the ball away from a couple of corners, doing so in such a way that you can tell it's not the first time he's punched something. The only thing that mired the half was a little bit of moaning, epitomised by Tiggy throwing a strange tantrum over Tom wanting to take a throw in. All was, however, forgiven and we knew if we kept it as tight as that in the second half, we would win the game.
They put us under some pressure at the start of the second half, manufacturing a couple of half chances. A good ball from deep caught us out a little, however their player at the back post was stretching and headed wide. They also had their first [and last] shot on target when their midfielder broke lines to run onto a through ball. 1 on 1 from a wide angle, Lenners closed him down well and palmed the ball wide of the post to pull off a very good stop. Other than that, we were comfortable and had some great chances to seal victory. D's cross went a little wayward, almost catching the goalkeeper out at the near post. A pullback with D and Yaw in the box just lacked a little quality, otherwise they would have had an easy tap in. The highlight though was a mazey run by Tom who picked the ball up from about 40 yards and just ran. He beat 2 or 3 players and the space opened up on the 18-yard box. He dragged just wide, however it was a great individual effort. We lacked a little bit of incision in the final ball with the game stretched, possibly a little more than we would have liked it to be as quite a few players were going forward quicker than they were getting back. All in all, it was a great performance and a fair result to kick off the second chapter of our quest for two promotions in a row.
There were a few contenders for man of the match. Lenners did everything he needed to well, the back four were solid throughout with Tom, Darren, Scott and Lyndon all getting the best of their attacking players. Our midfield dominated and pressed very well with Tiago holding, Andrew getting on the ball well and keeping the team ticking, contributing a very good assist, and Sam's pace causing a problem for their defence with Steve coming on and adding some much-needed energy in the second half. Phil and Dulanjie were dynamic in attacking positions and caused the opposition all kinds of problems, with both getting vital goals, and Yaw coming on in an attacking role looked a threat. Man of the match was close between Scott and Tom, however Scott edged it in his first competitive game for Merton in what was a fine performance.
MOTD Scott Brown
DOTD Tiago Carvalho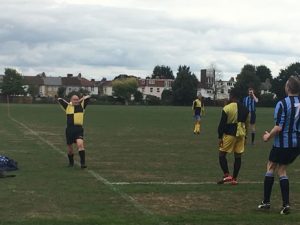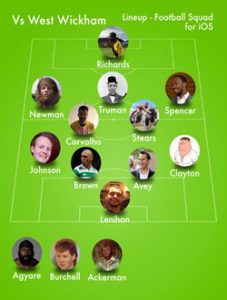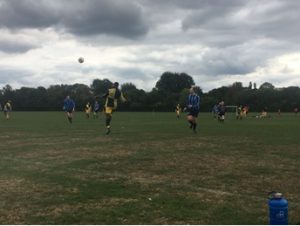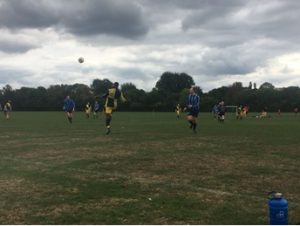 Posted in Match Reports 5s
---