6s vs Carshalton 6s – 11.02.17
I will keep this short and sweet as not to prompt further complaints from the Carshalton hierarchy as per usual when we mention the fact they shouldn't be in our league etc…. so here goes!
Merton 6's went into this top of the table clash a bit undercooked due to postponements and lack of game time. So when everybody arrived on time, the management was full of hope of a positive result. The squad was pretty much the same that has got us into the good league position we currently occupy, so there was no need to change this on a weekly basis and pick players from other Merton squads to strengthen.
The game started and Merton were very good off the mark, with challenges being won and some good passing in midfield. Unfortunately, Carshalton's direct game with balls over the top were catching us out and was no surprise when they cut in from our right and a shot squirmed through Swanny's hands to make it 1-0.
From this point on, Merton really upped their game and gave a really great display and caused Carshalton no end of problems and bar some great saves from their keeper we should have been at least level. Again though we were caught on the break, and a powerful long range effort lobbed Swanny (the ball was about 3 feet off the floor, sorry Swanny!) and Carshalton went 2-0 ahead.
Merton immediately hit back with a great move that George B finished off. Then after it was attack after attack from Merton and we really should have been level. Unfortunately, we didn't take our chances where as Carshalton did and again they scored just before half time making it 3-1.
We were very unlucky and should not have 3-1 down with the chances we created and the half time team talk was one of a positive note. A few changes were made to freshen things up and we started again! The second half started with Merton on the back foot and maybe our heads were still in the first half when we felt hard done by. Chances still came our way with George missing a really good chance to get us back in the game, but to be fair Carshalton were the team in charge.
Then came the sour note of the game whereby Spence who was having a great game, was knocked off balance whilst shielding the ball out of play, and took a nasty fall on his wrist. It did not look good and was now pointing in the wrong direction and with him is great deal of pain, was forced off and straight to hospital. A while later we got the results of a double fracture and dislocation!! Very nasty, but thanks to Rat for taking him to the local A and E.
After this our heads didn't really seem to be in the game and it was no surprise to see Swanny being lobbed again from a really well placed free kick to make it 4-1! Sorry mate!!
Being 4-1 down didn't stop Carshalton trying to kick us off the park, and some of their players were lucky not to see red. But as the game was edging towards the end they got a 5th after a dubious penalty was given and the skipper booked for his protest. The penalty was awful and Swanny made a good save, but unfortunately was beaten by the re-bound. 5-1 final score.
On a positive not, we have had our two spankings from them and both our nearest rivals are still to play them so let's focus on promotion!!
Now for Man of the Match, and as no votes were cast, I will give it to the following:
MoM: Special mentions to the skipper (thought he had one of his better games!), Pete who worked hard up top, Chris and Ty for non stop running and Spense! BUT I am going to give it Chappell, battled hard and never gave up even when backs were up against the wall!
DoD: The skipper is not getting it this week!! Could give it to Spence for a broken hand (your supposed to break legs in football), could give it to the whole squad for not backing the skipper up when there was some argy bargy! But I'm afraid it has to go to Swanny this week, two lobs ;o) , a very slight error for the first and should have saved the penalty!!! (Please don't leave us though!!!!!!)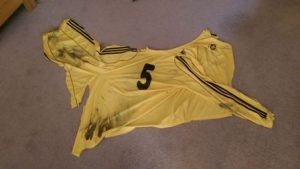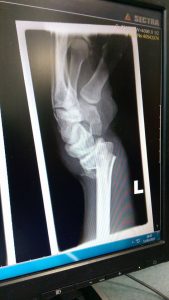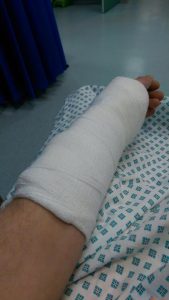 Posted in Match Reports 6s
---