Under 13s vs Ewell Colts – 11.09.16
Epsom & Ewell Colts Whites U13s 3 – 1 Merton FC U13s
At last the season begins away at Epsom & Ewell. All met at Joseph Hood nice and early, but we had a few problems, Marcus (Striker)  forgot his boots, Milo (Keeper) forgot his goalie gloves, but worst of all Justin (Winger) forgot his whole kit!! Not a good start.
10am, Whistle blows, the match started. Oppo had kick off, made two passes and we managed to get the ball and keep possession, and started to move the ball around nicely and Evan played a lovely through ball which found Marcus, he had a shot on goal and the keeper made a spectacular save. It was obvious at this early stage their keeper was going to be tricky to beat. For the next 20 minutes we dominated the game, passing and moving and shooting at every opportunity, shots from Isaac, Justin, Even, Mckenzie, Keiron, Hugo and Marcus all on target and all saved by the keeper, He was outstanding! 10 minutes to go before half time and the oppo managed to get in our half for the first by running down the right wing and Daniel made a fantastic tackle which gave them a corner. A threatening corner swooped in and we didn't manage to clear it properly, which there midfielder took a touch and BANG top corner, a good goal but against the run of play one nil down. 5 minutes left and Marcus found a space and took at shot, a good save by the keeper again but failed to keep hold of it and Isaac just had to tap it in. 1-1. Half time.
Second Half, we  had kick off and kept the ball, the oppo had changed tactics and had everyone behind the ball we found it harder and harder to attack, part of their tactic was to play long ball, over the top football which our defence had trouble dealing with. A miss placed back by our defence put our keeper under pressure there striker managed somehow to get the ball over the line 2-1 down. Now the oppo parked the bus we struggled to play our usual passing and moving game. 5 minutes from the end the oppo once again put a ball over the top and despite heroic defence from Freddie, Jack, Kadeem and Theo they managed to score another scrappy goal. 3-1 down.
Good game, pleased with the teams performance.
Report By Mckenzie Dewsbury (Skipper)
Big thanks to
Freddie's dad for being pitch marshall.
Jacks dad for running the line.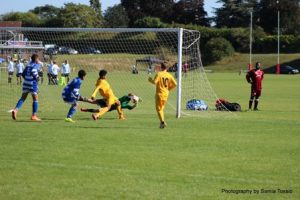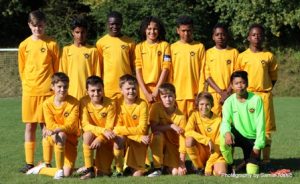 Posted in Under 13s Reports
---