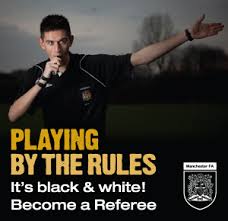 New Referee Training Course Available
We have set up a new Basic Referee Training Course.  This one starts at the end of January and is being run at Wilson's School which is in Wallington, South London.  The course runs over three Sunday sessions (from 9.00 am until 1.00 pm) and three Wednesday evening sessions (from 6.30 pm until 9.30 pm).
Full details of the course are available on our website.  To go to the page listing the course please click
Here
.
Course Applications
Please apply online and you can be assured of a place as soon as you complete the online details, submit the course fee and click to confirm.  You can access the online registration at the bottom of the web page for the course.  If you have any difficulty in using the online facility please contact us and we will be very pleased to talk you through the process.
Course Fees
The course fee is £125 per candidate for all age groups and can be paid online at the time you make your booking.
 If you have any questions please do not hesitate to contact me.  There is further information about our referees training courses on our website:
John Monk
Football Administrator
Amateur Football Alliance
Unit 3,  7 Wenlock Road
London
N1  7SL
Tel.  0208 733 2613
Posted in Uncategorized
---