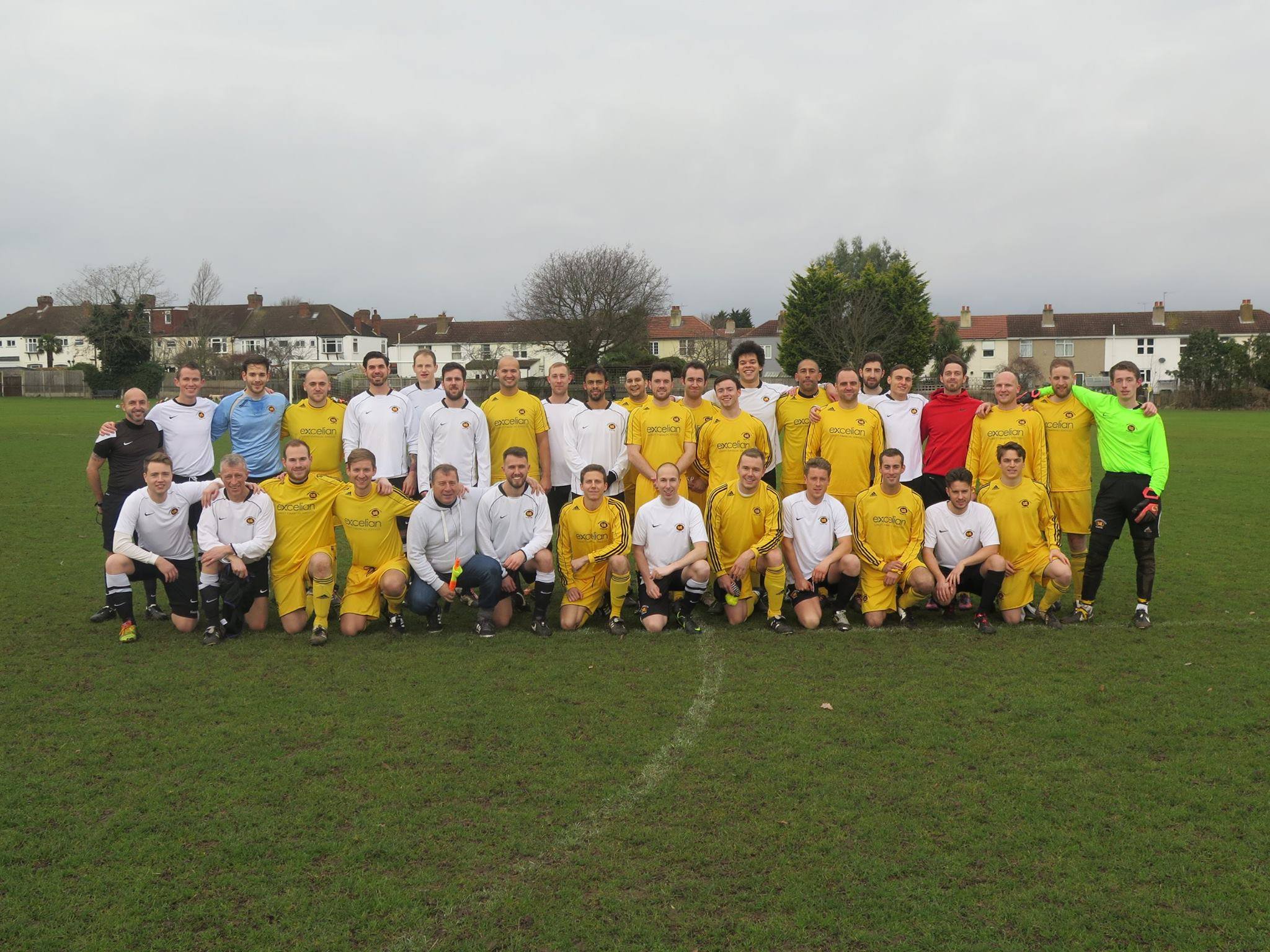 Nick Papanastasiou Memorial Friendly – 01.01.2017
MATCH REPORT: Nick Papanastasiou Memorial Friendly
New Year's Day marked a very special occasion at the Hood, as Merton FC gathered to commemorate a very special young man, Nick Papanastasiou, who tragically passed away in October 2016. In his short time as a member of the club, Nick had made a significant impact – most notably with his impressive football skills, fine bowling action, and a smile that was as infectious as any.
The occasion to honour his memory was a friendly fixture of a composite Merton XI in the iconic Yellow, who took on a team comprised of Nick's family and friends, donning white. There was no shortage of sore heads among the Merton contingent in the wake of the New Year celebrations the night before. Fortunately for manager Clappers, he had an inflated squad of 19 at his disposal.
His first act was to ambitiously/dubiously promise all the players an hour of football each – the sort of mathematical manipulation that would have put him on a par with the likes of Einstein or Nash, given the squad size and the limit of 90 minutes that comprise a standard football match.
Nevertheless, the forecast rain remained at arm's length, and it was all systems go. The Merton gaffer opted for experience in defence, with no fewer than 282 years, and 11,319 games under the belt of the back four. A crocked midfield three provided the foil for a more energetic trifecta at the top of the pitch, with Tom Benham and Nick's brother Chris leading the charge.
The game started at a 'leisurely' tempo, although the whites unquestionably had the better of things. Their sustained pressure resulted in a misplaced pass from Welchy, and the opposing striker looked a sure bet to score having intercepted and charged away. However, Sam spared Welchy's blushes with a good outstretched hand to maintain parity.
Merton eventually began to grow into the game, with Tom in particular causing the opposing defence some problems. He was controversially ruled offside when clean through, and then had another effort cleared off the line.
The whites were still offering a bit going forward, but a crunching sliding tackle from Welchy stifled one attack, while his partner Darren Avey was doing a good job with the aerial battles. The latter, though, displayed his attacking limitations shortly after, as he somehow conspired to blaze over the bar with the goal at his mercy from a corner. The belated offside call could hardly be used as a scapegoat either, and Max showed his videographic acumen by capturing the whole saga on camera, much to the delight of the onlooking crowd.
Clappers, though, had seen enough, and hauled Darren and six others off the park in what proved to be an inspired change. A scrappy through ball put Tom through on goal, and he made no mistake, hooking the ball home with his left to make it 1-0. Tom then looked to have made it two shortly after as he rifled one past the keeper and into the net. However, he was adjudged to have been offside once again.
The whites then hit Merton on the counter, as their striker – correctly adjudged to be onside after some 'attentive' linesman work from Mike – cottoned onto a ball over the top. A corner ensued, and the resultant chaos from the delivery looked sure to produce an equaliser. However, Merton somehow managed to scramble clear to maintain their slender advantage going into the break.
The oranges were much enjoyed by the tiring players, as Clappers attempted to shuffle his rather sizeable pack. Confusion reigned as Welchy attempted to substitute himself, but eventually clarity was restored.
Merton began the second half strongly too, and had a number of half chances to double their lead. The whites keeper made a fine one-handed save early on, while Darcy later looked sure to score, but contrived to take long enough to allow a goal-saving block to be put in. It was one of a number misses from the buccaneering 3s midfielder; something his teammates gleefully alerted him to on each occasion.
The second goal eventually came, and from an unlikely source, in an unlikely manner. Vanny put in a cross, and Mustard was on hand to nod it home. His finish was all the more impressive given the levels of contortionism required to get his head so low to the ground – a side-footed tap in may have been the path of least resistance in retrospect. Nevertheless, a goal to be remembered, aptly chronicled by Max, who remarked, "That must be the first header Mustard has ever scored. In fact, that must be the first header he's ever produced that could be classified as a positive intervention."
But the whites weren't about to keel over, and they hit back soon after, as their big number 5 stormed through the Merton defence, and finished with aplomb to make it 2-1. And they looked set for an equaliser too, as a bullet shot stung Sam's fingertips a few minutes later. He fumbled, the ball spewed in front of him, but as the opposing striker descended upon it, Sam just about toed it away to safety.
The rain began to teem down thereafter, and this scribe, among other spectators, fled for cover. A third goal was allegedly scored by Vanny at the death, albeit with differing accounts as to the quality thereof. Some onlookers described it as a 'scuffed' finish, while the man himself later spoke of beating four defenders en route to glory.
Either way, Dave Laughton called time on proceedings soon after, with the final score of 3-1 an irrelevant one. Far more important was the occasion itself: an entertaining match, played in great spirit, in honour of a wonderful man, and a New Year's Day tradition that looks set to endure. The packed bar afterwards summed up the success of it, and, despite the weather, it was a day thoroughly enjoyed by all. A big thank you to Chris, family, friends and all the players and helpers on the day.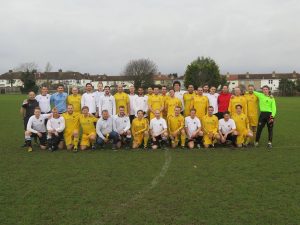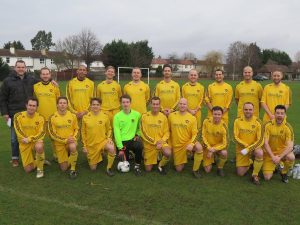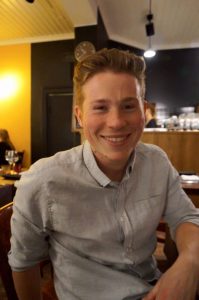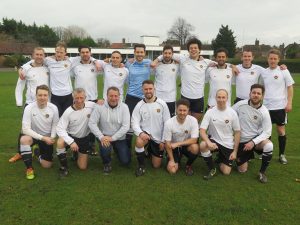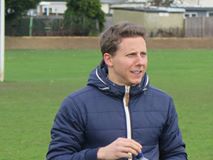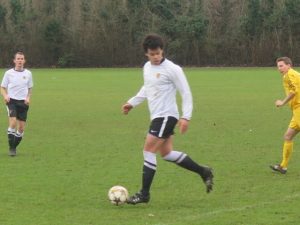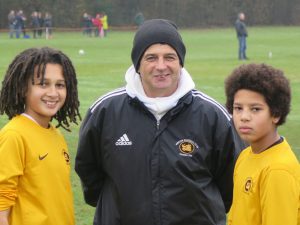 Posted in Uncategorized
---